The present business environment call for the most efficient, and the most affordable technology solutions. Whether planning to upgrade the PBX phone system or the biometric staff attendance management system. The objective is to keep operational costs as low as possible while delivering exceptional customer service. Managed IT support services will help you reduce the pressure associated with managing IT projects.
With extensive experience dealing with IP telephony solutions, and workplace security, we always endeavor to provide our clients with custom technology solutions that meet unique business requirements. Thus they are able to reap maximum benefit from technology and managed IT support services.
We want to work with our clients from the solution design stage, to supply, through installation and training, and commissioning. Also, we would like to offer you the first line managed IT support service that ensures that your business runs smoothly.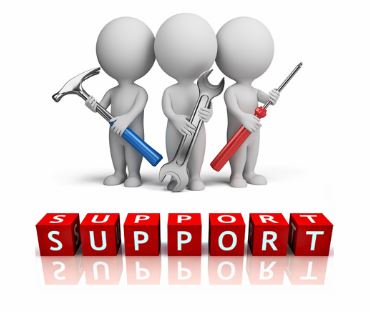 We have a team of experienced technicians, fully trained to deliver outstanding IT support when needed. We are ready to bring you onboard to complement your in-house IT support team. Even so, you can still choose to outsource your entire IT support function for us to manage it for you more efficiently.
Advantages of the Managed IT Support Services
Boost productivity at work
Successful organizations concentrate most of their resources to functions that bring the highest returns on investment. Hence it is important for your company to concentrate on its core business functions leaving IT support to specialized IT support companies. By outsourcing IT support services, you can boost productivity which has a positive impact on the bottom line.
Cut operational costs
In-house management of IT support services can be very expensive. You have to pay salaries and allowances. Add insurance and government fees. Furthermore, you have to offer regular professional training and individual development opportunity. Thus, the more reason for you to outsource your IT support function to us and get to reduce your operational cost by up to 80%.
Benefit from diverse expertise
As a company, you will be required to highly specialized IT staff to manage every aspect of the business technology. It gets complicated because a web administrator will not be able to fix server hardware problems. Likewise, the network administrator will not be able to fix ERP system database issues. Be that as it may, employing this skilled and specialized manpower will be very expensive. But outsourcing IT support enables you to benefit from a pool of experts.
Key areas for IT support in Kenya
Business telephone system installation and support
The telephone system is the heartbeat of your business. The constant ringing of the receptionist's telephone translates to more business to the company. We will provide other value-added telephony services namely: Interactive voice response system, softphones, and mobility telephone extensions among others. We want to manage your business phone system by keeping the costs low all the while keeping your clients happy.
Unified threat management and cybersecurity
We have tools for keeping cybersecurity threats at bay. To begin with, we will initiate a regular IT system audit to establish areas of vulnerability. We want to keep your servers secure and all the endpoints protected. This solution covers local area network management, router security, wireless access points, and server administration. Furthermore, we are certified partners and resellers of Sophos firewall in Kenya.
ORACO Kenya supplies and installs telecom and security solutions. On top of this, we service and maintain the telephone infrastructure, and the IT system to ensure that companies gain maximum benefit from the investment.
Contact us today for efficient managed IT support services.
See also; HR and payroll software for small businesses in Kenya.