The millennium business environment is characterized by smarter communications solutions. Even Matrix unified communications solution. Unified Communications is a technology platform for telephony services consolidation enabling audio and video calls, mobility and messaging to be relayed on the same infrastructure. This is an advanced PBX phone system for the multinationals and big corporate organizations with multiple offices spread across the globe.
Thus, the Matrix Unified Communications Servers offer a single platform through which all telephony services can be consolidated. Leading to better call handling features, increased efficiency, and enhanced productivity.
see also; best call center software
For instance, all calls directed to an extension will be transferred to the smartphone and can be answered from the cellphone. In so doing an all systems are integrated for workplace collaboration. Hence, the environment built mirrors official workplace experience for remote workers, even when telecommuting.
Benefits of a unified communications solution
Mobility:
Through the use of VoIP application clients, can still enjoy all the features of a physical desk phone from any location. The only requirement being a smartphone and access to a reliable internet connection. Then, install and configure the recommended VoIP softphone. By enabling the mobility feature on each telephone extensions, never will you miss a call.
see; wifi desktop phones
What is more, extension mobility leads to better call handling since the extension number can be set to ring simultaneously on the physical desktop phone as well as the mobile phone. The VoIP application clients ensure that each employee is always connected to the office extension.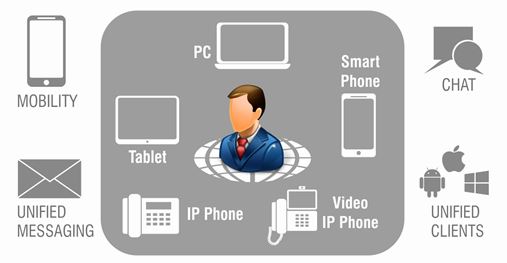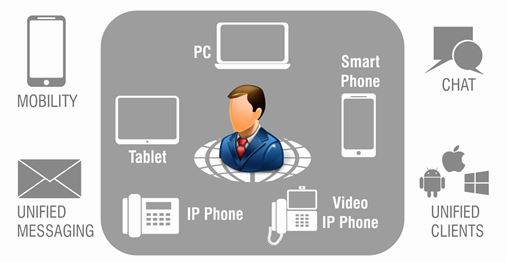 Collaboration:
By initiating a peer to peer connection between offices, the employees can collaborate easily. Moreover, there will be no overhead costs as employees will be able to make free calls when reaching their colleagues located many kilometers away. Still, there will be a sharing of the corporate phonebook such that salespeople and any other staff can get a client's contacts at the touch of a button.
Multi-location telephone connectivity:
Unified communications solutions have the capability to support multi-location connectivity. In so doing, the companies will save on the cost of communication for the long-distance offices. Employees can enjoy the advantage of the seamless connectivity between head office and branch office to share the main communication trunk e.g. VoIP trunk, GSM trunk or the E1 line.
see; best structured cabling and networking company in Kenya
Reduced capital expenditure:
With IP telephony, the office telephone system will ride on the already installed networking infrastructure. As a matter of fact, the telephony infrastructure uses the local area network meant for networking.
Additionally, the infrastructure will be maintained only once which is cheaper. As opposed to scheduling separate maintenance for voice and data networks which is expensive. Thus, reducing the cost of maintaining the overall infrastructure.
see also; Cheapest payroll system for small company in Kenya
Key features of the Matrix Unified Communications Server
Support for up to 99 VoIP Trunks
Supports up to 64 GSM Trunks
Provision for up to 1,200 ISDN T1/E1 PRI Channels on 24 ports
Provision for up to 64 ISDN BRI Channels on 32 ports
Capacity for up to 2,000 IP phone users, 128 digital phones and 1,296 analog telephone extensions
Up to 64 voice mail channels
Redundant power supply and CPU card for a dependable performance
Rack-mountable
Investing in a Matrix unified communications solution will lead to operational efficiency, improved staff productivity, customer satisfaction. As it is, this is the solution of the future where organizations will get an assurance for 100% uptime, interoperability, higher return on investment and increased flexibility.
ORACO Kenya is a professional installer of IP PBX systems, IP Phones and an authorized Matrix Unified Communications Solution integrator in Kenya and the East African Region.
Contact us today for IP telephony, office telephone systems, and other office solutions. See also server room security solution: door access control system installers.