Best Office Telephones in Kenya
As communication technology gets better, organizations are looking for the most efficient and reliable IP Desktop phones and the best PBX System in Kenya. For one thing, the market today is looking for high quality, affordable and easy to use video conferencing solutions. What is more, the solution should be highly scalable and can be customized to meet the specific needs of the organizations. When in fact, VoIP Desktop Phones are known for outstanding performance.
However, conventional video conferencing solutions sometimes tend to be price prohibitive and inflexible to new business requirements. Furthermore, scaling the solution is usually a problem leading to further expenditure.
See also; call center phone system
Hence, the IP Desktop Phones, by way of example, the Yealink T49G VoIP Desktop Phone have become popular. Even wireless DECT phones have become popular because of the need for enhanced mobility. As a matter of fact, the Yealink T49G VoIP Desktop Phone is a revolutionary IP phone designed for video collaboration. More importantly, the phone design enhances the user experience by incorporating an adjustable camera to fit user angle of vision.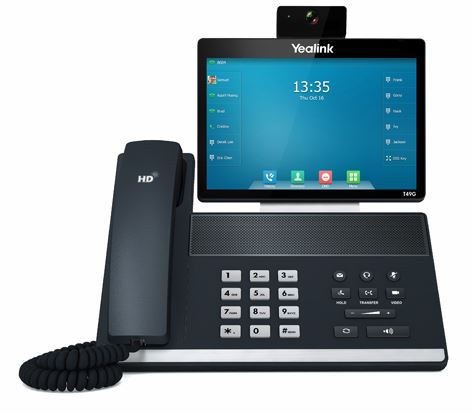 Features of the enterprise IP Desktop Phones
Camera: HD front camera with 1080p resolution
Voice quality: full duplex Optima HD voice
Stand: ergonomic design
Screen: 8 inch LCD touch screen
Conferencing parties: support for up to five audio/video conferencing extensions
Media and connectivity ports: HDMI, USB, Ethernet port
Wireless technology: Wi-Fi and Bluetooth connection
Configuration: 16 SIP accounts
Hands-free accessory for the VoIP Phones
Ultra-modern microphone with noise cancellation
Ergonomic earpiece design for whole day comfort
Over the head upholstery for intensive use
Easy to wear featherweight ear cushions
Wideband audio receiver
What VoIP Phones package delivers  
Get to enjoy HD class communication capabilities. The Video Conferencing Phone offers stable audio communication complete with 1080p video resolution.
Concurrent audio and video conferencing for multiple branch offices. Up to 8 branch offices will be able to participate in the conferencing enjoying a near face to the face communication experience
Simple setup and installation to open compatibility with telephony equipment from major IT equipment vendors. No additional licensing fee requirements for cross-platform interconnectivity.
Thanks to technological advancement, today we have high quality and easy to use video conferencing solution. Moreover, the solution is very affordable even to small and medium-size companies. Additionally, the VoIP Video Conferencing Phone can be deployed comfortably with other IP based telephony devices from mainstream telecom equipment vendors.
see also; wifi desktop phones
Apart from providing cutting edge video conferencing solutions, ORACO Kenya is also a dealer of PBX office phone system and distributor of IP Desktop Phones in Kenya.
Contact us today for an end to end telephony solution.