Biometric Time Attendance System in Kenya
The biometric time attendance system in Kenya has helped automate employee clock in and clock out. The system accurately captures employee attendance management reports; reporting and leaving time. Thus, the biometric clock in and out system offer a tamper proof and secure system for tracking employee attendance. The Zkteco time attendance system price in Kenya starts at KES 29,990. The cost caters for installation and user training. As it were, it can still be used as school biometric attendance employee  system to track working hours of the university employees.
Enabling multiple user authentication methods has been at the core of the biometric time and attendance system Kenya. That being the case, register employees in multiple and secure ways. To start with, authentication can be done through the use of RFID cards. Also, RFID cards can be used as employee identification cards. Secondly, authentication can also be through a secret pin. In this case, the biometric system generates passwords for enrolled employees. Finally, the most secure authentication method is by the users' fingerprints.
Key features of the biometric clock in and out system
Use of fingerprint for authentication
Capacity for up to 3,000 fingerprints
Allows for integration with payroll software
Customizable attendance policy, i.e. late in and early out
The biometric device can also read RFID cards
Attendance reports can be downloaded in excel as ell PDF formats
Connectivity through local area network, also USB storage
Customizable shift schedules depending on company work policy
What is time attendance system?
A time attendance system is an electronic gadget, usually mounted at the entrance to an office, used for tracking employee clock in and clock out. The biometric clocking system consists of a biometric device and a software for downloading attendance logs. However, most attendance devices have capability to read both fingerprint and staff card due to the inbuilt chip. The attendance software can be installed in a computer and the attendance logs downloaded from the device through the local area network.
Time Attendance Key Specs and Price in Kenya
| | |
| --- | --- |
| Price | KES 35,400 |
| User authentication | Fingerprint and RFID card |
| Number of users | 1000 employees |
| Functionality | Clock in and clock out |
| Connectivity | local area network; USB stick |
| Reports | Excel, PDF |
| Installation and training | yes |
What is the purpose of time attendance system?
The main purpose of an attendance management system is to get accurate numbers of hours worked by the employees. The HR administrator can choose to download time attendance reports on a daily basis or at the end of each month. Furthermore, the attendance reports can be used to accurately calculate overtime pay.
How does the attendance system work?
The attendance system can either be based on RFID cards or biometrics. The card based attendance system uses employees' staff cards that to clock in or clock. These staff cards are usually embedded with a chip to enable communication with the attendance device. On the other hand, biomeric attendance system uses employee fingerprint or face to clock in or clock out. The clocking data is usually stored in the database and can be retrieved later when needed in form of attendance reports.
What makes a good employee attendance system?
A good attendance system is easy to use and rugged enough to withstand the elements associated with outdoor installation. Also, it should allow more than one method for clock in and clock out. For example, ZKteco biometric time attendance system allows employees to use either RFID cards or fingerprint to clock in.
see; access control systems Kenya
To begin with, the biometric system captures and stores individual employee's fingerprints. Therefore, a user places his or her thumb on the scanner to be scanned before the door can be released to open. At the end of the day, access to rich reports facilitates management in decision making. Be that as it may, the staff attendance system offers simple yet detailed reports. These reports come in different formats and will assist the human resource department in coming up with strategic decisions.
Benefits of the time attendance system
Simple user interface:
The attendance management system has an intuitive graphical user interface. The interface has been made very simple and easy to learn and use. Equally, the web-based dashboard supports real-time updates for employee logs.
IP based connectivity:
the system supports TCP/IP communication protocol. In other words, it allows for connection via the RJ45 connection interface. Furthermore, the database will be accessed through the RS232/485 port. Also, backing up information has been made easy. That is, the network or the USB port provides a safe and efficient method for downloading time attendance reports to be backed up.
see; IP PBX price
Software designed for orderly shifts and schedules.
Shifts and schedules apply to companies whose employees work in shifts. The system creates shifts customizable based on organizational requirements. The attendance module allows the shift manager to create periodical schedules to be followed by the employees. Also, the feature leads to better planning of employees thus increasing their productivity.
Ability to create practical time attendance policies.
Basically, this feature provides an interface to create and implement organizational rules. For instance, the system defines standard working hours and overtime. It captures when a person reports to work late or leaves the office early. Under those circumstances, it defines maximum hours that will be clocked in as overtime, etc.
Leads to efficient time management.
No doubt, collecting and analyzing staff information can take a lot of time. However, a good electronic staff management software assists the human resource manager to generate several types of reports. Ultimately, time attendance system captures leave management aspects of employee management. The attendance software enables staff to apply and update leave status. During the active leave days, the attendance management system will lock out staffs on leave. By way of example, it rejects such employees who proceeded on annual leave to clock-in through the system.
Integration with the payroll software.
This leads to automatic updating of time sheets in to the payroll module. In fact, all the data to be generated by the biometric attendance system has to be compatible with best HR and payroll software in Kenya. Hence, there will be no need to manually update the employee attendance register. The biometric attendance system directly populates the HR software. By integrating the system with HR and payroll software, the human resource personnel gets real-time updates. From the dashboard, the system administrator can query the database real-time updates as employees clock in and out.
Major savings on staff administration cost.
Research indicates that automating employee attendance leads to a 40% reduction in operation costs. These savings can then be channeled towards other important business areas such as marketing. In essence, the automation produces accurate work hours, precise calculations and payment of overtime dues. Technically, automation seals the loopholes for overpayments and overtime forgeries.
Accurate employee clocking and clock out reports
Staff attendance management have been designed to work as biometric clock in and clock out system in Kenya. However the system can also be used as door access control. It also delivers outstanding performance in a networked environment. The fingerprint attendance system has been designed in such a way that it can be used for outdoor installation. Because the device is resistant to scratch and the elements.
What is more, the attendance management terminals been integrated with the latest high-quality optical sensor? Consequently, the biometric system can be installed at any place of work even in factories. And in flower farms where employees tend to have weak fingerprints.
see; networking services company
In as much as the ZKteco staff attendance system will still work with proximity cards, fingerprints remain the most dependable method for user authentication. As it is, fingerprints are unique to each employee thus leaving no more room for manipulation.
Easy of downloading of attendance reports
When installed as a standalone, there will be no need for a physical connection to a computer. This means that attendance reports can be downloaded via USB. This is particularly important for expansive factories where the main employee entrance is far away. So, it makes sense not to do cabling if the wiring required could go more than the 150 meters.
Even though using fingerprint for the authentication can be adequate enough, most organizations prefer the two-step authentications. In such a situation, employee staff cards, preferably proximity cards, will be enabled to achieve the two-factor authentication system.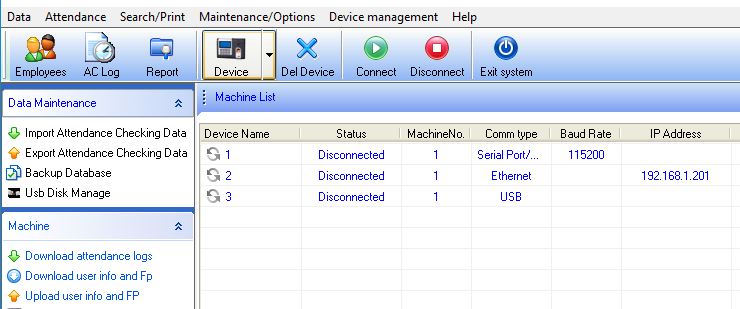 More importantly, though, the ZK attendance software will produce reports in excel format. This makes it easy to upload attendance into company HR and payroll software. Furthermore, attendance reports in excel can be manipulated further to get more useful insights into employee work ethics.
Elimination of errors in staff payroll
Biometric attendance systems lead to complete accuracy of the Payroll information. As a matter of fact, there will be no room for manipulation of employee attendance register. This is because the attendance information will be captured biometrically. Thus, cheeky employees will be unable to modify neither reporting nor closing time.
The device has a huge internal storage space. The Zkteco time attendance software has the internal capacity to hold over 3,000 fingerprints, over 100,000 transaction records.
Technically, this technology brings about accuracy in the electronic staff register. Achieve attendance accuracy through the identification of every employee by fingerprint. In so doing, the challenge of employees signing in on behalf of their colleagues has been solved.
It is important to note that facial recognition systems were built based on the same technology as the fingerprint. However, according to client preference, the biometric system will support the combination of at least two identification methods. That is, the use of both RFID cards and fingerprint to identify users.
Very durable biometric devices.
ORACO Kenya installs very high quality biometric staff attendance management system in Kenya. We install reliable, long-lasting and highly scalable employee management system. As trusted suppliers of biometric staff attendance management system, we also offer school biometric attendance system in Kenya.
Ease of customization of the attendance reports
The ZKteco time attendance systems can be configured to offer time attendance reports via USB port or by connecting to a computer. The HR and payroll department will be able to access reports on how many employees reported in and present for how long. By the same token, establish how many worked overtime and who came in late. This  attendance report has so much value to the HR personnel.
Installing the modern biometric attendance system provides your organization with multiple clocking options. For instance, you can opt for the RFID card, the fingerprint reader, keypad or the use of QR reader. The attendance software can be integrated with company HR and payroll software. Compatibility with most HR software is a key requirement by so many organizations.
All in all, it is always advisable to have the fingerprint terminals in a networked environment. Networking the attendance terminals not only enables you to access real-time attendance data but also gives a platform from where you can monitor terminals in different locations.
Biometric attendance system Kenya offers comprehensive and accurate work hours and employee clock-in all from a single device.
The time attendance system can be used in schools
The other purpose of the Zkteco time attendance system is the schools attendance management. Here, the system will capture when the students checked in and when they checked out. The attendance report will be generated by the same device. This is cost effective as organizations get double value at the price of one biometric system price. The good thing about the attendance reports and the system logs is that nobody can manipulate them.
see; boom barrier
Simplified reports; generate useful reports in different formats e.g. excel and PDF formats. The over 200 detailed reports will be customized for specific usage. When generating attendance management reports, filters can be applied to generate a more specific report.
The self-service portal allows the employees to apply for leave, view shifts electronically irrespective of the geographical location. Moreover, employees will get notifications about leave approval from their phones. The self web portal system empowers staff to plan ahead and manage their leave days efficiently. Furthermore, they will be able to plan for work schedules or shifts and even view attendance reports.
see; turnstile gate
Web-based access feature makes the attendance software accessible for other devices apart from the desktop application. Actually, the main reason for creating employee self-service. On the other hand, saves time in decision making. From the web-based access, employees can be able to access the self-service portal to apply for leave. Not to mention view shifts and schedules, register attendance.
Biometric time attendance system can be used in factories in Kenya
Corporate self-service portal: software management recognizes the organizational corporate structure. The structure can be reflected in the way user privileges are distributed based on departments. For instance, the employee self-service provides the HR officer with rights to approve leave application. In the same way, plan employee shifts and schedules, view attendance among other functionalities.
Integration with payroll software: attendance reports such as overtime reports become very critical when processing salaries. Actually, the attendance reports once updated will affect employee total monthly earnings. Hence, we integrate the attendance system with payroll software to simplify payroll management. And it actually leads to the error-free and timely processing of employee salaries.
Receive email and SMS notification. After a successful application for leave via the self-service web portal, staff receives automated responses. For this reason, there will be an automated system for receiving updates. At this point, the system generates responses without user interference. Hence, notification of a successful leave application and approval need not happen verbally. Communication will be passed through email and via SMS and still appear personalized.
Contact us now for a wholesome end to end biometric time attendance system in Kenya.