Biometric Access Control System in Kenya
Biometric access control system in Kenya is suitable for office security, IT server rooms and other protected areas. This solution has capability for multi credential setup, meaning the system can use fingerprint, RFID card or even 4 digit PIN for authentication. Still, the solution allows for multi door installation with a centralized controller to manage various doors within the building or for branch offices. Moreover, building access management system can be integrated with the staff cards to allow for attendance management. ORACO Kenya is an expert installer of building access management system in Kenya.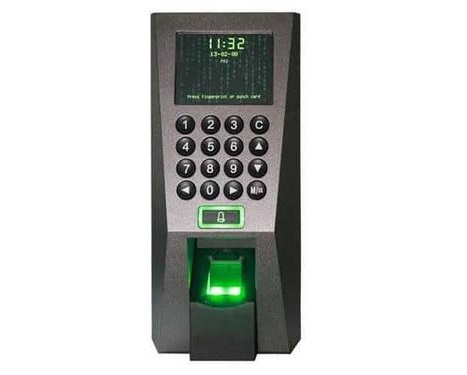 There are very many technological advancements taking place in the world of biometric solutions. What with biometric door access management system in Kenya? After the introduction of the IP based access management system, we have witnessed the introduction of devices with very advanced features. We know that today clients are not only looking for systems that are cost-effective but those that offer greater flexibility. Thus, the open standard platform that allows for ease of integration with other security solutions and scalability.
Biometric Access Control System Price in Kenya
| | |
| --- | --- |
| Price | KES 63,800 |
| Controller | Fingerprint and RFID reader |
| Magnetic lock | Yes |
| ZL Brackets | Yes |
| Door Closure | Yes |
| Breakglass, Override Keyswitch, RTE switch | YES |
| Installation | Yes |
Key components of the access control systems
The controller; fingerprint reader device, RFID card reader, face recognition device
Magnetic lock
Mounting brackets; ZL brackets, U brackets
Door closure
RTE switch
Breakglass and override key switch
Power supply unit complete with backup battery
See also; best IP PBX system in Kenya.
Contact us now for the best office door access control system in Kenya
Card access management system has been there for a while now. It is just that technology absorption in Kenya has not been fast enough. They started with the pure card and pin access devices. Today, there are more intelligent system scanners that use fingerprints in addition to the card and pin authentication methods. So, if you are looking for the best access control installers in Kenya, then look no further. At ORACO Kenya, you can count on us to deliver the right access system for you.
see; Checkpoint firewall
Biometric access control price in Kenya
The actual cost of acquiring an access control system in Kenya varies from one site to the other. In fact, the total amount quoted will include the cost of buying the equipment plus the installation charges. Nonetheless, the standard price for installing a biometric access control system in Kenya starts at KES 65,000. However, this cost might reduce or increase depending on the complexity of the site. This total amount includes buying the controller device, mounting brackets, magnetic lock, switches and power supply. Also, the cost of cabling installation and installation accessories will be included in the total amount. The access control installer labor charges usually part of the quoted figure.
The modern access system has been designed in a modular form so that the customer only buys what will be useful. For example, the controller device will often times come with either a fingerprint reader module or the RFID card reader module. Still, the Bluetooth modules and the Wi-Fi modules can be purchased separately. All in all, modular design architecture have helped in reducing the cost of acquiring access control since the client will only buy what must be bought.
In as much as these systems tend to be stable and durable, it may be of great help to set aside some funds to maintain it. After the initial one year elapses, the system should be scheduled for regular maintenance to enhance effectiveness. Regular servicing also helps the access control system to last longer. Also it will reduce the tendencies of inconveniencing users due to sudden breakdown. In fact, access control systems often time break down due to lack of regular scheduled servicing. As a standard, the system should be serviced at least twice a year.
Access control system installation
Door access control systems are dependable automation devices for companies. Their main purpose is to manage entrance to and exit from protected areas, that is, audit office, personnel record center, strong room, etc. Basically, by controlling who enters where and when the biometric solution has achieved its main purposes. Organizations would like to limit movement to particularly very sensitive areas and at the same time be able to query and get records of such authorized access.
A simple setup mainly consists of the power supply, magnetic locks, door closures, switches, and the door access control reader device. Also, the access control can sometimes be integrated with other security solutions such as the intruder alarm system or even a fire alarm system.
see; call center system
Without effective access systems, it will be difficult to tracking people movement within a premise. Unless you want to stick with the outdated system of writing down peoples names at the entrance. Technology has made easy to automate a lot of operations. Security and gatekeeping are just one of them.
With IP based door access management devices, technology has simplified management of multiple door access systems. Each device is assigned a unique IP address and can be managed independently or as a group of devices. So instead of only installing one biometric access control system at the main door, organizations can choose to install several based on the sensitivity of each office. Hence, you will find an organization with several door access management devices deployed all over to control access to rooms with confidential material.
Setting up Access Control for office
Be that as it may, we would like to remain market leaders in the design and installation of the office access management system. We constantly endeavor to retain our market position as the most reliable installer of telecom and security systems. And we attribute our great success and robust growth to our guiding principles of Innovation and Trust. Thus, we deliver on time service and the quality of the biometric access control system installed is top notch.
When it comes to innovation, we always keep up with the latest trends in the industry. Hence, our clients will always stay ahead of the competition by integrating new technologies. We never compromise on usability. That is why in as much as we try to give our clients the latest biometric technology in the market, we usually propose ergonomically designed biometric devices with the intuitive user interface. A great user interface not only enhances usability but also improves client satisfaction.
see; structured cabling installation
Biometric door locks
Unlike in the past, the current biometric technology is faster, smarter and more versatile. This is an indicator the current integrates the best processor and the best motherboard there is. Even the LCD display is bigger with rich graphics. Thus, it is no longer a surprise that one single standalone biometric access management system has the ability to store over 3,000 user records. In addition to over 1,000,000 impressions of transactional records.
see; SIP trunk provider
Nevertheless, networking door access management devices enable the system administrator to access real-time logs from each door controller. In fact, managing multiple door controllers in a networked environment reduces the need to move up and down downloading backup logs from individual terminals. You can save time by assigning each terminal an IP address through which all logs can be pulled to a central machine.
Types of access control systems
Fingerprint access management
This is a system that authenticates a person entering a building by the use of thumbprints. By far it is the most efficient and reliable door access management system. So you ask why biometric access management is better than a card or pin system. To start with, a human thumbprint is unique to that person and it is transferable. Once you have been registered in the system, there is no way you can use somebody else fingerprints to commit a crime. Secondly, there is no way you can leave your fingerprint at home. A building access management system that relies on card authentication suffer the challenge of a card left at home.
Card access management
Card access management can work as a time attendance system. So apart from using the card to access a building, you can use it to identify yourself to security personnel. The only challenge with card access management system is that they are easily shareable. For example, an employee might give out his or her card to a colleague when they are late for work. The HR practitioners might not like this system since it can be used by unscrupulous employees to claim overtime payments.
PIN access management
Lastly, we install pin access systems. These kinds of systems are among the first technologies to be adopted at workplaces. This device is reliable if employees are trained not to share their PINs. Secrecy is the weakest or strongest link whichever way you look at it. Nonetheless, it can still serve the purpose of the users are trained on the importance of protecting and keeping secret their access PINs.
Contactless access management system
The future of building access management is wireless. At ORACO Kenya, we have introduced contactless building access management system that enables users interact with the infrastructure without touch. To start with, users will use smartphones for authentication in order to access the office. In a multi door setup, the different access management devices will be connected securely to a centralized gateway using Bluetooth or Wi-Fi network. This reduces the need to install cabling by up to 90%. Lastly, the access logs will be stored in the cloud thereby eliminating the need for dedicated server machine.
Benefits of the fingerprint biometric system
Functional use flexibility
The office access management device can function as a biometric time attendance system. Additionally, it has multiple ways to authenticate users, that is, use of fingerprint, RFID card, PIN or password, and palm vein.
Scalability and ease of expansion as the company grows
The IP based architecture of the device makes expanding the system very simple. No wiring required for additional modules. The controllers can accommodate as many as 50 biometric access management readers.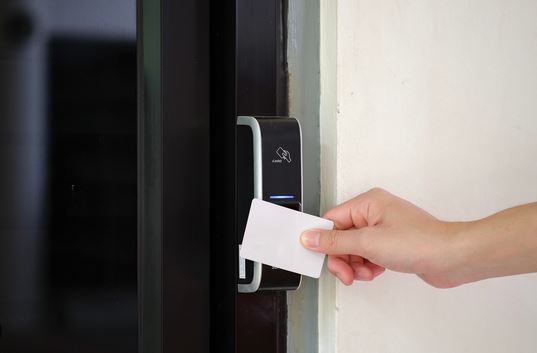 Multi location deployment
For companies with multiple branch offices, user enrolment only happens from one location. In other words, there is no need to duplicate enrolment on all the locations. Once a user has been captured into the system, he or she is free to log in from any location within the company branch network.
Hardware reliability and software stability
There is a real-time transfer of logs from door controllers to the central server. In the event of internet downtime, the devices use auto push technology to keep the server updated whenever a reliable connection is detected. Apart from the Ethernet connection, device connectivity also happens through WiFi and through 3G/4G GSM network connectivity.
Integration with third party systems
Integration with third-party hardware and software: open standard inter-connectivity allows for ease of integration with third-party time attendance software and payroll software. Moreover, it is possible to integrate with third-party security hardware such as doorbell intercom system, fire detection system or intruder alarm system.
Simple setup and installation
Traditional building access management devices require a power supply to power up magnetic lock, exit switch and the reader device. However, the modern setup uses PoE for power. As long as there is PoE switch, there will be no need for complicated wiring and an extra power supply for the magnetic lock and the biometric reader.
Built with quality for long lasting use and durability
These devices are IP65 certified security gadgets. Technically, they are resistant to dust and offer reliable service even in extreme weather conditions.
anti pass back
This security feature ensures that a person cannot enter back into the office if he never exited through the system. This eliminates instances where one credential can be used for multiple entries into an office. Very useful in during investigations into an incident in the office.
Importance of biometric access control system
Office security
The main reason why institutions install building access control is to keep away unauthorized persons. The restricted places can be private car parking areas, server rooms, stores, etc. Places where private staff files are kept also require high security.
Banking institutions are a perfect example of where access control management have been deployed successfully. Not very bank employee has the keys or the password combinations to the strong room locks. It is only a few senior staff of the bank authorized to access such places. And their cards or the authentication method has been programmed with such rights.
time attendance management
The modern building access management devices can also be used as biometric time attendance systems. Door security systems monitor when employees report to work and when they leave the offices. This is especially essential if the employees work in shifts. The setup enables you to enjoy the double benefit from the installation. That is, you get time and attendance functionality as well as access management functions.
Lower cost of installation
Door access management system sure do come with exciting benefits. That is system versatility, lower cost of installations, faster configurations, and management. Be that as it may, the IP technology has opened up door security solutions to greater capabilities. With all these expectations, ORACO Kenya offers you top quality building access management devices.
Legacy building access management happened to be proprietary. Those proprietary systems tended to limit clients to a single provider of hardware and software. The need to stick with one vendor made the system very rigid to expansion. The end result for lack of flexibility was the unusually high cost per door controller. On top of that, traditional door access management system were complex and required advanced training before commencing installations and configurations.
Multiple ways of user authentication
When it comes to authentication mechanisms, the new technology does not disappoint. They have the capability to do authentication by fingerprints and still use RFID cards. If you like, you can enable pin authentication through the keypad.
You can also configure the access control device to use a combination of the above authentication options. This will help you achieve higher security levels e.g. you can combine pin and fingerprint.
With biometric access management devices, you can use the fingerprints as the unique identifier. In a more advanced setup, you can scan the retina to authenticate users. Based on our extensive experience, we are ranked among the best access management installers in Kenya. Now as we conclude, we advise our clients to automate their security systems. And to deploy only the tried and tested biometric devices.
Please contact us today by filling out the form below or call us. We would be thrilled to design for you the best biometric access control system that meets your needs. We also deal with high precision metal detectors.