IP Phone Price in Kenya
In an era marked by rapid technological advancement, the way we communicate has undergone a revolutionary transformation. The traditional telephone, once a mainstay of communication, has evolved into the sophisticated and versatile telephone system. Modern desk phones have seamlessly integrated the power of the internet with telephony. This has led to a myriad of benefits that have reshaped the landscape of communication for businesses and individuals alike. Contact us today for the best IP phone price in Kenya starting at only KES 7,000.
An IP phone, also known as a VoIP (Voice over Internet Protocol) phone, is a device that enables voice communication over the internet rather than through traditional telephone lines. This innovation leverages the principles of digital technology to convert analog audio signals into digital data, transmitting it over the internet in the form of packets. These packets are then reconverted into audio signals upon reaching the destination. The end result is clear, high-quality conversations.
IP Phone Price In Kenya
| | |
| --- | --- |
| Yealink T30P IP Phone | KES 7,000 |
| Yealink T31G IP Phone | KES 7,500 |
| Yealink UH36 Call Center Headset | KES 9,500 |
| Yealink W60P DECT IP Phone plus Base Station | KES 18,500 |
| Yealink W56H DECT IP Phone | KES 14,400 |
| Yealink T46U Executive IP Phone | KES 29,900 |
| Yealink T48U Receptionist IP Phone | KES 32,200 |
The IP telephone System have simplified the process for setting up IP Phones in Kenya. Be that as it may, the world is slowly moving from ordinary desk phones towards IP Desktop phones, VoIP gateways, and IP PBX System. What is more, these technologies have made it easy to install and expand VoIP solutions without the need for expensive Ethernet cabling. Thus, we offer the best IP Phone Price in Kenya starting at KES 7,000. And the price of an entry level IP phone retails at KES 7,000 in Kenya.
As a VoIP solution provider in Kenya, we deploy VoIP in form of software as a service or appliance-based. Either way, some of the SIP Clients in a VoIP setup include physical VOIP Desktop phones. Additionally, the Softphone application installed on smartphones and desktop computers. Users have the option of doing audio and video communication via hands-free headsets when installing as a desktop client.
Benefits of IP Phones
Cost-Efficiency
One of the most compelling reasons to invest in an IP phone is the substantial cost savings it offers. Traditional phone systems often involve complex setups, maintenance costs, and high call charges, especially for long-distance or international calls. This system bypass these limitations by utilizing the internet for communication. This translates to significantly reduced call costs, particularly for long-distance and international conversations.
Global Connectivity
This technology has broken down the geographical barriers effortlessly. With traditional telephone system, establishing a new office branch or connecting with clients in distant regions can be a challenge. IP telephony transcend these constraints. It allows inter office connectivity through the internet. This enables colleagues from sister company to make office to office calls or branch to branch calls free of charge.
Advanced Calling Features
This technology offer a multitude of advanced features that can enhance communication efficiency and productivity. These features include call forwarding, call transfer, voicemail-to-email transcription and multiparty conferencing. Other features include call recording, call pickup and integration with other business applications. These tools are tailored to meet the diverse needs of businesses and professionals.
Flexibility and Mobility
Gone are the days when you were tied to a physical desk phone. VoIP telephony provide unmatched flexibility. With VoIP, users can make and receive calls from anywhere with an internet connection. Whether at the office, working remotely, or traveling, employees can remain seamlessly connected to office telephone system. This mobility not only boosts productivity but also fosters a healthier work-life balance.
Key features of the IP Phone
Multiple SIP accounts
Dual Gigabit Ethernet port with PoE
Support for headset
HD audio with smart noise filtering technology
Beautiful color screen with backlit
Multi angle adjustable stand
Full duplex speakerphone
Expansion module with extra DSS keys
No doubt, technology keeps changing, so should you. To begin with, the office telephone systems are becoming sleeker and more elegant to the users. Ultimately, all these geared towards making work more enjoyable and fun. Even so, ORACO Kenya understands clients changing preferences. For this reason, we are suppliers of the most reliable cordless and wireless desk phones in Kenya.
see; structured cabling and networking company
First and foremost, SIP phones are compatible with most VoIP PBX systems in Kenya. In the business setup of today, mobility and agility are the cornerstones for employee productivity. As a result, the wireless desk phones come with belt clips best suited for that employee who always on the move. No need to worry about a weak signal for the cordless phone will pick signals from the base station within a radius of 80 meters.
IP Phone Price In Kenya
| | |
| --- | --- |
| Yealink T30P IP Phone | KES 7,000 |
| Yealink T31G IP Phone | KES 7,500 |
| Yealink UH36 Call Center Headset | KES 9,500 |
| Yealink W60P DECT IP Phone plus Base Station | KES 18,500 |
| Yealink W56H DECT IP Phone | KES 14,400 |
| Yealink T46U Executive IP Phone | KES 29,900 |
| Yealink T48U Receptionist IP Phone | KES 32,200 |
Why Choose IP Telephone
Investing in an IP phone system is not just a choice, but a strategic move that can revolutionize the way you communicate. Here's why it is a wise investment:
Future-Proof Technology
Technology is in a state of constant evolution. Traditional telephone systems have gradually becoming obsolete as the world transitions towards internet-based communication. By embracing VoIP, you are future-proofing your communication infrastructure. This ensures that your organization stay ahead of the curve and remain adaptable to emerging trends.
Scalability
Businesses, whether small startups or large enterprises, experience fluctuations in communication needs. VoIP phones offer unparalleled scalability, allowing the telephony infrastructure to grow effortlessly to meet the evolving business needs. Also, scalability ensures that an organization only acquires what is actually needed. No need to spend extra funds on equipment that will lay idle due to lack of capacity.
HD Voice Quality
The hallmark of any successful communication is crystal-clear voice quality. VoIP deliver high-quality crystal clear voice communication. The voice calls are free from the crackles and static often associated with traditional phone lines. This elevated sound quality contributes to a more immersive and effective communication experience.
Cost Savings
Business sustainability hinges on efficient resource allocation. This technology optimize communication expenses by significantly reducing call charges. Also, it minimizes maintenance costs associated with traditional phone lines. Over time, these savings can have a substantial positive impact on your bottom line.
Enhanced team collaboration
Efficient communication is the cornerstone of successful collaboration. VoIP can particularly bridge the gap between team members working remotely or in different locations. This not only fosters better teamwork but also nurtures a more cohesive and motivated workforce.
Desirable features of the deskphones
Long-lasting battery
The phone gives 30 hours of talk time with 400 hours of standby time. This phone does not require overnight recharging. Actually, connecting it to a power source for only 10 minutes translates to 2 hours of talk time. Also, the battery which is removable can be swapped after a long period of use.
see; SIP Trunk provider
Simplified management interface
Wireless desk phones are supported by auto-provisioning. This means that installing the phones only takes a few minutes. Additionally, the phone system supports multiple user access levels. Therefore, the system administrator is able to limit an ordinary phone user to only the features that are necessary. Limiting phone features enhances security and simplifies management.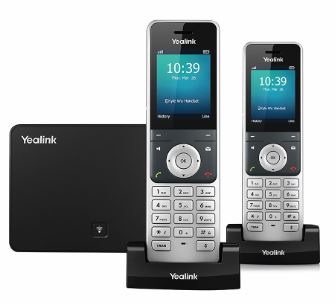 User convenience
It is possible to connect a headset jack to the wireless IP Desk phone. This improves productivity at work especially when multitasking. Moreover, the phone has a belt clip that enables users to wear the phone while moving around within the office area.
Sleek design for the professional worker
The cordless Desk Phones spot a business class design. It comes with a 2.4 color screen complete with a backlit keypad. It has an excellent shape that fits perfectly in the users' hands. These cordless IP phones are designed with a busy user in mind.
see; intercom system
VoIP base station
Limit the amount of data cabling requirement in your office by use of DECT phones. As a matter of fact, a single base station will support up to 5 IP cordless desktop phones.
No doubt, cordless telephones have changed how employees collaborate at work. A good example of a cordless desk phone is the Yealink W56P cordless phone. These wireless Desk phones are classy yet affordable office telephone systems suitable for small office businesses in Kenya.
Embracing the IP Telephony Revolution
In today's competitive business landscape, every advantage counts. VoIP offer an array of features that can give your business an edge. In fact, companies can offer superior customer service through advanced call routing and efficient team collaboration. Moreover, this technology can be integrated with customer relationship management (CRM) systems for better customer engagement. And, a well-equipped communication system can be the differentiator that sets your business apart.
The evolution of communication technology has brought us to a crossroads. The decision to acquire this technology transcends a mere upgrade. This is an investment in the efficiency, growth, and future of your communication ecosystem. With features ranging from global connectivity to advanced collaboration, this technology offer an unparalleled communication experience.
As you embark on this transformative journey, consider your unique needs and the potential of your business. The advantages of VoIP extend beyond immediate benefits. This communications technology can greatly help in shaping the trajectory of a business in this rapidly evolving digital landscape. Therefore, embrace the power and efficiency of IP phones. The decision to upgrade the telephone system promises to redefine the way your organization communicates and connects with clients.
General benefits of the IP Phones
Increased mobility: employees from different regions can communicate seamlessly through unified communication solutions such as video chat, instant messaging, and voice calls. Unlike analog phones, IP desk phones come enriched with exciting features and an ergonomic user interface to enhance productivity.
Highly cost-effective. To begin with, scaling the VOIP Infrastructure is less expensive. Also, no need for fresh wiring of the network. Expanding the network and increasing the number of users only requires the purchase of a SIP client. The installation is a plug-and-play process.
The IVR system
IP Telephony enables you to empower your customers to access self-help solutions to their problems. You can also use the same platform to market your products and services to your customers. The IVR system is a cost-effective way of introducing a new product to your clients. You can also entertain your callers as they queue for their turns.
Conference call
This feature saves on time and commuter expenses. Employees can attend meetings remotely among themselves. This enhances staff collaboration to achieve company objectives. The same can be implemented especially when meeting clients who might be geographically far away.
see also; best payroll system for small businesses
Recording of calls
IP Telephony solution enables the company to automatically record both outgoing and incoming calls. This feature is essential for companies with call center software. With VoIP, a company's clients will be calling for free without any charges. The call recording features help to review and resolve customer care issues and improve customer care management standards. A lot of important call information captured in the recording includes caller ID, call time, and duration among others.
Enhanced security through VPN
VoIP technology has inbuilt security features which protect your voice communication from being hijacked or tapped. The implementation of secure communication is done through VPN trunking, SSH certificates, and firewalls. Additionally, VOIP technology gives you a secure and rich communication solution for efficient business operation.
Custom features of the business class wireless desktop phones
Designed with a touch of class for use in a professional business environment
Outstanding HD sound with inbuilt noise cancellation technology
Distinctive user-interface complete with the color display screen
Support for four concurrent voice calls at one go
The base station supports up to five SIP accounts, that is, five independent wireless desktop phones will be connected to one base station
Accessories: USB charging system, long-lasting rechargeable battery, DECT and users belt clip for the highly mobile employees
Signal strength covering a radius of 50 meters
PoE Ethernet port for LAN connectivity
In any case, VoIP PBX and VoIP Desktop Phones allow for the creation of a remote working environment. In other words, that means you are assured of timely support from our IT support engineers. Hence, should you require to keep your old PABX system, we will integrate it with the VoIP PBX system to enable you to enjoy IP Telephony.
Get in touch with us here for good deals on IP Phone price in Kenya.