IP Phones Supplier in Kenya
IP PBX Systems have simplified the process for setting up IP Phones in Kenya. Be that as it may, the world is slowly moving from ordinary desk phones towards IP Desktop phones, VoIP gateways, and VoIP PBX Systems. What is more, these technologies have made it easy to install and expand VoIP solutions without the need for expensive ethernet cabling.
Some of the SIP Clients in a VoIP setup include the physical IP Desk phones. Additionally, the Softphone application installed on smartphones and desktop computers. Users have the option of doing audio and video communication via hands-free headsets when installing as a desktop client.
No doubt, technology keeps changing, so should you. To begin with, the office telephone systems are becoming sleeker and more elegant to the users. Ultimately, all these geared towards making work more enjoyable and fun. Even so, ORACO Kenya understands clients changing preferences. For this reason, we are suppliers of the most reliable cordless and wireless desk phones in Kenya.
First and foremost, cordless phones are compatible with most digital PBX System Kenya. In the business setup of today, mobility and agility are the cornerstones for employee productivity. As a result, the wireless desk phones come with belt clips best suited for that employee who always on the move. No need to worry about a weak signal for the cordless phone will pick signals from the base station within a radius of 80 meters.
Desirable features of the wireless Desk Phones
Long lasting battery
The phone gives 30 hours of talk time with 400 hours of standby time. This phone does not require overnight recharging. Actually, connecting it to a power source for only 10 minutes translates to 2 hours of talk time. Also, the battery which is removable can be swapped after a long period of use.
Simplified management interface
Wireless desk phones are supported by auto-provisioning. This means that installing the phones only takes a few minutes. Additionally, the phone system supports multiple user access levels. Therefore, the system administrator is able to limit an ordinary phone user to only the features that are necessary. Limiting phone features enhances security and simplifies management.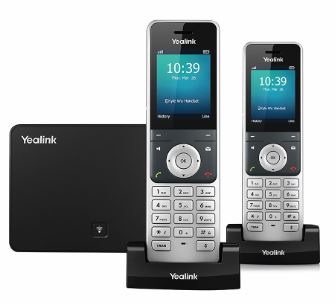 User convenience
It is possible to connect a headset jack to the wireless IP Desk phone. This improves productivity at work especially when multitasking. Moreover, the phone has a belt clip which enables users to wear the phone while moving around within the office area.
Sleek design for the professional worker
The cordless Desk Phones spot a business class design. It comes with a 2.4 color screen complete with a backlit keypad. It has an excellent shape that fits perfectly in the users' hands. These cordless IP phones are designed with a busy user in mind.
VoIP base station
Limit the amount of data cabling requirement in your office by use of DECT phones. As a matter of fact, a single base station will support up to 5 IP cordless desktop phones.
No doubt, cordless telephones have changed how employees collaborate at work. A good example of the cordless desk phone is the Yealink W56P cordless phone. These wireless Desk phones are classy yet affordable office telephone systems suitable for small office businesses in Kenya.
General benefits of the Desk Phones
Increased mobility: employees from different regions can communicate seamlessly through unified communication solutions such as video chat, instant messaging and voice calls. Unlike analog phones, IP desk phones come enriched with exciting features and ergonomic user interface to enhance productivity.
Highly cost effective. To begin with, scaling the VOIP Infrastructure is less expensive. Also, no need for fresh wiring of the network. Expanding the network and increasing the number of users only requires the purchase of a SIP client. The installation is a plug and play process.
The IVR system
IP Telephony enables you to empower your customers to access self-help solutions to their problems. You can also use the same platform to market your products and services to your customers. The IVR system is a cost-effective way of introducing a new product to your clients. You can also entertain your callers as they queue for their turns.
Conference call
This feature saves on time and commuter expenses. Employees can attend meetings remotely among themselves. This enhances staff collaboration to achieve company objectives. The same can be implemented especially when meeting clients who might be geographically far away.
Recording of calls
IP Telephony solution enables the company to automatically record both outgoing and incoming calls. This feature is essential for companies with call center. The call recording features help to review and resolve customer care issues and improve customer care management standards. A lot of important call information captured in the recording include caller ID, call time and duration among others.
Enhanced security through VPN
VoIP technology has inbuilt security features which protect your voice communication from being hijacked or tapped. The implementation of secure communication is done through VPN trunking, SSH certificates and firewalling. Additionally, VOIP technology gives you secure and rich communication solution for efficient business operation.
Custom features of the business class wireless desktop phones
Designed with a touch of class for use in a professional business environment
Outstanding HD sound with inbuilt noise cancellation technology
Distinctive user interface complete with the color display screen
Support for four concurrent voice calls at one go
The base station supports up to five SIP accounts, that is, five independent wireless desktop phones will be connected to one base station
Accessories: USB charging system, long-lasting rechargeable battery, DECT and users belt clip for the highly mobile employees
Signal strength covering a radius of 50 meters
PoE Ethernet port for LAN connectivity
In any case, IP PBX and IP Desk Phones still seamlessly work with the analog phone system. In other words, that means you are assured of timely support from our tech support engineers. Hence, should you require to keep your old PABX system, we will integrate it with VoIP PBX system to enable you to enjoy IP Telephony.
Get in touch with us here for good deals on Desk Phones.