Interactive Voice Response
Businesses continually automate processes to bring about efficiency and unmatched caller experience. Notably, IP telephony has made it easy to deliver excellent customer experience by using Interactive voice response ( IVR ) system to shorten time required to serve clients. As installers of the Interactive Voice Response system in Kenya, we design and configure IVR system for call center in Kenya. We customize the IVR prompts according to client specification. In fact, we supply IP PBX system with inbuilt IVR feature.

For this reason, interactive voice response should be installed by every businesses; whether a small business or a big office company in Kenya. Today, it is common for a caller to be assisted by an auto-attendant extension. Callers usually get assisted even without interacting with a human customer care agent. Luckily, most of the VoIP PBX business telephone systems come with the inbuilt capability to offer IVR (Interactive Voice Response) service.
see also; call center systems
The auto-attendant extension will handle all the issues categorized as customer self-service. The issues addressed under self-service are usually simple and do not require express interaction from a human call agent. This caller automation application is known as the IVR. The IVR prompts normally sounds something like this.
Welcome to ORACO Kenya, to learn more about our solutions press 1, for customer support press 2, for billing and invoicing press 3, to speak to our sales agent press 0…
How does IVR system work?
The interactive voice response system, also known as, the IVR system is an automated inbound call prompts that redirects a caller to the right telephone extension upon selecting an option.
A simplified version of an Interactive Voice Response system usually sounds something like this, "Welcome to ORACO Solutions Ltd. Your innovative Telephony and IT Infrastructure solutions provider in Kenya. To speak to the sales team dial 1, to speak to the accounts team dial 2. To raise an IT support ticket dial 3. And Dial 0 to repeat the message."
Most IP PBX systems come with inbuilt capability to handle IVR. The number one requirement for setting up IVR is a recorded message which will be played to callers. Hence, all incoming calls will have to go through the automated call . Callers will be presented with a menu of the services offered by the company.
Interactive Voice Response has been implemented by various companies especially those in the banking and financial services to present customer with a self-service platform.
Benefits of IVR (Interactive Voice Response) system
Reliable self service platform for customers
Easiest method to conduct market surveys
Simplest way to market new products
Easiest way to shorten waiting time on call queues
Fastest method for receiving feedback from clients
Typical services that customer can access through IVR include:
Check balance; customers can check bank account balance, telephone talk time balance, utility account balance etc. Hence, this automated system creates a self-service platform for customers to enjoy services using their smartphones. And yet these services previously required physical interaction with customer care executive. Therefore, a bank account holder or a utility services company customer does not need to visit company offices to get served.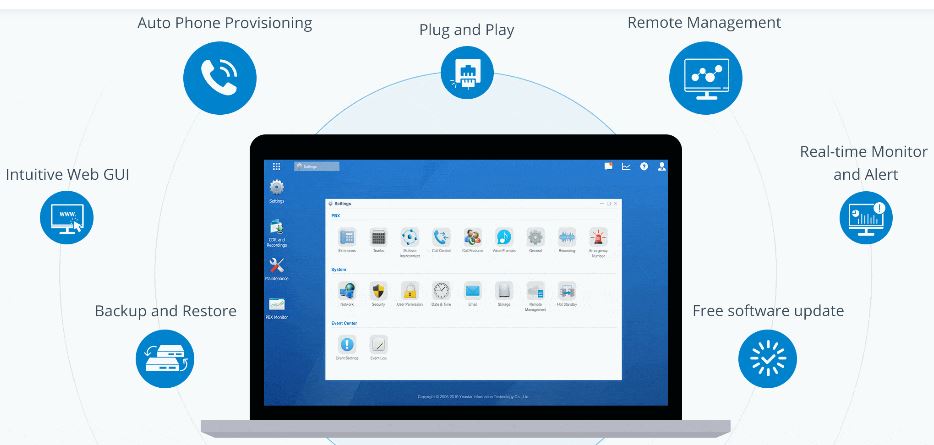 Receive customer feedback; the automated system provides an efficient platform for receiving feedback from customers regarding certain products and services. It is longer necessary to gather customer feedback through printed survey questionnaires. Organizations can actually save operational costs by using this automated call prompts to receive feedback from clients.
Marketing newly introduced products and services to customers. Use IVR to create awareness about new products and services introduced by your company. The auto attendant plays a huge role in creating awareness about new products and services at no cost. Inbound callers will listen to the recorded message on IVR before being redirected to the appropriate extension. This presents an opportunity for a well recorded message to be played to the callers about new products.
All these services and many more can be accessed through an IVR system that is integrated with Customer Relationship Management (CRM) system.
IVR System installer in Kenya
ORACO Kenya is a professional designer of the IVR system for call center. We also design a simple inbound caller prompt for small businesses without a call center. These automated inbound caller prompts have enabled companies to efficiently route calls to different phone extensions. This happens without the need to use so many resources.
see; VoIP trunk provider
Small businesses and even large corporations have invested in the automated inbound caller prompts as a way to save on running costs. The Interactive Voice Response System, abbreviated as IVR, is sometimes referred to as the Auto Attendant Extension. As an important tool in the call center management system, it plays a key role in the success of a business-oriented organization.
The IVR guides customers when they call a company or an organization. This is because the inbound caller prompts is a virtual assistant that directs callers seeking to be served by different departments. So when a call comes in, the caller will be placed in a call queue. At this point the caller will be prompted to press a number which will automatically reroute the caller to the right telephone extension. For instance, when a client calls, they will hear a list of services offered by the auto-attendant extension. That is, for the latest offers press one, for billing and invoicing press two, for customer support press three. And to speak to our specialist press four, and it goes on and on…
With these kinds of innovations in communication technology, most business-oriented companies are fast switching to the IVR prompts. Apart from saving you money, the automated inbound prompts can handle these repetitive call management tasks. Including administration of calls from thousands of callers every day without getting fatigued.
How to benefit more from the IVR
When you call a company like Safaricom, your call will most likely go through the automated inbound caller prompt. From the automated inbound caller prompt, you can inquire about different airtime top-up services, get Bonga points balance. Still, subscribe or unsubscribe from an SMS service among other services. The same is true with other companies especially those in the service industry. A good example would be when dealing with a five-star hotel. You can reserve a hotel room and even get the real-time status of the room as booked by you.
see; door intercom
Bet that as it may, installing an IVR prompt can be challenging. Hence, it requires the services of a professional IP PBX installer in order to produce a professional outcome. Should you require this solution set up for your business, then look no further. We are the professional installers of office telephone systems and call center solutions in Kenya. Our area of expertise covers the installation of IP PBX systems, IP Phones, VoIP softphones, auto-attendant extensions, IVR system in Kenya.
How to Configure the Interactive Voice Response System
The digital receptionist or auto-attendant is usually a virtual extension configured to operate outside office hours. This solution will be most applicable to companies whose clientele require 24/7 support. Perfect examples of companies that require auto attendant setup include companies in the Telecom services industry. Also, those in Insurance Service, IT Support, etc.
See also; networking services company
Depending on the IP PBX system in place, you need to add an inbound route. At the point of adding the inbound route, you must select the lines that will be expected to play the IVR message. Have the destination as the IVR extension. When the new inbound route is configured correctly, all the incoming calls will be directed to IVR.
By and large, navigate to the management console. Then, select add Digital Receptionist. You have to give it a unique name. In the meantime, you can record the message. The prompt message should be simple language and clear to the listener. The recorded prompt will be uploaded to the Digital Receptionists' extension.
Next, create the menu options for your callers. When the auto attendant is activated, the calls will be directed to the menu options created. Ordinarily, the calls will be routed to ring groups or the queuing system.
On most popular PBX systems, the procedure would be to navigate to settings, then call control, finally, you will see the inbound route. From there, you can add a new route. On other versions of the PBX, you will find caller control instead of the call control button.
Why you should install the Interactive Voice Response

Be that as it may, today, every serious company you can think of has either already installed the Interactive Voice Response or is about to install one. More importantly, the auto-attendant extension offers you an opportunity to measure business success using a set of different matrices. For one, the IVR provides a record of all calls received over a period of time. Those charged with ensuring the quality of service can go through all the call recordings and rate how successful it has been. And, can suggest effective ways of improving the quality of interaction with the customers.
see; ZKteco time attendance system
Secondly, apart from the caller reports which can be generated periodically, there is a simplified tool for gauging effective the auto-attendant extension. That is, you will be able to pull out a report of the percentage of callers who asked to speak to the specialist versus those who did not. If the percentage is low, then IVR has succeeded. Then again, the interactive voice response usually offer flexibility in operation. Hence, it can be tweaked further for better performance and outstanding results.
ORACO Kenya is a professional telecom solutions provider dealing with PBX telephone systems, IP Phones, Interactive Voice Response System in Kenya. We install IP PBX system Kenya, hotel intercom system, and desk phones. In addition to solutions for call centers, hotels, and telephone systems for small office businesses in Kenya. More importantly, we offer value-added solutions such as IVR, digital receptionist. And, softphone applications for smartphones and desktops. Additionally, we will do integrate the telephony system with your CRM software.
Contact us today by filling in the form below for an innovative telephony solution that meets your unique needs.