Automatic Gate Installer in Kenya
ORACO Kenya is a trusted installer of automatic gate opener in Kenya. Other people call it the automatic electric gate system. Be that as it may, our work involves installing an automatic gate opening and closing system in Kenya. So that the gate opening and closing operation can be done using a remote sensor. As it is, most security gates tend to be heavy and, to open and close regularly can be tiring. Hence, as automatic gate installer in Kenya, we offer diverse electric gate system solutions in Kenya.
The type of gate opener system to be installed will depend on the gate design.
Contact us now for electric gate installer in Kenya.
Below are the main types of electric
gate openers
solutions:
Automatic swing gate opener
The automatic electric sliding gate system
There are a growing and very obvious need to keep your family and property safe. However, there is no better way to achieve this than to install an electric gate operator. First and foremost, with an electric gate opener, you will save on costs associated with hiring security guards. Just have an intercom system installed at the gate.
see also; PBX telephone system
We deal with high quality and long lasting gate automation motors made to give you value for money. Our gate automation solutions are highly customizable to fit your gate design and weight. For example, we offer a wide range of commercial grade gate automation solutions. For industrial use, manufacture and assembly points. Even so, we still have consumer grade gate automation solutions for homes and villas.
| | |
| --- | --- |
| Price | KES 150,000 |
| Gate type | Swing gate |
| Gate controller | Centurion |
| Power supply | yes |
| Backup battery | yes |
| Beam sensor for safety | yes |
| Warranty | One year |
Why you need an electric gate system
Electric gate systems have pushed safety and convenience to another level. They have enhanced the functionality of a normal gate. Also, it gives you the convenience of operating it from the safety of your car.
It is difficult to tell if someone is hiding in the nearby bushes; waiting to attack you. This is a major drawback of the manually operated gate. It gives the bad guy sufficient time to attack you. Sometimes, even the reaction time from your watchman might not be that fast.
see; Fortinet firewall price in Kenya
With the automatic sliding gate system, you will not waste time at the gate. You have the option of using a wireless transmitter device to swing your gate open. We can also configure the system to enable you to operate the gate from your smartphone. This system significantly reduces your exposure to danger.
Automatic gate opener installer Kenya
Our solution covers both the swing gates and the slide gates. The motor operator can either be mechanical or hydraulic. Nonetheless, the setup comes with a wireless transmitter. The transmitter communicates with the receiver during the open and the close operations.
Features of the Automatic Swing Gate Opener
Installation kit: The swing gate operator installation includes motors, photocell, remote controls, and power supply.
Safety: the gate opener can be programmed for gentle transmission thus starting smoothly allowing people to get into the compound and closing smoothly to shut the gate locked behind your visitors.
Customizable gate opening angle: the operator enables the gate to open at 45◦ angles on pedestrians and a wider angle for cars and heavy vehicles. Additionally, the gate opening and closing speed is fully adjustable to fit client preference
Emergency release key: the key switch sets into operation during an emergency. For instance, when a family member is locked outside with a misplaced remote controller, then the emergency key switch sets in to release the swing gate opener.
Heavy duty operation: the automatic gate opener motor has the capability to handle both lightweight and heavy-duty gates of up to 600Kg.
Best Automatic Gate System in Kenya
Gate openers can be installed with solar panels to save on electric consumption. The use of a backup battery enables the gate motor to run despite power blackout. No doubt that this system brings safety and convenience in one package. It is an ideal solution for both residential areas and commercial places.
see; best CCTV camera installer
The technological advancement witnessed in the 21st century has made gate automation of processes very simple. Even electric gate openers. Accordingly, routine activities in the manufacturing industries are being automated regularly. A good example is the packaging and sealing of manufactured products. Initially, packaging products into cartons were done by employees. But machines have made the process faster and more accurate. By the same token, electric gates bring efficiency to gate operation.
Similarly, if product packaging can be automated to create efficiency in operations, the same can be done to the gate systems. Presently, ORACO Kenya has some of the most experienced teams of gate opener installers in Kenya. To start with, we specialize in the installation of automatic gate systems for residential areas and industrial zones. As a matter of fact, we design a wide range of systems presenting our clients with different gate automation options.
see; structured cabling installation company
In the event of a power blackout, the automatic gate system can continue operating using the solar power or backup battery. Additionally, you have the option of manually operating the gate opener system.
Today, we want to focus more on the swing gate and electric sliding gate Kenya solutions.
The main components of a swing automatic gate kit include: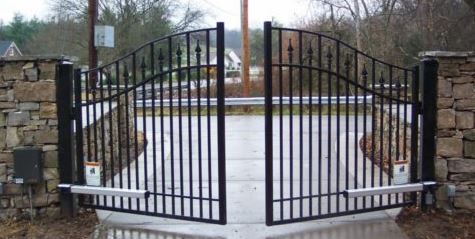 The electro mechanical operator arm
The control panel complete with an onboard radio receiver
A flasher light kit; helps to signal an emergency
Key switch; can be used for manual release of the gate system during an emergency situation such as power blackout
The transmitters
Safety photocells
Electric Sliding gate installation

Be that as it may, the automatic sliding gate system can be implemented as either chain-driven or rack-driven.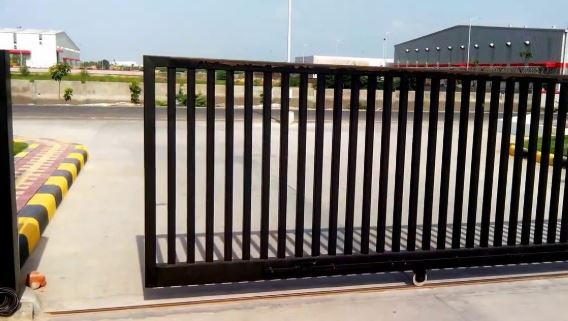 The main components of the slide gate automation kit include:
The gear motor and the control panel complete with the radio receiver
A flasher light
Safety photocells
A rack of at least 4 meters in length
Key switch
Transmitters
The reliability and versatility nature of the sliding gate automation makes it very popular for industrial and residential use.
Features of the Electric Sliding Gate Operator
Installation kit: The installation includes strong shaft combined with the sprocket, cast metal floor plate, push buttons, power supply, and remote controls.
Automatic closing: Programming will be done to allow for automatic closing.
Customization: This electric sliding gate system is highly customizable as it allows for change of direction of the rotation, increasing or decreasing the speed of the sliding gate. On complete installation, be sure of smooth operation since the operator was made to support the gentle operation.
Pedestrian feature: Lastly, there is the pedestrian programmable feature. With this feature, the sliding gate opens slightly for pedestrians and a wider opening for cars and big vehicles.
Safety: The safety features include an emergency release key switch; an integrated power shut procedure and the adjustable motor speed. Also, there will be sensors to stop the moving gate in case of an obstruction within line of sight.
see; SIP trunk provider in Kenya
Desirable features of the controller include:
LED screen: Has a wide display LED screen to enable programming and device troubleshooting in the event of a malfunction
System adjustments: you can easily manage the acceleration speed of the motor
Opening angles: adjustable swing circumference
Detection: there is high precision in the detection of obstacles along the slide path. This feature helps in managing crash instances
Safety: the system an emergency release switch for controlling the gate should there be mechanical failure.
Incidentally, electric sliding gates have improved the security situation within neighborhoods. In fact, the automated gate comes with a remote control device that enables you to open and close the gate without touching it.
see also; best payroll software
Finally, we reiterate that our professional installers are experienced in the installation of various kinds of electric gate openers in Kenya. By and large, the electric gate installers in Kenya design solutions ranging from simple installations with fairly simple programming to more sophisticated installations that involve complex programming. Therefore, feel free to contact us today for a custom-made automated electric gate opener in Kenya.
Centurion boom barriers installers in Kenya
Together with the electric gate opener, we install vehicle access barriers to manage access to parking and even administer parking fee charges. Also known as rising arm barriers or simply boom barriers, our vehicle access barrier solutions are designed for robust installation and reliable performance.
see; biometric time attendance system
Upon complete installation, the rising arm barriers will run in a safe and secure manner. The installation assures you of outstanding performance even beyond the guarantee window period. Be that as it may, the vehicle access barriers offer an integrated security platform in a networked environment. This, the vehicle parking system can be managed remotely from a security control room far away.
Just like electric gate opener, vehicle access barriers can be customized to suit client requirements. For example, the length of the arm can be scaled to fit the width of the road. Even more, the speed at which the arm opens and closes can be programmed. Programming done to meet the set guidelines as stipulated by security checks and controls.
see; best call center software
With our extensive experience in the telecom and security industry, we ensure that the vehicle access barriers installed are innovative, economical and extremely robust. As a matter of fact, we will never create room for compromise in quality and reliability. Thus, the automation assures clients of at least 10 million opening cycles as a bare minimum.
Why install Vehicle Access Barrier
For one, vehicle access barriers will help in controlling access to parking spaces, whether at malls, private parking spaces, and even public parking. Vehicle access barriers (boom barriers) in Kenya are a form of security for controlling entry and exit of vehicles from a secure space. These electronic barriers have greatly reduced incidences of car theft from both public and private parking lots. Also, Centurion boom barriers have helped in bringing order particularly in the public vehicle parking spaces in Kenya.
see; inbound IVR
Secondly, vehicle access barriers have made it easy to electronically collect vehicle parking fees. To be used for collecting vehicle parking fees, the barrier system will be programmed to automatically process billing based on the number of hours a car has stayed in the parking. Hence, the vehicle owner will be given an electronic card or parking chip at the point of entry. The vehicle owner uses the electronic chip to gain entry into the controlled parking space. The same electronic chip will be used at the point of exit to open the vehicle barrier to allow vehicle exit.
Electric gate opener installation
Now, for successful gate automation, our experienced installers will require to conduct a brief site survey. The site survey will establish the gate design; whether automatic swing gate or electric sliding gate design. Next, the physical dimensions of the gate, that is, the weight and the size.
Mostly, clients prioritize electric gate opener prices above the quality of the automation solutions. In as much as the cost of installation is important, the quality of the installation will determine how often maintenance is done and the overall total ownership from a long term perspective.
Get in touch with us for professional assistance from our experienced gate opener installer in Kenya.