Intruder Alarm System
ORACO Kenya is an intruder alarm system supplier based in Nairobi. We install the best security alarm system for homes and offices in Kenya. Our home security systems prevent both day time intrusion and night time burglaries. This setup ensures that any area that offers the opportunity for break-in is covered. The system when combined with electric fence installation gives fool proof intrusion prevention for residential home.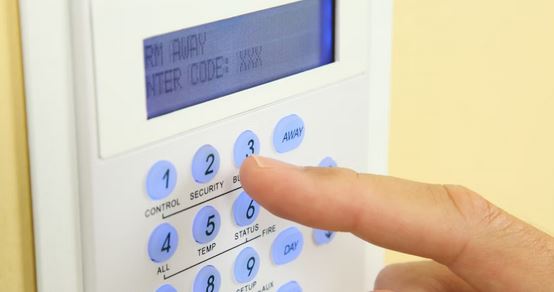 To begin with, intruder alarm systems protect us against unauthorized entry. There is a peace of mind attributed to Installing an efficient alarm system. Equally, installing office burglar alarm protects your assets against vandalism when off duty.
Intruder Alarm System Price in Kenya
| | |
| --- | --- |
| Price | KES 69,600 |
| Control Panel | GSM Alarm system |
| Magnetic contacts | Yes |
| Motion sensors | Yes |
| Panic buttons | Yes |
| Siren Kit | YES |
| Installation | Yes |
see; doorbell system
With recent innovation in home security products, you will be able to arm and disarm your office from your phone. Arming and disarming will be done from an easy to use keypad mounted next to the exit. The same procedure applies to your home security automation. During configuration, you will select the amount of time the alarm takes to activate. This feature saves you the hustle of hurriedly leaving the office or your house.
Intruder Alarm systems are especially ideal for home security. Burglar alarm systems can also be installed in offices or shops. High-level security areas, such as banks are also ideal for surveillance systems.
Key Intruder Alarm system components
Control panel
Magnetic contacts
Motion sensors
Vibration sensors
Panic buttons
Siren kit
Keypad
Main Components of the home security system
An intruder alarm system comprises a control panel, PIR detectors, sensors, and sirens. The control panel is the main unit which coordinates all the other peripheral devices. The peripheral devices includes magnetic contacts installed on window and the door frames. Others are pet resistant motion sensors and the PIR detectors. Also, there will be keypad specifically for programming the alarm system. Still, the keypad will be used for arming and disarming the home alarm system.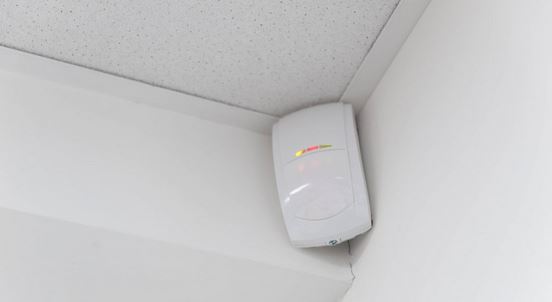 The home security intruder alarms control panel
The control panel is the nerve center of the system coordinating all functions of the detectors and sensors installed. Configuration of the control panel happens from the keypad. The keypads usually have LCD displays and LED indicators. The LED indicators communicate the general status of the intrusion system at any particular time. Also, arming and disarming of the intruder alarm system happens from the keypad. The control captures event logs and system usage which can be accessed from the keypad.
see; PBX telephone system
We stock different types of control panels according to the number of zones and complexity. These panels will be used based on the size of the site to be protected.
Detectors/ sensors
These detect and respond to triggers such as heat, movements, and vibrations. For instance, PIR detectors sense heat from the human body to trigger the alarm. New sensor technologies are more efficient at detecting intrusion thus reducing the occurrences of false alarm.
see; payroll system
Magnetic contacts are usually installed to trigger an alarm in case of intrusion through the window or from the door. More reinforcement can be done using steel doors. Intruder alarm will be installed with a smoke detector device to monitor and give alerts during fire emergencies.
Sirens and sounders
These devices produce alarm sound in the event of an intrusion. They alert security personnel guarding the premise of a security breach. Sirens are usually mounted outside the building. The sight of a mounted siren is a big deterrent to thieves and burglars. Additionally, the sirens have strobe lights to indicate the location of the building under attack. When the alarm goes off, the strobe light comes on.
see; call center system
Intruder Alarm System Installation
Alarm systems will monitor and provide alerts to owners of property in case of an intrusion. Burglar alarm systems provide cost-effective security surveillance in residential homes as well as business premises. Event research point to increased uptake of house alarms solutions, there needs to be greater awareness of the benefits of installing burglar alarm systems. First and foremost, installing intruder alarm systems is cost-effective. Secondly, intruder alarm is the utmost deterrent for intrusion be it at home or office.
see; IVR system
Research shows that installing Intruder alarm systems Kenya has reduced the neighborhood crime rate. Without a proper intruder alarm system in place, chances of your family falling victim to burglar attacks are doubled. Clearly, house alarms act as deterrents to would-be attackers.
see; network installation company
Intruder alarm systems can be installed as either wireless or wired. In a wireless setup, transmitters are powered by a rechargeable battery. For a wired setup, the sensors are directly wired to the control panel. However, both wireless and wired installations will be combined within an infrastructure.
We ensure magnetic contacts are firmly fitted on the doors and windows. Additionally, PIR detectors will be installed strategically within the building.
see; SIP trunk provider
Once the system is activated, the sensors will pick any non-pet movement. The signal will be sent to the panel thereby activating the alarm. The intrusion warning will be communicated to the control room. The sounder alerts security personnel at the premises.
Setting up the Home Security Burglar System
A burglar alarm can be integrated with the CCTV system. With the integration, intrusions are captured by security cameras. Also, apart from the siren being sounded, the robbery incidences are recorded.
see; automatic gate opener system
Home security Intruder alarm systems Kenya offers security all around the house. To begin with, the sensors will be mounted on the doors and on the windows. Furthermore, the motion sensors will be pinned on the walls depending based on individual security requirement. In the event of an intrusion, you will get a notification on your phone. Hence, adequate notification enables you to contact emergency services in good time.
see; CCTV installation company in Kenya
House alarms system can further be enhanced by installing best CCTV camera, especially HD cameras. The IP cameras enable you to view from your smartphone what is happening at home or office.
House alarms system can also be integrated with a video intercom system. Intruder Alarm Systems Kenya has ensured that residential areas are safe. We are here to help you secure your world! Contact us today for a custom made solution just for you.