Electric fence installation in Kenya
Be that as it may, electric fence installation in Kenya, has really boosted residential security particularly for gated community neighborhoods. As an experienced electric fence installers in Kenya, we guarantee clients of long lasting residential security. This is due to the quality materials that we use for installation. We ensure that our technicians install only the best quality fencing materials at the site.
Besides supply of fencing materials, we also do installation and maintenance. So for new installation, electric fence prices in Kenya start at KES 1,050 per meter for top wall installation. And this cost might be adjusted slightly depending on the size of the plot of land. Therefore, electric fence installation cost for a 50 by 100 plot in Kenya would come to about KES 90,000.
We offer two different types of electric fencing installations. That is, freestanding (full height) and top wall. The full height installation is ideal for large tract of land o farm land. While the top wall (above the wall) installation is commonly installed for residential areas with an exiting perimeter wall. Unique customization based on customer preference can be done as well.
Electric fence materials
Electric fence energizer
HT wire
W Posts
Strainers
Siren kit, strobe and housing
Under gate cable
Warning signs
see; automatic gate opener installation
Live wire fencing systems have become popular in Kenya especially among the elite. The expanding middle class has also impacted on the increased uptake of this solution. This is because of the evolving nature of the security challenges we face today. Live fence solutions are not only important for residential areas but also for industrial yards.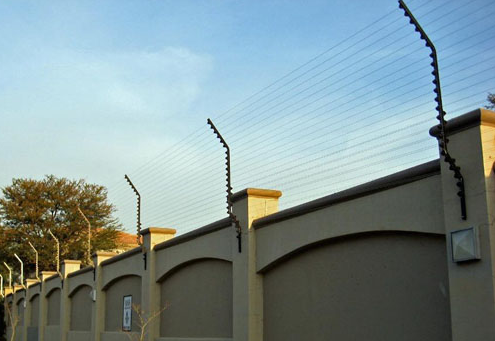 In the game reserves and national parks, razor wire systems Kenya do not effectively guard wild animals against escaping. This is because they are not deterrent enough.
Electric fence materials

For a long time, installing a live fence around the property was viewed as a sign of opulence. However, live wire fencing implemented at private property acts as a safety measure against vandalism and acts of hooliganism. Installation of an wire fence around your property has several benefits. To start with, there is the peace of mind from the assurance that everything is safe. As a property owner, you can sleep soundly at night without a worry. It is advisable for homeowners to prioritize their home security. This is through updating security strategies to counter emerging security threats.
see; best IP PBX price
Full length fencing solution can be very efficient for farms in rural areas. Farmlands and private ranches are known to face a lot of challenges related to trespassing. So instead of the farm owner constructing concrete wall all around the property, installing freestanding wire fences is most efficient. These kinds of fence installations are easy to install and very cost effective.
As a live fence installer, we advise that installing a good fence installation is a sure way for managing trespassers. It is a major deterrent to animals that might cross over to destroy plants. In the farms where we have installed this solution, farmers and ranch owners have reported very high farm yields and personal peace of mind. Generally, farmers generally agree that security investment is worth it.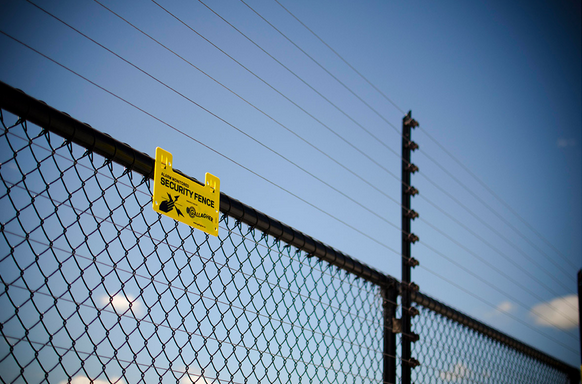 Electric fence price in Kenya
The cost of fence wire vary depending on the size of the plot and the location. Be that as it may, we do electric fence installation in Kenya at a cost of KES 1,050 per meter. This price includes the electric fence materials plus labor charges. The cost price might be adjusted downwards or upwards depending on factors such as logistics, site characteristics etc.
see; Fortinet firewall distributor
Most residential places prefer top wall fence wire installation because of the already installed perimeter wall. And most private homes usually have a perimeter wall in place. Therefore, the fence wires will be installed on top of the wall. Razor wire installation normally accompanies fence wires.
see; CCTV cameras
Every day we hear reports of security breaches at protected residential areas. This is especially true for VIP residential places. The services of security personnel revolve around the gate area. But this is not enough. There is a need to keep watch all around the property. And we have a solution. Our fence installation supplies are the perfect remedies that can effectively counter such threats. Getting electrocuted is more than just a deterrent measure. No intruder will dare come close to the fence when it is live.
Integration with intruder alarm

We can also integrate live fence wire with your intruder alarm system. Also, it can still be integrated with doorbell system. As a fence installer in Kenya, we will help you with the integration. In such a setup, the burglar alarm system is triggered whenever an intrusion is detected. The sound of the siren is known to scare off even the most adamant of vandals.
The era of planting broken glass bottles on the security wall is long gone. With a small investment, you can deploy a modern security system at home. When investing in live fences or razor wire solutions, always go for the best quality. ORACO Kenya is an experienced electric fencing company in Kenya. As a company, we do not compromise on quality. Whether the fence energizer or the insulators or the strainers. Everything has to be of top quality.
We understand that fencing installation should be a one-off investment. And therefore extend a two-year warranty on the equipment. More importantly, we only supply high-quality outdoor security surveillance systems and fencing materials in Kenya. We have achieved this by being flexible to the changing needs of our clients and by bringing innovative products to the market.
Fencing Materials in Kenya
By and large, the main objective for live fence installers is usually very simple; to detect and to deter. The high voltage live fence will deter any hardcore intruder from penetrating the security fence. Likewise, an attempted security breach on your property will lead to the siren going off. The strobe lights being powered on will be an indication that there has been attempted intrusion. When the alarm goes off the security company is notified of the attempted robbery.
see; best payroll software for epz companies Kenya
We generally offer advice to owners of private ranches and large farms to install fencing solutions. It is very easy to confuse the live wire fence system with the razor wire solution. Both razor wire and live wire fences offer protection against intrusion. An intruder with the right climbing gear can go past a razor wire installation. The same cannot be said of a live fence.
The other benefit of the fencing system is power efficiency. The technology used for manufacturing fence energizer ensures that your power bill is a very negligible expense. Many clients assume that by installing a live fence system, the electricity bill automatically increases by a significant margin. With this solution, no need to worry about electricity bills. The monthly electricity bill will be significantly reduced by use of a solar fencing system. Such a system reduces the monthly expense budget for security installations by more than 70%.
see; best SIP trunk provider in Kenya
Electric fence energizer
Normally, the fence energizer comes with an LCD display. The display makes it easy to view information about energizer performance. Status indicators are also available for quick information about device functional status. The latest technology for energizers has the inbuilt capability to ensure power efficiency and automatic false alarm reduction. Some of the features of the live fence energizers include:
Independent zones segregations for faster troubleshooting
Protection from power surge and lightning
Intelligent power management that saves power and extends energizer battery life
Digital LCD keypad to facilitate device programming and management
Status indicators that quickly tell the armed status of the fence, whether tampered with, any faults detected due to voltage changes
Programmable sensors that tell gate status, whether opened or closed;
Top wall fencing brackets
We have partnered with manufacturers of quality brackets. This is because the choice of brackets directly affects the level of security guaranteed in a premise. Moreover, we ensure that the wall top brackets can sustain the standard number of wire barriers. And still, work efficiently within the recommended distance between the bars. We ensure that all our fencing supplies are made of steel and high-quality coating suitable for outdoor use.
see; biometric access control systems
Freestanding fencing posts
Freestanding fence installations require both corner posts as well as intermediate posts. Corner posts require supporters to secure them firmly on the ground during installations. The intermediate posts are usually drilled in advance to allow for the installation of hooks and strainers and insulators. Strainers are the gadgets that firmly hold the fencing wire in place on the complete installation.
Strain insulators: These strainers are usually hardened for eternal use. They are used to secure the live fence wire during installations. They are of high quality and built to last a lifetime.
Electric Fence Installer in Kenya
Professional live fence installer in Kenya will advise that live wire fencing can be very ideal for remote areas in Kenya. At these remote places, the electricity distribution substations are far between making it expensive to drop a connection at your rural home. That is why solar panels are the ideal source of renewable energy. To begin with, the electric fence installation in Kenya is cost-effective.  The solar panel stores energy from the sun which is later used to power up the live fence security system. Also, there are no monthly bills from the electricity company. Lastly, the live fence panel assures you of uninterrupted power supply.
see; IVR system
Fencing wires
Fencing wires come galvanized already for use in long runs. These high tensile wires tend to be all weather resistant and long lasting. The wires are made of original aluminum which offers extremely low electrical resistance. Low electrical resistance means that the number of energizers required for large scale installations will be very minimal.
see; call center software
We assure you of high quality and reliable fencing supplies in Kenya. By the same token, we will offer you timely technical support. One thing is definite, we are a professional live fence installer in Kenya.
Visit our offices, call us or fill out the form below today. Let our live fence installer in Kenya help you design the best fencing installation solution. We are a fencing company that meets your unique security requirement.