Yeastar S100 VoIP PBX System in Kenya
ORACO Kenya is a supplier and installer of Yeastar S100 VoIP PBX system in Kenya. We also provide VoIP trunk service. Communication technologies keep changing rapidly. Organizations and enterprises are looking for more efficiency, flexibility, and cost-effectiveness. As a professional provider of the VoIP PBX phone systems in Kenya, we assist clients by designing the best telephony infrastructure. Furthermore, ORACO Kenya is a certified installer of the Yeastar P-Series PBX system in Kenya.
The modern office telephone systems offer flexibility and increased mobility which defines the 21st-century business environment. There is so much change in the area of telecommunication technologies and generally across office telephone systems. Overall, change is good because it comes with efficiency, flexibility, and sustainability. New business establishments and even existing business enterprises will benefit a lot from advancements in technologies.
Yeastar PBX Price in Kenya
| | |
| --- | --- |
| Yeastar PBX model | Price |
| Yeastar S20 [ 20 users ] | KES 28,000 |
| Yeastar S50 [ 50 users ] | KES 56,000 |
| Yeastar S100 [ 100 users ] | KES 72,000 |
| Yeastar S300 [ 300 users ] | KES 145,500 |
Over the years, office telephone systems have advanced in terms of features and overall capabilities. Even Yeastar P-Series PBX system. For instance, the P-Series PBX system has additional inbuilt application caller management features geared towards enhancing user experience and boosting productivity at work.
The benefits of upgrading from the digital Panasonic PABX system to the new and improved IP PBX system in Kenya far outweigh the projected capital investment. To begin with, the IP telephone systems will enable organizations to significantly reduce administration costs, improve staff productivity which leads to customer satisfaction and thus increased profits.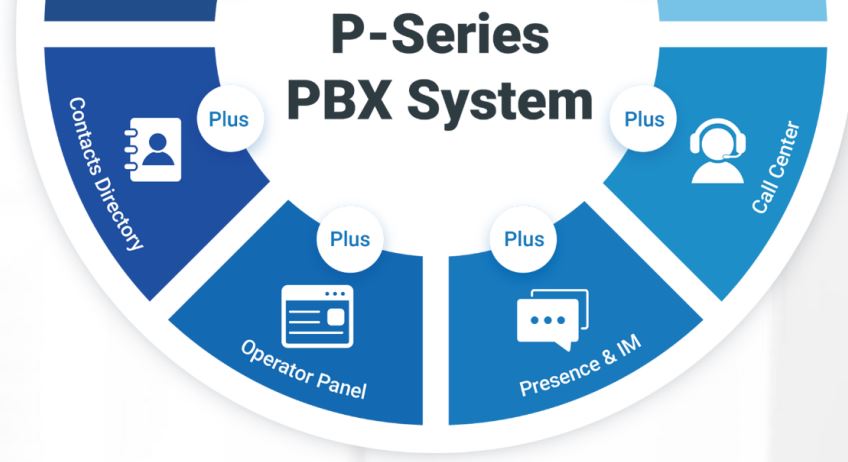 More and more employees are working away from the office even as clients are looking for timely remote support. Unified communications technologies enable this flexible workplace while delivering an in-office business communication experience. The new IP PBX business phone system brings about real-time collaboration through voice calls and messaging cost-effectively independent of geographical barriers.
The Yeastar S100 VoIP PBX System installation in Kenya
The IP PBX system
Out with the command line interface associated with the legacy PABX system; in with the intuitive graphic user interface. That is the management interface of the new IP PBX system. The dashboard also incorporates call center software. The multiplatform VoIP PBX system allows for the auto-provisioning of the SIP clients. Also, it has interactive voice response, extension mobility, and virtual receptionist among other features.
Be that as it may, this is an opportunity for companies to upgrade to the IP PBX system with advanced call management, device provisioning, and rich business phone features. This is the technology that will enhance employee productivity, agility and hence delivering business value in a sophisticated way. Furthermore, unlike t the legacy PABX systems the modern IP Business phone system comes at a lower total cost of ownership. With the assurance for an increased rate of returns on investment, every organization should take advantage of this opportunity.

The IP Desktop Phones
Feature-rich IP phones enable dialing outgoing calls as well as receiving incoming calls. Also, being able to transfer calls to other phone extension users, and even perform call forwarding to smartphone users. Even so, IP Phone users can initiate 3-way audio conferencing between colleagues and clients. Moreover, have access to a shared phone book with contacts.
The SIP clients are not only limited to physical desk phones. However, there are softphone business apps with features similar to a physical desk phone. Even so, the only difference is that the softphone is software installed on a computer or smartphone.
The VoIP PBX Phone Systems
Communication technologies are fast moving towards IP telephony. Below we state briefly why companies prefer the IP based business telephone systems:
Save telecommunication costs
The benefit of upgrading to a modern, more agile office telephone system far much outweighs the initial cost of investment. To start with, employees will be able to collaborate with other colleagues at a lower cost majorly relying on the internet to pass and receive communication in real-time. Moreover, this setup does not require the use of big servers.
see; IT support services
Increase productivity
The modern office telephone systems are engineered towards increasing employee productivity. Employees can work from any location and still be in a position to enjoy company resources. Increased productivity leads to increased profitability. Increased profitability is beneficial to the shareholders and employees as well as the community around and the government.
see; structured cabling installation company
The benefits of a VoIP service
VoIP solutions come with rich telecommunication features. For instance, setting up audio teleconferencing has been simplified through unified communication solutions. Also, modern VoIP PBX systems have the capability to create auto-attendant extensions to assist clients after official work hours. Still, the auto-attendant extension can take inquiries messages for further assistance the next business day. Lastly, VoIP technology enables organizations to advertise services to callers even as they wait to be served. This can be done via the interactive voice response system.
VoIP gateway/ GSM gateway
VoIP gateways provide an interface through which desk phones can communicate with ISDN, GSM, PSTN networks, and E1/T1 lines. Additionally, interfacing enables voice communication to be transported over the data network infrastructure. Hence, the name voice over IP technology.
See also; biometric access control system.
VoIP has been known to help organizations reduce the cost of communication due to the transparency exhibited when calls are made through the network.
The VoIP PBX system
VoIP PBX systems in Kenya have been in the telecommunication industry hence the goodwill in the market. All Yeastar S100 VoIP PBX system dealers in Kenya will agree that these PBX systems have generally been durable. This is an assurance to customers that their investment is a once-in-a-lifetime investment.
see; biometric time attendance
The good thing about VoIP PBX phone systems is that it allows for backward and forward compatibility. Therefore an organization will buy the Yeastar S100 or Yeastar P-Series PBX and still maintain analog trunks. This simply means that those with legacy PABX systems do not have to overhaul the whole infrastructure in order to benefit from the IP-based PBX system. A most hybrid PBX system allows both analog phones, digital phones, and even IP phones to operate in the same environment.
see; payroll software
In terms of ease installation, most PABX system installers will agree that the IP-based office business telephone systems will no longer require separate wiring using the two-pair cabling system. However, the IP phones will actually run on the existing Ethernet data cabling infrastructure. This installation will be neat and less complicated.
Looking for professional office telephone systems specialists in Kenya? Then, fill in the below contact form for professional assistance. We are dealers of the Panasonic PBX Office Telephone System, IP PBX business phone system, GSM gateways, VoIP PBX solutions, IP phones among other telecom solutions in Kenya.