Matrix Time Attendance Software
Looking for an innovative, easy-to-use time attendance software suitable for producing school attendance reports? Then the Matrix Biometric School Attendance software is what you are looking for. The Matrix time attendance software is also being used for monitoring attendance in non-academic institutions in Kenya.
See; VoIP trunk provider
Monitoring school attendance using traditional tools has proved inefficient and susceptible to manipulation. However, most parents would prefer a biometric attendance system that sends SMS notifications as soon as the student checks in. Indeed, parents have peace of mind when they are assured that their children are safe in school.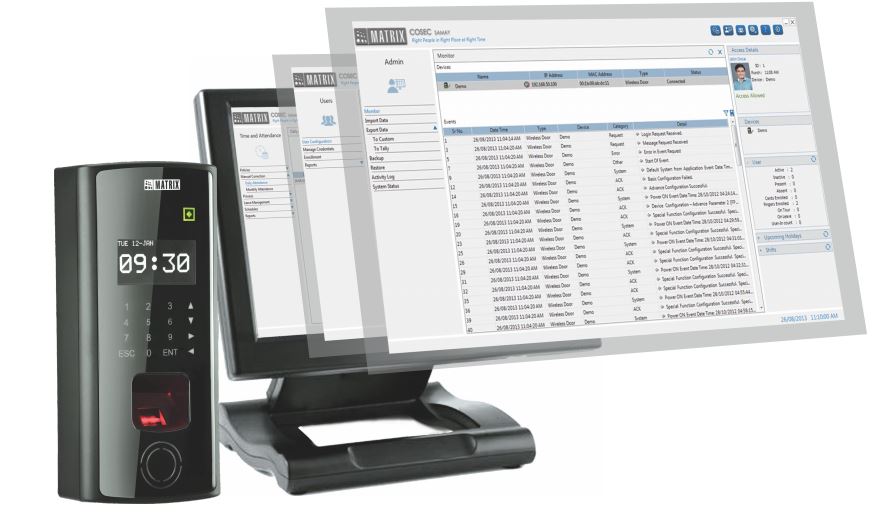 The attendance system can not only be limited to monitoring students' attendance. The system can also be used to electronically manage attendance for both teaching and non-teaching staff. For one thing, as a dependable and extremely reliable staff attendance management software, it will reduce lateness. By the same token, helps maintains discipline, improve student-teacher engagement, and increase productivity.
Even though tracking student attendance may appear basic, getting it right can be challenging. In any case, students and school staff alike move up and down for various reasons. And most institutions struggle to keep track of such movements without creating frictions. What is more, signing on the manual register is most of the time a troublesome part of the school administration tool.
Hence the need to automate the whole process, using a reliable, scalable, and flexible student time and attendance system. Have the biometric time and attendance clocking terminals installed at the official entry and exit points and wired to the software for ease of management.
Features of the Biometric School Attendance Software
Integration with third-party software
The biometric school attendance software can be implemented as a standalone application. It can be integrated into a payroll management system. Additionally, the software can be integrated with the School Management System. When integrated into the school management system, the attendance software will automatically update the leave management module and the salary and overtime modules. For this reason, the School Accounts Clerk does not require to upload separately the attendance reports.
Time Attendance Reports
The attendance reports can be accessed and viewed from the dashboard. What is more, these reports can be downloaded in pdf and excel formats as and when needed. Even so, the system offers rich reports such as graphical charts complete with filters that give only the specific information required at that particular time.
Furthermore, the attendance software has an interactive dashboard displaying in real-time active attendance terminals, device activities, and user status. What is more, there is a pop-up screen displaying upcoming important school dates.
Student User Profile
Students will be enrolled in the system by capturing fingerprints. Apart from the fingerprint scans, the software will also assign a unique user ID for identification purposes. Then, the student name and passport size photo shall be added to the student profile.
Other optional student details to be added to the student include the year of study, parents' name, telephone number, responsibility whether class representative or student leader to mention a few. Only the necessary information will be captured, the unnecessary ones will be left inactive.
Benefits of the Matrix Biometric School Attendance Software
Clock in /clock-out time range
Even more, the biometric time and attendance system enable administrators to set a range of minutes for clocking in. For example, between 7.30 am and 8.30 am can be set to allow for the clock in. Likewise; the attendance system also allows school administrators to set the clocking time range. That is, between 4.30 pm and 5.30 pm can be set to allow clock out. All these attendance schedules can be customized to fit the individual shifts.
Student school calendar management
The software can be set to acknowledge the school calendar including school trips, visiting days, and mid-term school holidays. At the end of the school holiday season, the system will be activated to allow students to report back to school. The same can be done to individual school web portals and even student self-service portals.
Overtime management
Matrix time attendance offers a flexible method for computing accurate overtime hours and overtime payments. Since this system uses biometric terminals, there will be no room for manipulation. Overtime management is particularly important for the teaching and non-teaching staff. As a matter of fact, the Human Resources officer can pull out daily or weekly, and monthly overtime reports.
see; best call center software
Visitor Management
The visitor management module can be specifically important for institutions designated during visiting days. Thus, the visitor management feature will help schools to track visitors to the school and locking out intruders. For this reason, the module will capture the names of the visitor, car registration, and duration of the visit. Also, it can capture other details such as reporting and leaving time.
Scaling the capacity of the attendance software
The attendance software is open to connecting to as many attendance terminals as can possibly be needed by an institution. It does not matter how many entry and exit gates a school has, all of them can be manned by a different biometric terminal. Also, all the terminals will be configured to send data to the central database. Furthermore, the IP PBX phone system can be integrated with the attendance software. Thus, parents, teachers, and other staff members can receive SMS notifications from their cell phones.
Contact us today for biometric school attendance software for learning institutions including colleges and secondary schools in Kenya.
See also; automatic gate installers in Kenya