Automatic gate opening and closing system in Kenya
An automatic gate system is a form of access control for managing traffic into and out of a private residential premise or a business premise. The Centurion gate motors are some of the most reliable long-lasting and easy to install gate automation kits. Automatic gate control system price in Kenya vary from site to site ranging from KES 150,000. Nonetheless, as Centurion Gate opener installer in Kenya, we provide affordable automatic gate kits for both swing gates and sliding gates.
See; CCTV camera installation price in Kenya.
Still, the gate automation kit variants can serve the lightweight domestic gates and the heavy-duty industrial gates.

Types of Centurion Gate motors
The Centurion Vantage 500 swing gate motor
The Centurion D5-Evo sliding gate motor
The Vantage 500 swing gate motor
To begin with, the Centurion Vantage 500 swing gate motor is a popular gate automation kit for swing gates. Indeed, the vantage 500 motor is easy to install and easy to maintain. Specifically, the gate automation kit suitable for lightweight domestic gates as well as heavy-duty industrial gates.
Furthermore, the Centurion swing gate motor incorporates the Quadra-Drive technology. In a like manner, it ensures that the gate starts smoothly and even closes quietly without banging. Besides automatic gates, we do install access control systems.

Specifications of the Centurion vantage 500 swing gate motor
Maximum gate weight: 750Kg
Electronic collisions sensors
Manual override
Multichannel onboard receiver
Weatherproof casing
Anti-crush control safety sensors
Secure locking technology built based on the centrifugal braking system
The ultra-secure remote control device
Inbuilt anti-ambush alarm system
Heavy-duty workhorse motor
Gate phone intercom
Infrared beams
| | |
| --- | --- |
| Price | KES 150,000 |
| Gate type | Swing gate |
| Gate controller | Centurion |
| Power supply | yes |
| Backup battery | yes |
| Beam sensor for safety | yes |
| Warranty | One year |
Main features of the Centurion vantage 500 swing gate motor
Bidirectional gate movement
Support for bidirectional gate motion a very important factor. That is, the gate can be configured to swing inward or outward depending on the practical convenience of the client.
Automatic speed control
The gate operators have the inbuilt capability to control the speed of the gate; by accelerating and decelerating smoothly. Furthermore, the gate can be configured to open at different speeds.
Anti-crush safety feature
This safety feature ensures that the gate will not crush into a stalled car or a person standing on the way. As Centurion automatic gate installer in Kenya, we find this a must have for all gate automation installations. feature The safety feature will sense the obstruction keeping the gate on hold until the object obstructing movement has been removed.
Integrated with an intruder alarm system
The beam sensors can be installed to function as an integrated intruder alarm system to boost residential security or of the business premise. In the event of an illegal intrusion, the alarm can be triggered to alert security personnel with ease.
Backup battery
The Centurion vantage motor can still offer excellent service even without connection to direct power. Moreover, solar power can be connected in areas with no live electric power grid.
All weatherproof casing
Centurion swing gate motors are manufactured to endure the tough outdoor environment. As a matter of fact, the outer casing built from steel and coated with aluminum for an extended lifespan.
Wireless operation from a remote control device
The gate automation kit consists of a remote control device. The remote control communicates with the onboard multi-channel receiver to enable wireless control of the gate system.
The D5-EVO sliding gate motor
The second type of gate automation kit is the Centurion D5 EVO sliding gate motor which was designed to automate sliding gates. Be that as it may, the D5-Evo is a major upgrade from the D10 motor. Apart from being the most reliable, durable, and highly dependable sliding gate motor. In other words, the Centurion D5 is now much smarter. And, it incorporates very innovative features such as the ChronoGuard timer, the gate intercom, and backup memory modules.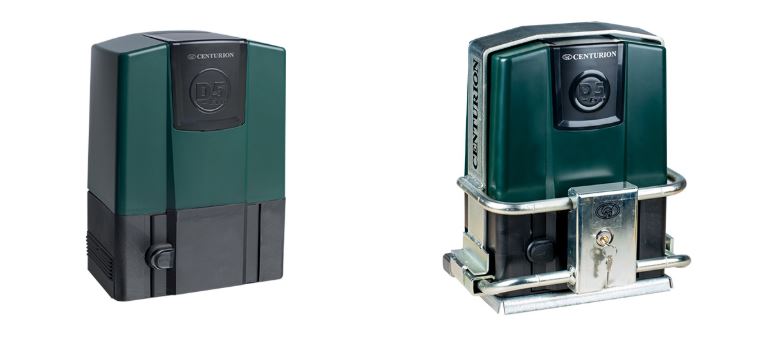 Furthermore, the D5 Evo sliding gate motor incorporates an anti-break-in alarm security system. Therefore, will alert security personnel when either the opening or closing beam gets interrupted. Hence, the gate automation system offers an extra service of keeping the intruders away.
Specifications of the Centurion D5 EVO sliding gate motor
Maximum gate weight: 500Kg
Electronic collision sensors
Receiver type: onboard multi-channel receiver
Motor voltage rating: 12V DC
Manual override
Maximum gate length: 100 meters
Standard gate speed range: 18 to 22 m/min
Power supply rating: 12V, 7Ah
Receiver frequency: 433MHz
Beam sensors to guide gate opening and closing
Anti-break-in alarm system
The steel rack
Main features of the Centurion D5 EVO sliding gate motor
Backup battery
The sliding gate automation kit comes with a backup battery that kicks in automatically whenever there is a power failure. The backup battery ensures that there will be a normal gate function despite a power blackout. Furthermore, the motor can be powered by solar in areas with no electricity.
The speed factor
The D5 EVO motor can slide a lightweight industrial gate at an extremely short duration of 12 seconds. The acceleration and deceleration speeds at which the gate uses to slide from the edge and back can be adjusted to meet customer preferences.
see; call center software
Remote control
The sliding gate motor has an onboard multi-channel receiver. The secure communication between the receiver and the remote controller ensures that signal jamming never happens. The system works as a high-level access control system.
Infrared beam sensors
Safety is a key feature of the slinging gate motor. The infrared sensors will detect any obstruction as the gate slides. This safety feature ensures that the get does not cause damage by crashing into objects as it moves along the rack.
Wireless operation
It comes with a remote control device that communicates with the onboard receiver. Apart from being a safety measure, the use of LED remote brings about convenience.
The ChronoGuard timer
This unique feature enables a user to program pillar light to switch on automatically at sunset and switch off at sunrise. In fact, no human intervention. Indeed, the onboard timer can be programmed such that only specific remote devices will operate at particular hours or days. For instance, set the workers or children remote not to work at night, etc.
Gate intercom
At any rate, the intercom system can be used by visitors to call in before gaining entry into the compound. In any case, the intercom system feature enhances personal security and privacy.
We Supply and install Centurion gate motors: the Centurion Vantage 500 swing gate motor; the D5-Evo sliding gate motor in Kenya. More importantly, we provide other innovations including the IP telephone system.
Centurion Automatic gate system installer in Kenya
The electric gate opener kits are devices used for automating gate opening and closing operations. In the world of home security, installing an automatic gate opener is paramount. Be that as it may, automatic gates have improved neighborhood security. As experienced electric gate installers, we have simplified gate automation such that gate operators can easily be fitted on an existing gate without much fabrication. We offer different models for gate automation including centurion gate systems in Kenya as well as Proteco.
see; access control systems installer
Clients do not need to pay for a top-down overhaul of the existing gate system. In the world of gate automation we have only two types of gate systems; swing gates and sliding gates. Both gate types come with an efficient remote gate opener solution. The automatic sliding gates tend to be cheaper to install. Because the sliding gate system only requires a single operator to function. On the other hand, swinging gates require two operators to be installed on both sides. The installation with two operators' requirements increases the cost of gate automation.
Briefly, we look at the differences between the two gate systems. To start with, a sliding gate saves on space requirements. Sliding gates only require a small space to slide through. In fact, the thin space available along the fenced area is sufficient enough for the gate operation.
Both gate designs can be programmed to allow the use of a wireless transmitter to facilitate gate opening and closing functions.
Finding Centurion Automatic gate opener installer in Kenya
As experienced electric get installers, we realized that sliding gates are generally easy to maintain. Sliding gates operate on a rail track which only requires greasing once in a while. However, swing gates use hinges on both ends which wear off very fast due to frequent opening and closing operations. Moreover, the swing gate has two gate operator motors which automatically double the cost of maintenance. On the other side, a sliding gate system only has one sliding gate operator.
See also IP PBX phone system.
In terms of security, sliding gates are comparatively safer than swing gates. For instance, an intruder can use force to just open a swing gate even when the gate operator is on close mode. However, for the sliding gate, you cannot force it to open because the termination points are usually hidden from view when it is firmly closed.
The efficient functioning of an automatic gate system can be affected by weather conditions such as strong winds and storms. The effect of strong winds is even worse on a swing gate. The wind applies pressure on the swing gate, especially during the gate opening operation. As a result, you will be forced to replace the gate hinges every now and again. This situation does not apply to sliding gate automation. Sliding gates are the best choice for home automation.
ORACO Kenya is a professional electric gate system installer in Kenya. We are one experienced biometric time and attendance company in Kenya.
Contact us today for a custom-made design gate automation solution.
Contact us now through the form below.