Ubiquiti Access Point Price In Kenya
In today's interconnected world, a robust and reliable network is essential for both personal and professional activities. Reliable internet is important both to at home and at work. Seamless Wi-Fi coverage can provide a superior online experience at the office. ORACO Kenya is a stockiest of Ubiquiti Access Point (AP) in Kenya. These devices boasts cutting-edge technology, advanced features, and unparalleled performance. Installing them at work can significantly enhance your network connectivity.
The Ubiquiti AP is a cornerstone of the Unifi ecosystem, a renowned name in the networking industry. This ecosystem is designed to provide simplified yet highly efficient network management. The networking technology caters to the needs of both residential and commercial users. These devices stand out for their sleek design, exceptional range, and intelligent features, making them a perfect choice for a variety of scenarios.
see; structured cabling installation company
One of the most crucial aspects of any access point is its ability to deliver consistent and reliable connectivity across a given area. These networking devices excel in this regard. As matter of fact, they employ innovative wireless technologies that ensure seamless coverage even in challenging environments. They have superior features like beamforming and multiple input, multiple output (MIMO) technology. These features enable them to deliver strong, stable connections to multiple devices simultaneously.
Unifi Access Point Price In Kenya
| | |
| --- | --- |
| Ubiquiti Unifi Long Range AP | KES 14,000 |
| Ubiquiti Unifi AC In-Wall | KES 16,500 |
| Ubiquiti Unifi Nano HD AP | KES 25,500 |
| Ubiquiti Unifi AC PRO AP | KES 29,000 |
| Ubiquiti Unifi AC Mesh Pro | KES 34,800 |
| Ubiquiti Unifi AC HD (UAP) | KES 49,900 |
| Ubiquiti Unifi XG Access Point – enterprise edition | KES 98,600 |
see; PBX system supplier
UniFi APs have the capacity to extend their coverage without compromising on performance. It does not matter whether deployed in a sprawling office space, a multi-story home, or a bustling café. This ensures that users experience minimal drops in signal strength. Also, devices can maintain a consistent connection throughout their usage.
Scalability and Management Made Easy
One of the standout features of the Ubiquiti ecosystem is its centralized management platform. Through the UniFi Controller software, users can effortlessly configure, monitor, and manage the UniFi APs from a single interface. This not only saves time and effort but also provides valuable insights into network usage and performance.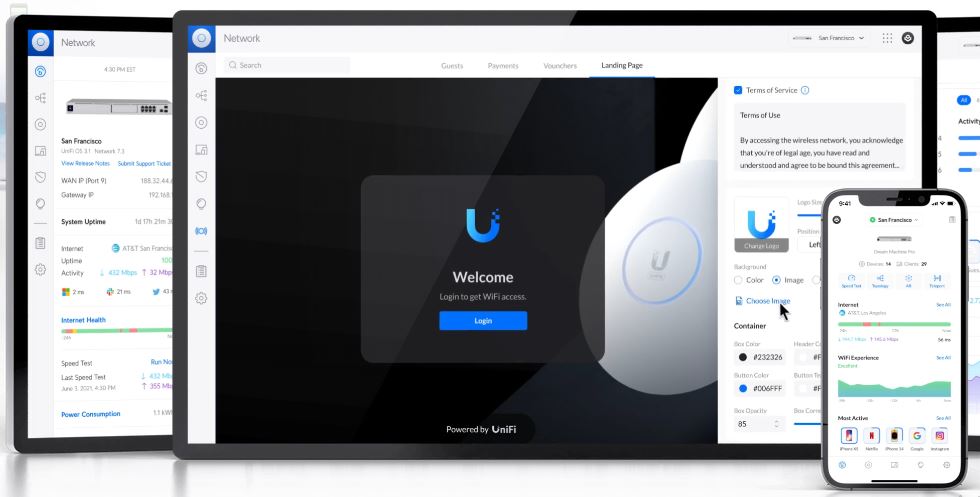 Additionally, the scalability of the network is a game-changer for growing businesses and expanding network requirements. The UniFi Controller software enables users to seamlessly add new access points to the network. This can be done without the need for complex setups. Scalability ensures that a network can adapt to changing demands without major disruptions or overhauls.
see; call center software
In an era where data breaches and cybersecurity threats, network security is of paramount importance. UniFi APs come equipped with advanced security features to safeguard your network and data. WPA3 encryption, firewall capabilities, and guest network isolation, are just a few of the inbuilt security features. These security features ensure the corporate network remains secure from unauthorized access.
see; IVR system installer
In addition to the amazing technical specifications, the WIFI devices are optimized for better user experience. For example, the seamless roaming capabilities. Roaming enable users to move from one access point to another without experiencing interruptions or drops in connection. This is particularly valuable for businesses that want to offer a smooth online experience to their users. Particularly important for customers in hotels, restaurants, and retail environments.
Cost-Effectiveness and Return on Investment
Investing in the Ubiquiti network technology is a smart financial decision for several reasons. First, the scalability of the networking infrastructure. This means an organization can start with two WIFI devices and expand the network as needs grow. This eliminates the need for a complete overhaul. Additionally, the centralized management platform reduces the need for dedicated IT personnel to manage the network. This translates to cost savings for administrative work in the long run.

The superior performance and coverage of the WIFI devices can also lead to increased productivity and customer satisfaction. In a commercial setting, reliable Wi-Fi can enhance employee efficiency and customer engagement, thereby contributing to a healthier bottom line. Investing in a UniFi Access Point offers a compelling return on investment. Because their long lifespan, combined with the ability to upgrade your network gradually, results in reduced overall costs. Moreover, the centralized management system reduces the need for dedicated IT personnel, further lowering operational expenses.
The Ubiquiti network systems is not merely a networking solution; it's a comprehensive ecosystem that elevates your network connectivity to new heights. Besides advanced technology, and wide signal coverage, these devices offer a package that is hard to match. They have an intuitive user interface for easy management, and robust security features. This networking solution can be implemented at home for a seamless online experience. Furthermore, it can installed in an office environment to create a competitive edge. All in all, they have the potential to transform the way you connect to the digital world. Invest in UniFi, and invest in a future of unparalleled network performance.
see; biometric time attendance system
Unrivaled Performance and Coverage
In today's digital age, a stable and efficient network connection is paramount for both personal and professional endeavors. Whether it's at home, in the office, or within a public space, the need for reliable connectivity is ever-present. This is where the UniFi AP can step in to offer a comprehensive solution to enhance network connectivity.
UniFi, a brand synonymous with innovation in networking technology. These networking systems have gained a reputation for cutting-edge WIFI technologies. In fact, the devices are designed for performance, scalability, and user-friendliness. Their unique design address the growing demand for efficient network, higher performance and reliable connectivity experience for all users.
At the core of the Ubiquiti Access Point lies their exceptional performance capabilities. These devices utilize advanced wireless technology to deliver high-speed connectivity with minimal latency. They have been designed in compliance with the latest Wi-Fi standards such as 802.11ac and 802.11ax. This means the devices can handle multiple connections simultaneously without compromising on speed or quality. This is particularly beneficial for environments with high user densities such as offices, conference rooms, and public spaces.
One of the features that standout for these devices is their capability to allow seamless roaming. This means that a user can move from one area of coverage to another without losing connection. For the connecting device automatically switches to the nearby Access Point with the strongest signal. This feature is invaluable in environments where mobility is essential, as it prevents disruptions during video calls, streaming, and other online activities.
Unifi Access Point Centralized Management
These WiFi devices can be managed through the Ubiquiti Controller software. This controller provides a centralized platform for configuring, monitoring, and managing your entire network infrastructure. And it has an intuitive interface that offers real-time insights into network performance, device status, and traffic statistics.
Through the Controller, network administrator can easily customize network settings, and apply security measures as needed. Also, the network administrator can troubleshoot issues affecting various devices from a single location. This streamlined management approach is particularly advantageous for businesses looking to maintain a high-performing network with minimal administrative effort.
Whether setting up a network for home or a large enterprise, scalability is a key consideration. UniFi Access Points are designed to grow with your network requirements. Be that as it may, a company can start with a single Access Point and expand as needed. This modular approach allows a customer to tailor a network to specific needs. Essentially, this is a cost-effective solution for both small and large-scale deployments.
Network Security is of paramount importance in any networked environment. Ubiquiti Access Point come equipped with robust security features to safeguard your data and devices. These features include advanced encryption protocols, guest network isolation, and VLAN support. By implementing these security measures, you can ensure that your network remains protected from unauthorized access and potential threats.
see; Fortinet firewall
These devices not only excel in functionality but also in design. Their sleek and minimalist aesthetic blends seamlessly with various indoor and outdoor settings. This makes them an ideal choice for installations where aesthetics are important, such as hotels, restaurants, and modern homes.
Contact us now.