Ubiquiti EdgeRouter price in Kenya
Ubiquiti Router is a powerful network management device that offers advanced routing capabilities for companies in Kenya. This Gigabit router is loved by network engineers thanks to its powerful deep packet inspection feature and the simplified network monitoring tool. All these and other advanced security features offered at a good price point.
see; structured cabling company
In order to achieve direct traffic flow, static routes can be configured on port0. Nonetheless, all other remaining ports can be configured independently to support various network services. And, should there be need for network segmentation, VLAN interfaces can be created accordingly.
Key specs of the Ubiquiti Edge Router
Network segmentation into various VLANs
Firewall rules and policies
The DHCP server
Centralized network monitoring
Ubiquitous device management
Integrated Deep Packet Inspection (DPI) technology
Configurable PoE ports
SFP ports
Rack mountable
Features of the Ubiquiti Router
DHCP server
The DHCP server will automatically assign IP addresses to computers. This can make network administration easy and convenient. Assigning devices static IP addresses can be time consuming especially if your organization has over 50 computers. Hence, the process of assigning IP addresses to devices can be shortened by simply enabling the DHCP server.
see; PBX telephone system
Network monitoring
The router supports various network monitoring tools. These Network monitoring tools create visibility into device activities across the network. The network monitoring report provides very important insight into the general health of the network and the endpoints connected.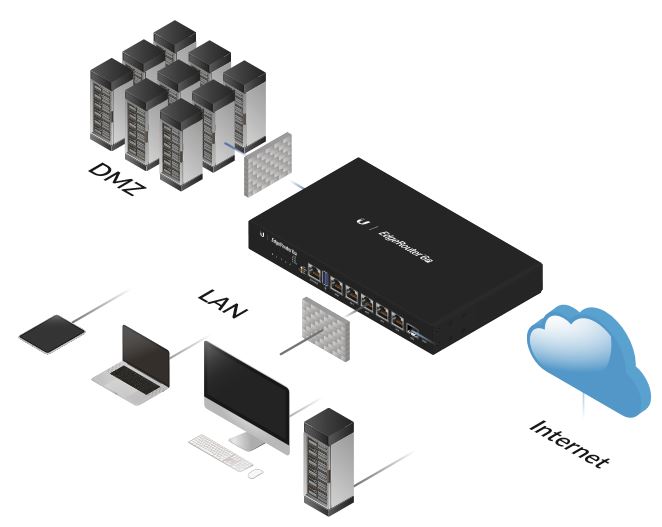 Router with inbuilt firewall
This routing device has inbuilt firewalling capability. In essence, the network administrator can create various policies to boost network security. The firewall rules created usually serve different purposes. For example, a firewall rule can be created to regulate social media usage during work hours. Also, another firewall rule can be created to block certain content from being accessed by users of a particular age group. Firewall rules can also be applied to groups of users.
see; SIP trunk provider
In as much as the router comes with pre-configured firewall rules and policies, users can add more rules for address specific network issues.
Ubiquitous device management
The router can be managed through the Ubiquiti controller. The controller can either be accessed as a desktop version through the computer or installed as an app on the phone. Either way, the different management platforms points to its ubiquitous nature. Providing network administrator with the flexibility to use the desktop version controller to manage network while at the office. Still, the Ubiquiti controller can be conveniently logged into through the app to enable network administration. The Ubiquiti controller app is compatible with both Android and iOS operating systems.
see; call center system
User friendly graphical user interface
The router has an inbuilt user friendly graphical user interface which simplifies the configuration process. Even so, command line interface (CLI) can still be accessed by those users who prefer using commands. The friendly administrator dashboard displays in summary details of all connected endpoints, traffic stats through router among other useful information. The administrator can drill down further by clicking on the active tabs to reveal more information.
see; IVR system
Deep Packet Inspection technology
Deep Packet Inspection (DPI) technology is a network filtering technology that helps in keeping corporate networks safe from attacks. This feature is responsible for blocking network spamming and anti-malware attacks as it blocks any packet that appears suspicious. It scans packet headers and drops all packets that appear to be compromised. This feature works more like an intrusion prevention system and very critical for network security.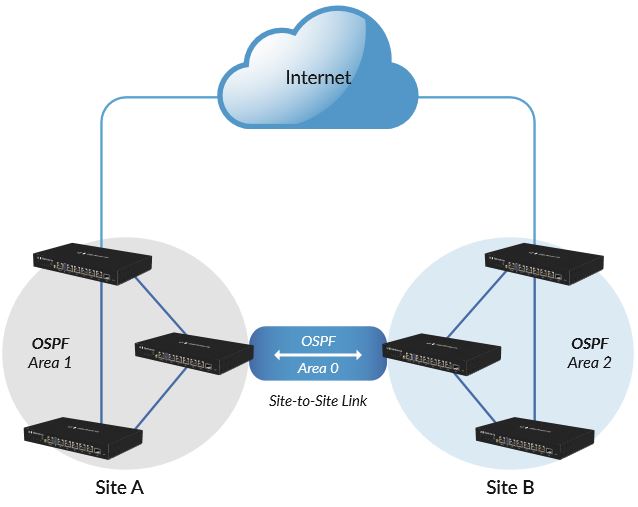 Configurable PoE ports
The configurable PoE ports can be used to power up other devices such as the Ubiquiti access points. Using the PoE ports means that you only need to run only one CAT6 Ethernet cable during installation. Besides the configurable PoE ports, SFP ports are available for fiber connectivity.
The SFP ports can be used as uplink ports particularly for long distance network connectivity where fiber optic can be used instead of the CAT6 Ethernet cabling system.
see; clock in clock out biometric attendance system
Rack mountable
Rack mounting ensures that the device can be installed securely in a network cabinet. Also, rack mounting leads to a neat and organized installation.
Benefits of the Ubiquiti controller
It simplifies management of the Ubiquiti products regardless of location. For example, unifi access points deployed in various branch locations can be managed by simplify logging into the centralized management console.
see; best payroll software for EPZ companies
Secure administration of network devices. To lock out hackers, logging into the platform requires the use of a multi factor user authentication.
Device activity notifications can be sent to the network administrator through email.
Noiseless operation since cooling does not require use of fan.
The router comes with enhanced security which offers defense against denial of service attack, and malware propagation.
Application control
Application control plays a major role in network security since traffic coming from applications are monitored in real time. This ensures that all applications remain safe all the time. Also, through application control it becomes easier to assure users of their privacy. Moreover, data transmitted between must meet the set network security standards.
Therefore all safe applications like AnyDesk can be whitelisted since they help with remote connections. On the other hand, unsafe applications can be blacklisted since they can bypass network security protocols.
Web content filtering
A web content filter is a useful router security feature that protects users by screening web content. And any inappropriate web content is blocked forthwith. All unified threat management firewalls come with web content filter technique and licensed. However, only some select business routers have web content filtering capability.
The activation of a content filter will involve crafting corporate IT security policies and implementing them through the router of firewall. By way of example, the content filter might use certain keywords to protect user from accessing betting sites or pornographic websites.
Schools, colleges and institutions of higher can enable web content filter to protect students from undesirable websites.
Contact us now for the best deals on Ubiquiti router, network switches and wireless access point in Kenya.