With the Wireless IP phones in Kenya, it is possible to setup IP PBX system even without installation of an elaborate structured cabling and networking infrastructure. At ORACO Kenya, we offer various IP telephony solutions to suit the diverse needs of our clients. Besides the Wi-Fi phones, we also supply cordless phones in Kenya. We sell various brands of the IP phones system including Yealink IP phones, Grandstream phones, Fanvil IP phones among other big brands in Kenya.
For a total hands free experience, these IP desktop phones require accessories which can be purchased separately. For a start, a handy accessory would be the cordless headset with a wireless range of up to 150 meters. Ideally, the cordless headset can comfortably give up to 13 hours of talk time.
In summary, wireless connectivity of telephony devices offers unparalleled user experience through seamless interactivity. For instance, a business phone user can answer an incoming call from the wireless headset while attending to some other urgent assignment on the PC. That's multitasking. And when it comes to mobility, the phone user can answer an inbound call even as far as 150 meters away from the workstation.
see; best IVR system installation company
Still, a personal assistant can switch calls between a DECT phone and the IP desktop phone without none of the incoming calls dropping. Also, the built in Wi-Fi connectivity enables a company to maximum on the wireless network infrastructure.
Requirements of the Wireless phones
Wireless access point or router
DECT phones
Base station
Range extender
Wireless handset
Key benefits of the Wi-Fi phones
Ease of installation
Installing Wi-Fi phones tend to take shorter time to complete. This is because Wi-Fi phones do not require structured cabling installation. On the other hand, installation cabled IP phones will require neat structured cabling and networking done which obviously will require time.
Increased mobility
Wi-Fi phones enhances mobility at work particularly for workers who are always on the move as they execute their duties. A telephony user can move about with the handset strapped to the belt. And all incoming office calls to the user extension can be answered while being on the move. This kind of mobility leads to greater productivity and efficiency especially for people in a factory, a warehouse or a medical facility. On the other side, most desktop phones tend to be immobile. A telephone user has to be seated at their in order to answer calls unless extension pickup is enabled in the PBX system.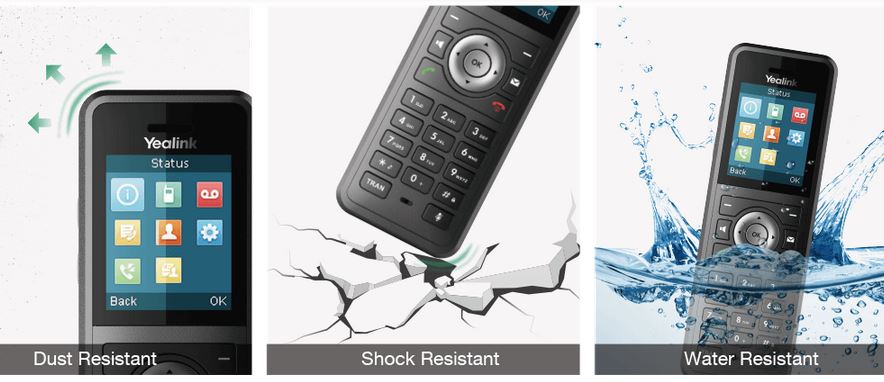 Lower cost of installation
Installation of the Wi-Fi phones tend to be less expensive of the eliminated need for structured cabling installation. This is because the wireless handsets majorly rely on base stations and wireless access points for connectivity. Otherwise, user network access pints have to be installed at every sitting position to allow for cable connection.
Ease of scalability
Adding a new wireless handset only require simple pairing with existing base station. In fact, a standard base station can connect up to 8 wireless handsets with different telephone extension numbers. Still, range extenders can be used to boost signal as the DECT phones move further away from the base station. Thus, DECT (Digital Enhanced Cordless Telecommunication) technology has made expansion of the wireless telephony infrastructure easy.
In summary, the wireless phones have become popular among companies in Kenya due to the convenience of mobility and cost savings associated with this solution. Contact us today for the best wireless IP phones, DECT phones and even cordless phones at best prices.
The Yealink T54W Phone
Be that as it may, the Yealink T54W Wi-Fi IP Phone is a business class desktop phone that leverages on the power of mobility technology. Moreover, it uses Yealink acoustic shield technology to block sounds from the surrounding environment. Thus, the receiver from the other end only hears the sound of the caller with unmatched clarity. This technology has increased productivity for the personal assistants, receptionists and customer care agents.
Features of the Yealink T54W Wi-Fi IP Phone
4.3 inch color display screen
Adjustable screen display to meet personalized viewing angle
Up to 16 SIP accounts
Crystal clear HD handset and speaker
10 line keys and a further 27 memory Keys
Key expansion module for extra keys especially if deployed as a receptionist phone
Adjustable angle foot stand
Full duplex speakerphone
Connectivity ports: dual gigabit Ethernet port; RJ9 handset and headset ports
Inbuilt PoE on the internet port
Built in Bluetooth 4.2 connection
Inbuilt Wi-Fi 2.4 GHz and 5.0 GHz transmission frequencies
N-way conferencing technology allowing up to 10-party conferencing participants
see; call center software
Grandstream wireless phone
The Grandstream Wi-Fi phone is a rugged phone suitable for use in a mobile work place. Ideal for use in factories, warehouses and medical facilities. This cordless phone has inbuilt wireless adapter that enables it to connect to the IP PBX through Wi-Fi. Moreover, its 8 hour talk time capability boosts employee productivity through the increased mobility. The Grandstream WP800 series in particular is a low cost cordless phone suitable for any organization looking to replace wired desk phones.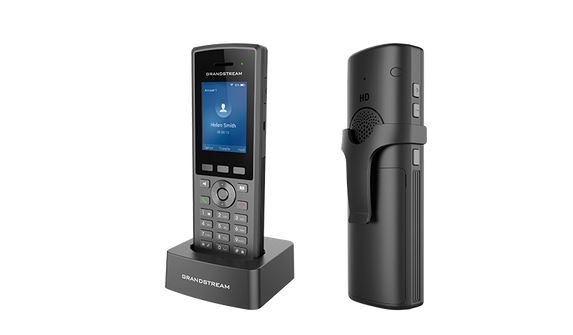 Key features of the Grandstream cordless phone
HD audio with noise shield technology
Integrated Bluetooth connectivity for hands free operation
Support for wired headset
Quality design that is resistant to water and dust
Rechargeable battery with 2000mAh capacity
8 hour talk time on full charge
Wireless connectivity through Wi-Fi
HD audio with noise shield technology
The Fanvil X3SW Wireless IP Phones
The Fanvil X3SW Wi-Fi IP Phone is a beautiful entry level IP phone which connects to the PBX system wirelessly. So no cables required except the adapter charger.
see; biometric time attendance system
Features of the Fanvil X3SW Wi-Fi IP Phone
Amazing call handling capability: call hold, call forward, call transfer etc
2.4 inch color display screen
Up to 4 SIP accounts
Inbuilt 2.4 GHz Wi-Fi transmission frequency for the wireless connection to the PBX system
HD speakerphone and handset
Support for wireless headset
6-party audio conferencing
Support for EHS wireless headset
Dual Ethernet ports. PoE enabled on the internet port
Wall mountable complete with a desktop stand
See also; IT support services
We have a solution that enables wireless IP phones to connect to the IP PBX system through the Wi-Fi. This eliminates the need for structured cabling and networking installation. Contact us today for a total wireless telephony solution.