The Yealink T31P IP Phone is a superior quality, low-cost desk phone in Kenya. A perfect choice for both small office businesses and big companies with multiple branch offices. Also highly favored in the hospitality industry and, financial institutions and the manufacturing sector. As a result of the SIP technology, the phones tend to be compatible with most IP telephone system, Yeastar VoIP PBX in particular.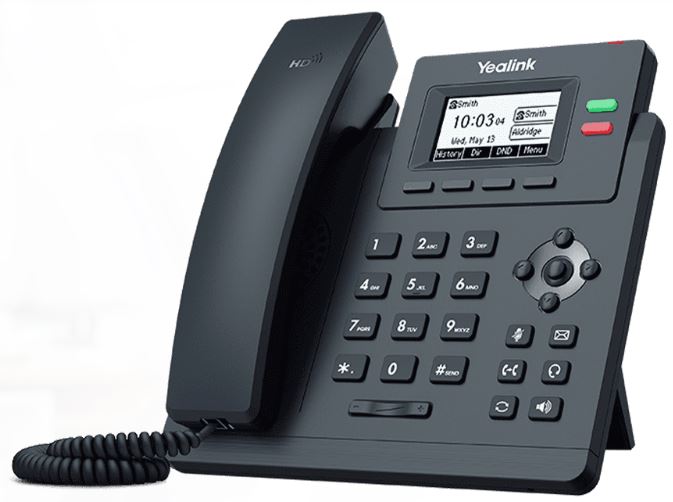 Be that as it may, the Yealink phones have become very popular in the market. The popularity can be attributed to affordability, ease of configuration and near-zero maintenance cost. More importantly, the Yealink Phones are secured using both TLS and SSL protocols. This is an assurance for safe and secure communication.
see also; structured cabling and networking company
In short, the Yealink phones are engineered to perform ordinary functionalities like call dialing and receiving incoming calls. Moreover, the IP phones have the capability for call pickup; the ability to receive a call directed to an extension whose user is not present at the desk. Also, forward calls to another line or extension, live call transfer and even set up a 3 party audio conferencing.
Features of the Yealink T31P IP Phone
SIP accounts: the desk phone supports 2 SIP accounts. Hence, two lines can be set up on the same phone.
Audio conferencing: phone users can initiate a 5 way audio conference
Screen display: comes fitted with a 2.3" LCD screen. Has a standard screen resolution at 132 by 64 pixel.
DSS keys: even though it cannot be integrated with a key expansion module, it has at least two soft keys that can be set up for direct dial.
Connection ports come with the standard two Ethernet ports. In as much as the desk phone can support PoE, it comes with a charger for environments without a PoE switch.
HD voice: generally, Yealink desktop phones were manufactured for high definition voice communication. Thus, the handset is optimized for HD audio. The same is true with the speaker.
Simple configurations: the auto-provision feature has known made desk phone configuration simple but also faster. The PBX installation and desktop phone deployment for a medium-sized business office will only take a few minutes to be up and running.
Can be used by agents in call center software
Web based management interface for configurations
The Yealink T31 SIP phone is a great improvement from the Yealink T30 entry-level desk phone. This is because while Yealink T30 has almost the same screen size, it lacks the LCD backlight. Also, you will notice that while the Yealink T30 has only a single SIP account. Unlike the T30 model, the Yealink T31P comes with two SIP accounts.
Office telephone equipment supplies for every industry
IP phones are known to be versatile telephone equipment. The flexibility in deployment makes them desirable for use in every industry. Since most of these phones can be mounted, clients are presented with different installation options. As a matter of fact, the installation and deployment will be dictated by the industry the client operates from.
For instance, in an office setup, desktop phones can just be placed on top of the desks. On the other hand, for companies in the hospitality industry will probably use the wall mount feature to install the phones in the kitchen area, restaurant, bar area, also inside rooms.
ORACO Kenya is a dealer and supplier of IP telephony solutions, including IP PBX, PABX system, IP desktop phones, and VoIP gateways among other office solutions. Contact us today for all your office telephone equipment supplies.