Matrix Access Control System in Kenya
Institutions the world over regularly automate business operations. Even office door opening can be automated using the Matrix access control system in Kenya. Critical functions such as bookkeeping and procurement are no longer executed manually. Human Resource functions such as employee payroll processing are also being automated. This is thanks to door access control systems in Kenya.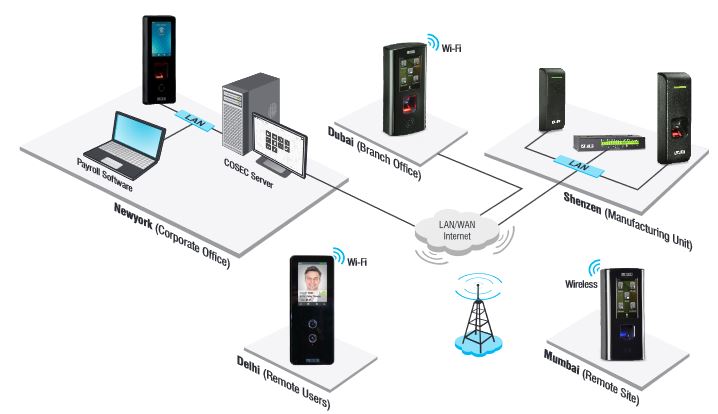 Long gone are the days when Human Resources managers monitored staff attendance using the attendance books left at the entrance. Staff attendance lists are so outdated because they can easily be manipulated by the employees. Biometric access control systems have made monitoring staff attendance both efficient and reliable.
Based on our experience installing biometric access control systems in Kenya, we have compiled the benefits of using access control to manage employees. The following are some of the key benefits of implementing biometric access control systems at your premises:
See; PBX system
Building access management
Access control systems can be configured in such a way that the locking system shuts and opens at particular times of the day. This customized operation procedure is very suitable for areas that are usually accessed by the public. A perfect example would be the deployment of the access control system at the Huduma Centers in Kenya and in the commercials banks. In such cases, the public will be allowed free access to the service desks within the halls for predetermined hours. For example, between 8.00 am in the morning and 5.00 pm in the evening. Therefore, the doors will be set to automatically open at 8.00 am and automatically close at 5.00 pm.
see; biometric time attendance system.
Time and Attendance management
This system make it easy to monitor the movement of the people under your supervision. With a good access control system in place, tracking employee movements in the office.  Furthermore, the fingerprint door system monitors the activities of the people inside the building. Additionally, the system enables you to tell who accessed which office and at what time. Such information can be a very useful audit trail in the event of an inquiry into persons who might have been involved in questionable activities.
see; call center system
System versatility
Access control systems, whether biometric or card systems, are very flexible new developments. These devices are very simple to operate. For instance, adding and removing users in the system can be affected easily from the dashboard. Furthermore, the system enables you to create new user groups as well as enrich the existing groups. All these capabilities meant to simplify the administration and management of company data.
see; interactive voice response
Continuous operation
During the installation of biometric access control systems, power backup systems usually power up the readers and the locks in case of a power blackout. This ensures that the door access control system always works without interruptions. Thus, assuring you of good service around the clock. With a backup battery, you will not experience downtime as a result of power fluctuations.
see; CCTV cameras
The above summary of the benefits of installing door access control systems in Kenya. Consider automating your hr operations through System Automation is our specialization. And so we look forward to enabling your company to enjoy the benefits of system automation. Contact us now for a discounted biometric access control quote.
Types of access control
Facial recognition access control
Facial recognition access control stands for a contactless access control system which relies face to open the door. This solution has been very key particularly following the pandemic brought about by the virus. Besides, it is fast, convenient and hygienic. Ideal for installation in a medical facility where low touch interaction is encouraged.
see; structured cabling company
RFID card reader
Access control based on the RFID card reader remain one of the oldest technology before the introduction of biometric systems. Here, a staff ID with a chip is swiped at the door entry point for the door to open. This solution is loved by companies since the RFID card serves two purposes. One, the card can be used as employee identity. Secondly the card will be used to authenticate door opening. However, this solution is susceptible to buddy punching. This means the unfaithful employee can misuse their staff identity leading to a serious security breach.
Fingerprint reader
Fingerprint reader access control, as the name suggests, it means the system relies on fingerprint scanning for the door to open. This solution is presently very common in the upmarket office spaces due to its reliability and dependability.
Besides being an office security solution, Matrix access control device can be configured to work as an employee clock in and clock out system.
see; SIP trunk provider
QR Code based access control
This solution uses QR code to authenticate a user before opening a door. This is a convenient alternative to the installation of a physical access control device. Therefore, you will be required to print the QR code and stick it right at the door. The users will then be required to use their phones to scan QR code for the door to open.
Bluetooth based access control
This solution also uses smartphone to open office door. Here, door controller with inbuilt Bluetooth connectivity will be installed. The users will be required to turn on Bluetooth on their smartphone and use it to open the office door. It is important to note that not all phones with Bluetooth can open the door. Only those configured with the door controller will have the functionality enabled.
see; unifi access point
Elevator access control
This is a solution designed for hotels and corporate offices. This solution allows entry into an elevator or a lift by using either the RFID card or biometric. Elevator access control is particularly used to secure VIP lifts in 5 star hotels. This solution can be implemented to control access for 64 floors in a building.
Data center access control
Very important company IT devices and equipment are kept in data centers and server rooms. Any security breach or acts of vandalism might lead to huge financial loss. With this in mind, we have designed access control solutions specifically for data centers and server rooms.
This solution reliably prevents unauthorized persons from entering the server room and the data center. Furthermore, this solution can be integrated with video surveillance cameras and the intruder alarm system. Thus, an email notification will be sent whenever somebody enters the data center.
Contact us now for the best Matrix access control solution in Kenya