Yeastar P570 PBX System in Kenya
The advancement being witnessed in the IP PBX telephony industry has led to seamless convergence of the voice, video, and data into a single platform. This technological convergence has led to a better user experience. Technological convergence is what the Yeastar P570 PBX system brings to the table. Today businesses can enjoy audio, video communication from the same platform. What is more, the same computer networking can be used for data communication; connecting the computers.
The P-series PBX system offers more than what an ordinary PBX has. The system comes integrated with advanced features such as call center management, remote working, and video conferencing. Additionally, enjoy advanced call handling capabilities such as the IVR system, digital receptionist remote office, and extension mobility.
Key Features of the PBX system
The Linkus softphone (unified Communications client)
After installing the softphone, telephone users can access all PBX call handling features from either a smartphone or a computer. No need to acquire physical desktop phones. The unified communications (UC) client has all the capabilities of a physical desktop phone. The UC clients come designed for diverse platforms. For example, mobile clients are compatible with Android and iOS, Desktop clients are compatible with macOS and Windows OS. And Web clients compatible with all browsers.
The ubiquitous nature of this technology allows users to make audio calls, and video conferencing, and access the contacts directory from a single interface. The Linkus UC client is made in such a way that users can toggle with the shrinkable call window to suit preference. What is more, users can easily switch between audio calls and video calls flawlessly.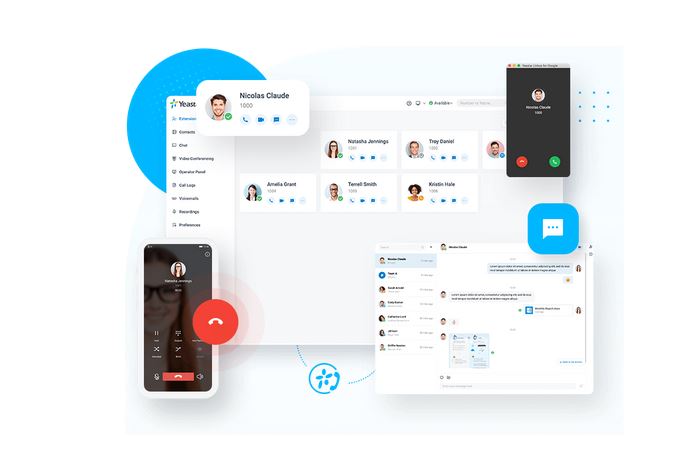 The Video Conferencing feature
This feature is particularly important for small and medium-sized companies with budget constraints. In as much as investing in a boardroom video conferencing system remains vital. With the PBX plus there should be no urgent need to invest in separate video conferencing equipment.
The PBX plus offers web video calling which is way simple and convenient for all the users. As a matter of fact, users will be able to enjoy video calling from the Linkus softphone. Moreover, users who use the app will experience WebRTC video call in HD quality. Besides HD call quality, users are able to share screens; also engage in team chats within the meeting session.
Call Center software
Be that as it may, the Yeastar P570 has more pluses in terms of features. For instance, apart from the ordinary calling features, call center software comes as part of the package. With the integrated call center system, call agents will be able to benefit from exciting features like click-to-call, agents chats, etc. Other benefits of the call center system include more detailed agent performance reports, intelligent queue management, skills-based routing, etc.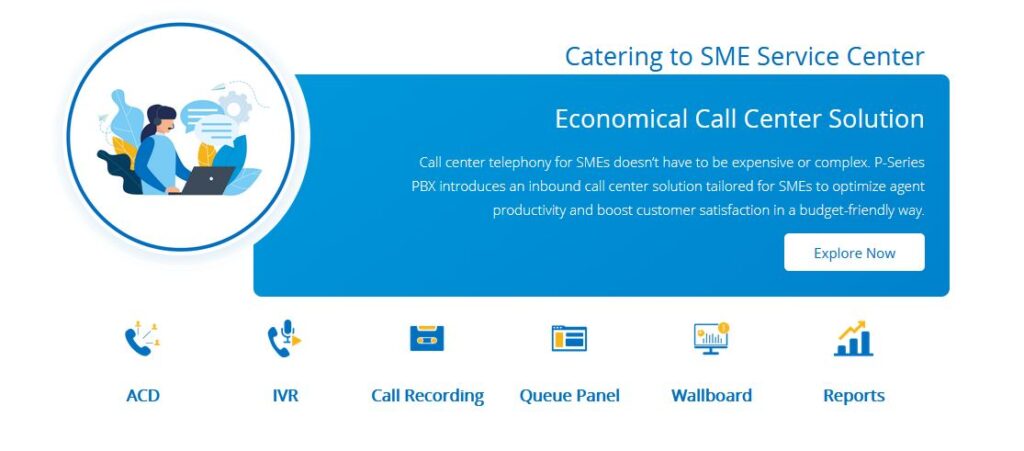 Above all, setting up a call center system should lead to increased efficiency, great user experience, and increased flexibility. Our expertise enables us to customize telephony systems and applications so that technology can be used to unlock great potential.
Presence and Instant Messaging
Unified communications technology is about team collaboration. The presence feature enables team players to view the online status of one another before initiating instant messaging. Through instant messaging (IM) staff members can chat amongst themselves and even share files while at it. Presence and instant messaging features are very valuable productivity tools. The ability to receive instant feedback on various matters has been associated with improved staff morale and productivity.
The administrator panel
All efficient systems must have a superuser with the capability to break deadlocks and resolve issues when need be. The superuser, also known as the main operator will log onto the operator panel to execute various functions aimed at enhancing effectiveness. For example, the operator has the capability to monitor call queues, dispatch active calls and even control presence statuses. The superuser also receives event logs, can do backup and restore, system troubleshooting plus other critical functions.
Centralized telephone Directory
A centralized contacts directory is both innovative and efficient. This feature enables companies to create an enterprise contacts list. Each telephone extension does not need to build its own contact list. All contact entries done by any extension will be readily available for all other users connected across various platforms. Whether from the Linkus softphone app or the IP phone; whether at the main office or working remotely.
Remote working experience
Modern PBX systems should have the capability to allow the rollout of remote working. Hence, the telephone extensions should be configurable to allow access from a remote location far away from the main office. Ordinarily, the quality of connection from a remote location should be the same as the experience at the main office.
Besides remote working, it should be possible for branch offices to share main the telephony infrastructure e.g. the GSM/VoIP gateway or E1 link. This saves on capital expenditures besides making overall administration easy.
unified communications
The recent development in the telecommunication industry has led to the convergence of various communications channels leading to efficiency, and flexibility. Hence, the VoIP PBX system solutions. This kind of convergence has brought about unified communications solutions. Enterprise Unified communications solution, known simply as a UC solution, has integrated several services into one very rich platform.
see also; SIP trunk provider
There is a strong wave of innovations aimed at transforming business operations. As it is, organizations continue to experience digital transformations through enterprise unified communications solutions. Be that as it may, digital transformation has tried to adapt the present business structures making it more responsive to the prevailing economic environment.
Indeed, UC solutions are the nerve center for corporate business communications. This is because apart from ensuring the availability of communication infrastructure, it streamlines company operations. Also, there is an assurance for multi-locational connectivity, system scalability, and excellent customer service and infrastructure mobility.
Why you need Yeastar P570 VoIP PBX system
Workplace mobility
The traditional workplace has undergone a major shift. The millennial workforce prefers workplace mobility. As opposed to the traditional setup whereby the employees were expected to stick to their workstations for the entire workday. Today's workforce has chosen to be mobile while performing official work assignments. Employees can now work with their personal devices. This has led to reduced cost of operations, increased availability of resources and efficiency.
Teleworking for remote employees
Enterprise UC solutions have ensured that employees can work from wherever they feel like as long as there is reliable connectivity. In fact, with Sophos SSL remote access VPN certificate, the remote worker only requires to download and install an SSL VPN client to establish a secure connection. The SSL VPN certificates guarantee a secure point to point tunnel connection to company IT infrastructure. Get the best SSL remote access security solution through the Sophos Firewall.
Efficient collaboration platform
Productive teams collaborate a lot. In fact, collaborative effort is a recipe for success in any field of work. The Yeastar P570 PBX system have created a better platform for efficient collaboration and team participation. As it was mentioned earlier, UC solutions have brought together different communication channels into one rich platform. Therefore, people who need to collaborate can be connected through telephones, instant messaging, workflow and document management, and conferencing.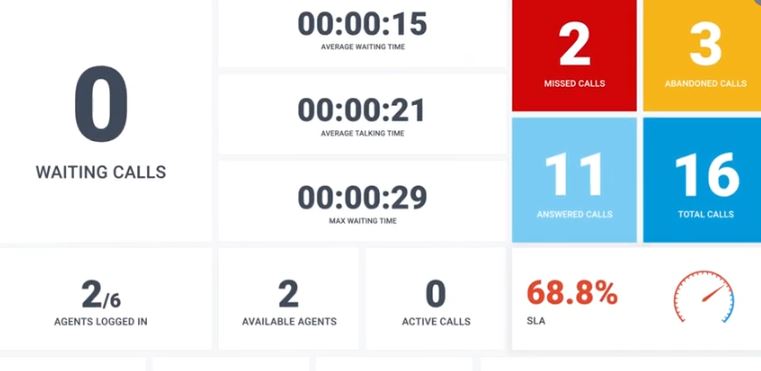 Hence, employees can work jointly on a project by sharing important data in a workflow and document management system that has the capability for emailing and instant messaging. Team players receive instant and immediate feedback on different milestones achieved.
Major cost savings through innovative digital transformation tools
Technological disruptions will require a budget to cater for the initial cost of rolling out the solution. However, this investment will be insignificant for the organizations that are in it for the long term. The payoff will come in terms of huge savings from not having to acquire separately third-party applications in order to boost value. Additionally, organizations are able to enjoy a competitive edge by using innovative tools to stay in the industry. Lastly, there will be a marked increase level of employee engagement and productivity which greatly impacts the bottom line.
Simplified business communication platform
Generally, advanced business tools tend to be complex and confusing to ordinary users. It becomes worse when users have to keep switching between tools in order to accomplish a business task. But with the consolidation of the services, the system s and processes will be simplified to improve usability and adaptability. There is no greater morale booster than the integration of common services into one rich platform. And all these can be achieved when you implement a VoIP PBX system. Also, VoIP software for internet calls.
Contact us today for the enterprise unified communications solutions, innovative telephony solutions, and more digital transformation. Contact ORACO Kenya, a telephony installer in Kenya for all IP telephony solutions including Yeastar P570 PBX System.