Yeastar P-Series PBX System in Kenya
The advancement being witnessed in the IP PBX telephony industry has led to seamless convergence of the voice, video, and data into a single platform. This technological convergence has led to a better user experience. Technological convergence is what the Yeastar P-Series PBX system brings to the table. Today businesses can enjoy audio, video communication from the same platform. What is more, the same networking infrastructure can be used for data communication; connecting the computers.
The P-series PBX system offers more than what an ordinary PBX has. The system comes integrated with advanced features such as call center management, remote working, and video conferencing. Additionally, enjoy advanced call handling capabilities such as the IVR system, digital receptionist remote office, and extension mobility.
Key Features of the PBX system
The Linkus softphone (unified Communications client)
After installing the softphone, telephone users can access all PBX call handling features from either a smartphone or a computer. No need to acquire physical desktop phones. The unified communications (UC) client has all the capabilities of a physical desktop phone. The UC clients come designed for diverse platforms. For example, mobile clients are compatible with Android and iOS, Desktop clients are compatible with macOS and Windows OS. And Web clients compatible with all browsers.
The ubiquitous nature of this technology allows users to make audio calls, and video conferencing, and access the contacts directory from a single interface. The Linkus UC client is made in such a way that users can toggle with the shrinkable call window to suit preference. What is more, users can easily switch between audio calls and video calls flawlessly.
The Video Conferencing feature
This feature is particularly important for small and medium-sized companies with budget constraints. In as much as investing in a boardroom video conferencing system remains vital. With the PBX plus there should be no urgent need to invest in separate video conferencing equipment.
The PBX plus offers web video calling which is way simple and convenient for all the users. As a matter of fact, users will be able to enjoy video calling from the Linkus softphone. Moreover, users who use the app will experience WebRTC video call in HD quality. Besides HD call quality, users are able to share screens; also engage in team chats within the meeting session.
Call Center software
Be that as it may, the P-Series has more pluses in terms of features. For instance, apart from the ordinary calling features, call center software comes as part of the package. With the integrated call center system, call agents will be able to benefit from exciting features like click-to-call, agents chats, etc. Other benefits of the call center system include more detailed agent performance reports, intelligent queue management, skills-based routing, etc.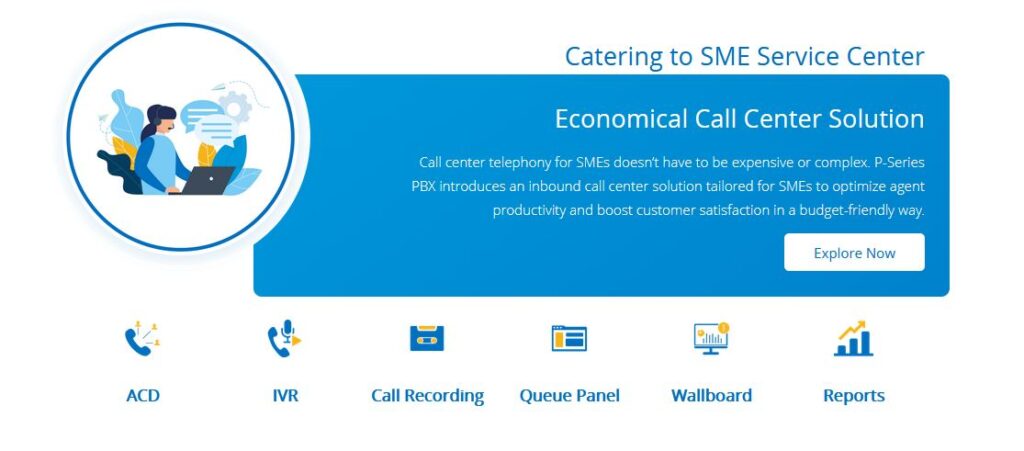 Above all, setting up a call center system should lead to increased efficiency, great user experience, and increased flexibility. Our expertise enables us to customize telephony systems and applications so that technology can be used to unlock great potential.
Presence and Instant Messaging
Unified communications technology is about team collaboration. The presence feature enables team players to view the online status of one another before initiating instant messaging. Through instant messaging (IM) staff members can chat amongst themselves and even share files while at it. Presence and instant messaging features are very valuable productivity tools. The ability to receive instant feedback on various matters has been associated with improved staff morale and productivity.
The administrator panel
All efficient systems must have a superuser with the capability to break deadlocks and resolve issues when need be. The superuser, also known as the main operator will log onto the operator panel to execute various functions aimed at enhancing effectiveness. For example, the operator has the capability to monitor call queues, dispatch active calls and even control presence statuses. The superuser also receives event logs, can do backup and restore, system troubleshooting plus other critical functions.
Centralized telephone Directory
A centralized contacts directory is both innovative and efficient. This feature enables companies to create an enterprise contacts list. Each telephone extension does not need to build its own contact list. All contact entries done by any extension will be readily available for all other users connected across various platforms. Whether from the Linkus softphone app or the IP desktop phone; whether at the main office or working remotely.
Remote working experience
Modern PBX systems should have the capability to allow the rollout of remote working. Hence, the telephone extensions should be configurable to allow access from a remote location far away from the main office. Ordinarily, the quality of connection from a remote location should be the same as the experience at the main office.
Besides remote working, it should be possible for branch offices to share main the telephony infrastructure e.g. the GSM/VoIP gateway or E1 link. This saves on capital expenditures besides making overall administration easy.
Contact ORACO Kenya, a licensed telecommunications contractor in Kenya for all IP telephony solutions including Yeastar P-series PBX System