The most desirable qualities of HR software are the ease of implementation, usability and affordability.  Our Premier software meets all the requirements making it one of the best HR and payroll software in Kenya. First and foremost, the payroll software has innovative features that enables a business to comply with all statutory requirements. For example, the system enables one to submit monthly PAYE returns, the annual P9 forms returns, and comply with NHIF, HELB, NSSF requirements. At only KES 150,000 one time purchase cost, our Premier Payroll software is the most affordable in Kenya.
What is more, the system captures different types of employee earnings and deductions e.g. gross pay, leave allowances, sales commissions. All these earnings and deductions appear in the pay slip. And, the employee payslips can be sent on email. Without a doubt companies are increasingly automating business functions to create efficiency and enjoy competitive advantage. Premier software automates employee payment processing function making it simple, fun, and enjoyable.
Contact us for a free 60 day free payroll software download in Kenya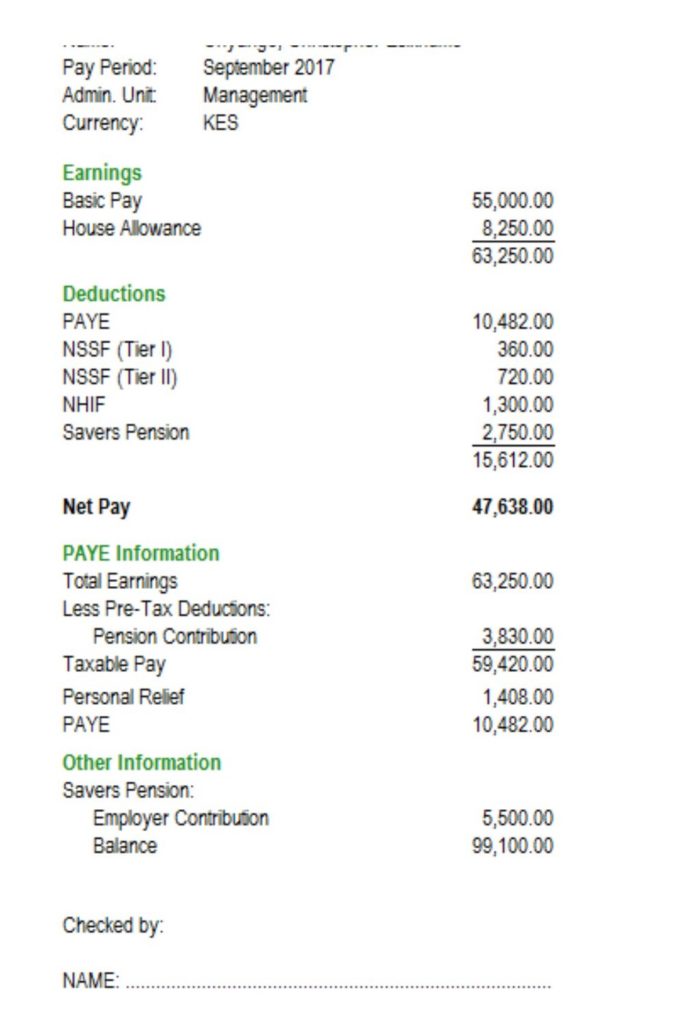 Our Premier payroll software can be configured to print well-structured electronic payslips. In  fact, the Payroll software enables you to print and distribute payslips electronically. The increased internet connectivity and increasingly affordable smartphones have changed the communication landscape. With Premier software employees can get their payslips via email. Moreover, electronic payslips saves on printing costs and friendly to the environment.
Contact us today for a free demo software
Furthermore, the Premier system can execute electronic swift payment of salaries. The payroll software is integrated into different banks to enable seamless transfer of salaries to individual employee account. Be it Equity bank, Cooperative Bank, KCB Bank, or all other 100+ Kenyan banks. This software is compatible with all payment platforms.
Key benefits of the best hr and payroll software
Our HR software produces easy-to-read and easy to interpret reports. The payroll accountant can generate different category reports. These reports can be used in budgeting and as the basis for decision-making. The reports can be filtered further by pay groups or stations to provide a more specific insight. By and large, the Premier system is loved by big of payroll accountants.
Ease of implementation and use. The structure of the software is premised on simplicity. Additionally, it does not require a lot of computer resources such as RAM or processor speed. The payroll software can be installed on a low-end computer and still offer superb performance. With just a little investment, your company can easily acquire a cutting-edge payroll management system.
See also; PABX system installer.
Enhanced security of the payroll software. Payroll information is very sensitive data. Premier payroll software has inbuilt security features that ensure the integrity of data in the database.  As a matter of fact, users within the system have different roles and rights. Accordingly, a transaction cannot be posted and approved by the same user.  In fact, only one superuser has the right to back up the system. Be that as it may, these are part of the internal controls for enhancing system integrity.
Month-end processing; is an important feature. By and large, this is the feature that enables the tax accountants to close the month. Consequently, our software enables you to process monthly returns for NSSF, NHIF, and KRA. Still, through the iTax system, you will file monthly and annual tax returns.
Payroll Software in Kenya Solution for Small Business
Another challenge for payroll officers is how to maintain the confidentiality of the payroll data. The Premier HR software Kenya that we have has user access levels for every user. There is a useful section limited only to those allowed to look at personnel private information. Including, leave days taken and leave days carried forward, health information, employees' dependents, etc. On the other hand, there is another user who is only allowed to view payroll data including payslips. This user can also print payslips and even send them to staff via email. This kind of segregation of jobs and roles creates order within the company.
see; SIP trunk provider
Manual payroll management has converted payroll accountants and HR officers into file managers. These very skilled employees end up spending the whole day sorting files and searching for missing personnel documents.  Instead, your company can use Premier payroll software in Kenya to create efficiency.
Lastly, use technology to reduce running expenses. As it is, managing payroll data for 100 or 200 employees can be a nightmare. When paying wages and salaries at the end of the month, it will take at least 5 days, sometimes two weeks to settle employees' salaries. But with the best HR software, you can cut down all this period to only two days and a maximum of three days.
By cutting the number of days needed to process salaries, your company will save money by hiring HR and payroll officers. Be that as it may, time is money. By cutting down on time wastage, the staff can use the realized extra time to do some other activities that can be beneficial to company goals.
HR Software Provider
There are those systems that place a ceiling on the number of users. As a result, the system is billed as per the number of users. However, the Premier system has no maximum number of users. The software can capture information related to over 1000 employees. In fact, the time attendance management system should not run separately. Integrate biometric staff attendance management system into Premier Payroll software. The system database can hold as much information as is required by the organization. This is especially good for EPZ companies that have over 5000 employees.
Unlike other payroll software providers in Kenya, ORACO Kenya offers professional after-sale support. Are looking for the best HR software in Kenya? Is your current payroll software easy to use with a professional-looking payslip format? Does the software comply with the NHIF new rates? Are you looking for a reliable software vendor with a proven track record of timely delivery and reliable IT Support? To support your business, our software incorporates all the recent changes in the NHIF act and the iTax system. Other statutory features include the PAYE Kenya, NHIF new rates, and iTax. We offer payroll software Kenya free download for demo. Then contact us today for the best payroll software in Kenya.