TP-Link switches are some of the most popular network devices on the market, and for good reason. They are available in a wide range of features and performance at an affordable price. ORACO Kenya is a dealer and reseller of TP-Link switch in Kenya. We stock basic types suitable for home networks and the enterprise grade ideal for businesses.

A network switch is a local area networking device that allows connection of multiple devices to in a networked environment. Typically, this networking device get installed to connect computers, printers, and IP Phones devices in a networked environment. And, it can enable sharing of networked resources in an office environment. For example, the switching device enables sharing of an internet connection link, sharing of files and even sharing a printer in an office.
Be that as it may, networking devices have been used to create wired networks in the office setting since time immemorial.
see; PBX telephone system price
Benefits of using a TP-Link switch
Improved performance: the Gigabit type can improve the performance of a network under heavy load by reducing congestion and improving traffic flow.

Increased reliability: TP-link can increase the reliability of your network by sustaining network users for many hours without requiring a restart. Also, this brand tend to last longer than competitors' making them a good long term investment.
Scalability: these networking devices can be used to scale a network as needed. Simply add more switches to the network as user devices increase.
Security: these networking devices can help to improve the security of the network by isolating devices from each other. This can help to prevent unauthorized access to the local area network. The features include VLAN support, QoS support, and security features.
see; Fortinet firewall
Easy to set up and use: these network devices are designed to be easy to set up and use, even for beginners.
Affordable price: be that as it may, these devices are generally very affordable, especially when compared to switches from other brands.
see; intercom system
Wide range of models: TP-Link offers a wide range of devices to choose from, and an organization can find the perfect fit ideal to manage specific needs.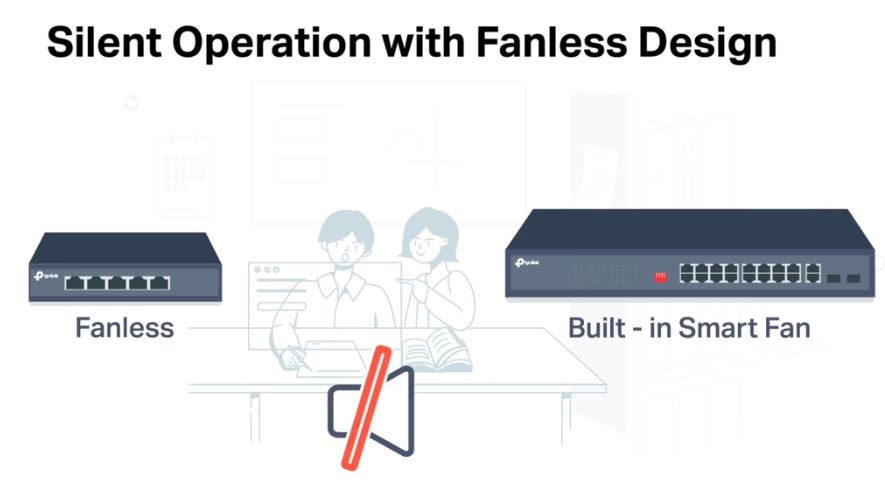 Types of TP-Link Switch
Unmanaged: these are the most basic type of switch. And offer plug-and-play functionality. They do not require any configuration and are easy to set up. They are ideal for home and small office networks.
Managed: these offer more advanced features and flexibility than the unmanaged types. Therefore, they can be configured to meet the specific needs of a local area network. They are ideal choice for businesses and organizations with more complex networks.
see; biometric clock in and clock out system
Gigabit switches: these offer faster speeds than traditional ones. They can support speeds of up to 1Gbps, which is good for streaming video, playing games, and transfer of large files. Thus, they are ideal for connecting high-bandwidth devices such as gaming consoles and video streaming devices.
see; small business payroll software
Power over Ethernet (PoE) switches: these can provide power to devices connected to the switch over the Ethernet cable. This eliminates the need for separate power cables, which can make the network cleaner and more efficient. Some of the devices that might benefit from PoE ports include IP cameras, IP Phones and wireless access points.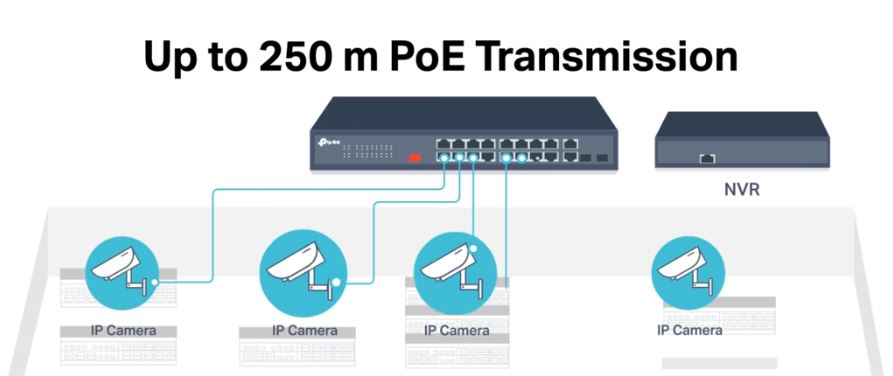 How to choose the right networking device
Number of ports: networking devices are designed with a varying number of port counts. Choose one with enough ports to connect all user devices. For example, TL-SG108 is an unmanaged and a good choice for home and small office networks. It has 8 ports and a maximum speed of 100Mbps.
Type: Consider whether the needed device is unmanaged or managed. Unmanaged ones are the simplest type and are a good choice for home and small office networks. Managed switches offer more features and flexibility, but they are also more complex to configure.
see; inbound IVR system
Speed: If you need to stream video, play games, or transfer large files, choose a switching device with Gigabit. These ones are ideal for heavy internet users. For example, TL-SG1016E has Gigabit ports and ideal for businesses and organizations that require high internet speeds.
PoE support: If you need to power devices over the Ethernet cable, then ensure the switching device has PoE. For example, TL-SG1005P has PoE ports and this makes it suitable for powering devices over the Ethernet cable.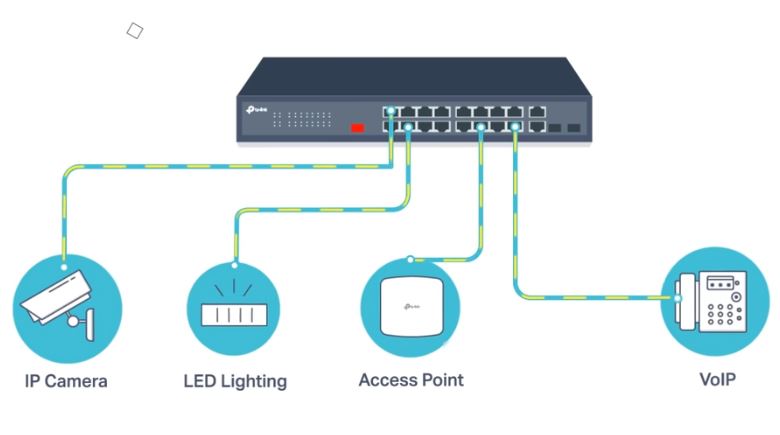 Company budget: TP-Link switches are available at a variety of price points. Choose one that fits your budget and performance requirements.
How to set up a TP-Link switch
Setting them up is very easy. To set up an unmanaged one, simply connect it to the router from the internet service provider using a patch cord. All other user devices such as computers can be plugged into it to obtain DHCP network settings from the router. To set up a managed one, you will need to log in to the web interface and configure the settings.
see; boom gate
On the other side, setting up an unmanaged networking device simply involves connecting it to the router using Ethernet cable (a shorter patch cord). Then, user devices can be connected to it using Ethernet cables (longer patch cords). Once it is connected and powered up, it will automatically start working.
Troubleshooting network issues
If you're having problems with your local area network, do the following:
To start with, make sure that the devices are powered up. That is, the switch should remain powered at all times and so is the router and the other network devices.
Check Ethernet cables: Make sure that all of the Ethernet cables are properly plugged into to the switch and your devices. Confirm if the data points modules and the RJ45 connectors are firmly in place. Also, in the network cabinet, check the patch panel.
Restart it: Restarting the switch can sometimes fix minor problems.
Reset it: If you're still having problems, you can try resetting it to factory default settings.
Lastly, if all fails, contact a professional structured cabling and networking Installation Company nearest to you. ORACO Kenya can help with troubleshooting complex network connectivity issues that require fluke test, cable tester, or cable re-termination. Also, we perform network switch reconfiguration, wireless access point configurations and router/ firewall management.
Our expertise goes beyond CAT6 Ethernet cabling installation. We also do fibre optic cabling installation, fibre cable splicing. Still, we supply of network installation accessories such as cable trays, cable managers, patch panel, patch cords, network cabinets etc.
On the overall, these devices are a great choice for both home and business networks. They come in a variety of models from simple unmanaged types to more complex managed switches. Moreover, they have a wide range of inbuilt features and performance metric at an affordable price. Therefore, if you're looking for a reliable, scalable, and secure networking device, then a TP-Link switch is a great option.