The advent of Voice over Internet Protocol (VoIP) technology has significantly transformed the way we communicate. The traditional telephone systems have been rendered outdated and inefficient due to VoIP. Yealink IP phones have been designed with advanced features, reliability, and exceptional performance. They have been built to redefine the modern communication experience.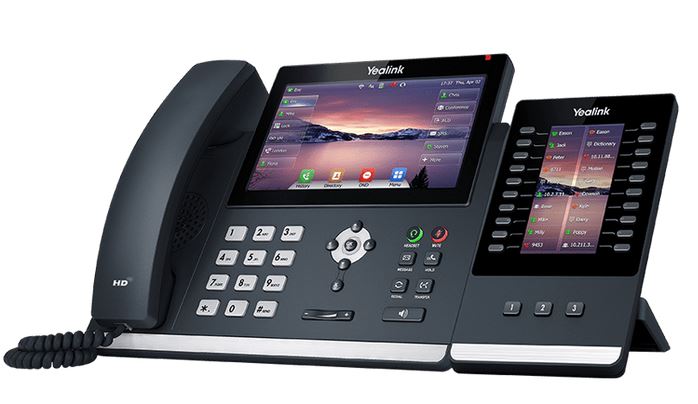 see; PBX system installer
This telephony company, founded in 2001, is a renowned global brand that specializes in providing innovative communication solutions. These telephony devices exemplifies the brand's commitment to delivering high-quality, user-friendly devices for businesses of all sizes. These phones utilize VoIP technology. Thus, allowing voice communication and multimedia sessions to be transmitted over the internet. However, this capability was missing in the traditional telephone systems.
Yealink IP Phone Price In Kenya
| | |
| --- | --- |
| Yealink T30P IP Phone | KES 6,500 |
| Yealink T31G IP Phone | KES 7,500 |
| Yealink T48U Receptionist IP Phone | KES 29,000 |
| Yealink UH36 Call Center Headset | KES 9,000 |
| Yealink W56H DECT IP Phone | KES 12,200 |
| Yealink W60P DECT IP Phone plus Base Station | KES 18,500 |
| Yealink T46U Executive IP Phone | KES 25,500 |
Key Features of Yealink IP Phones
High-Quality Audio and HD Voice
Crystal-clear audio quality is paramount in professional communication. The handsets incorporate advanced audio technologies, including HD Voice and Opus Codec. This ensures that conversations are clear, natural, and free from distortions. This feature significantly enhances the overall communication experience, making interactions more productive and engaging.
Intuitive User Interface
Yealink places great emphasis on user experience. In fact, these handsets boast intuitive user interfaces with color displays. The intuitive user interface makes navigation effortless even for those who are not tech-savvy. The user-friendly interface minimizes the learning curve, allowing users to fully utilize the phones' capabilities right from the start.
Wide Range of Models
The telephony manufacturer offers a diverse range of IP Phone models to cater to different business requirements. Whether you need basic phones for everyday tasks or more advanced models with video conferencing capabilities, we've got it all. This kind of flexibility ensures that businesses can select models that align perfectly with their unique communication needs. The handset have been designed in in different models to cater to various business needs. They have been designed to meet diverse communication requirements whether it's a small office, a call center, or a large enterprise.
Video Conferencing capability
In the modern business landscape, video conferencing has become a staple for remote collaboration. Some handset models come with built-in video conferencing features. This is especially relevant in a world where remote work and virtual collaboration are becoming increasingly common. The handsets with video conferencing capabilities can deliver high-definition video quality. This allows teams to conduct virtual meetings that mirror face-to-face interactions. Still, the integration of video enhances engagement and ensures that no nuances are lost in communication.
Enhanced team collaboration
these handsets are equipped with features that promote collaboration and productivity. They include call forwarding, call waiting, call transfer, and concurrent calling within and outside the organization. Additionally, features such as Bluetooth and Wi-Fi enable wireless connectivity eliminating the need for much cabling installation.
Security and Reliability
Security is a paramount concern in the digital age. These handsets are designed with advanced security protocols. For example, Transport Layer Security (TLS) and Secure Real-time Transport Protocol (SRTP) encrypt communication to safeguard sensitive information. Moreover, these phones are reliable and offer consistent performance. Advanced security protocols to safeguard sensitive information and prevent unauthorized access.
see; Sophos firewall
Scalability
As a business grows, its communication needs also evolve. These telephony devices are designed with scalability in mind. Whether it's a small business or a large organization spread across multiple locations, these phones rock. They can seamlessly integrate into the existing communication infrastructure, adapting to changing requirements without disrupting operations.
Intuitive User Interface: Yealink places great emphasis on user experience. Their handsets boast intuitive interfaces, making them easy to set up and use. This is particularly beneficial for businesses that want to streamline their communication infrastructure without a steep learning curve.
Interoperability: these handsets have been designed to seamlessly integrate with various communication platforms, including leading Unified Communications (UC) systems. This ensures that businesses can leverage their existing infrastructure while upgrading their communication tools.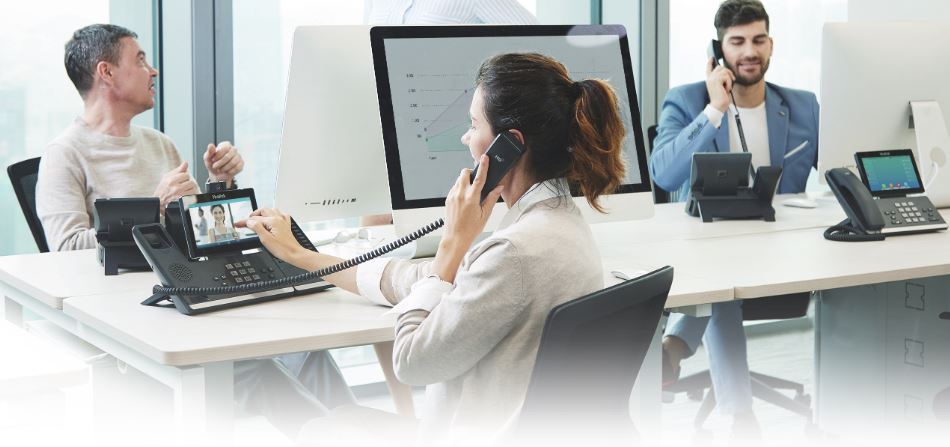 IP Phone Models
Yealink offers an array of IP phone series, each tailored to different business requirements and preferences. Some of the notable series include:
T Series: The T Series encompasses entry-level and mid-level phones that offer a cost-effective solution without compromising on quality. Even so, these handsets are suitable for small to medium-sized businesses.
SIP-T4 Series: This series is designed for businesses that demand enhanced features and capabilities. With larger color displays and additional programmable keys, the SIP-T4 Series is well-suited for businesses with higher communication needs.
SIP-T5 Series: the SIP-T5 Series is equipped with advanced features such as touchscreen interfaces and built-in Bluetooth connectivity. These phones are ideal for executives and professionals who require a premium communication experience.
DECT IP Phones: the DECT IP phone is suitable for situations where mobility is key. These handsets combine the convenience of wireless communication with the reliability of VoIP technology.
see; structured cabling company
Yealink IP Phones Installation
The versatility of Yealink has been demonstrated through their applications across various industries and business scenarios:
Corporate Environments: In corporate settings, handsets facilitate efficient internal communication, conference calls, and virtual meetings. They help streamline communication processes, leading to improved productivity.
Call Centers: inbound call center can benefit from Yealink headsets by enjoying clear voice quality. Moreover, they have customizable features, and allow for easy integration with customer relationship management (CRM) software. This enables agents to provide exceptional customer service.
see; IVR system installer
Healthcare: In healthcare facilities, headsets ensure smooth communication among medical staff, administration, and patients. Video conferencing capabilities are particularly useful for telemedicine consultations.
Hospitality: these handsets find application in the hospitality industry. Here, guests' requests and inquiries can be efficiently managed, leading to a better guest experience.
see; VoIP trunk provider in Kenya
Yealink IP phones have undoubtedly reshaped the way businesses and individuals communicate in the modern era. With their exceptional audio quality and innovative features, they have proven to be a vital tool for organizations striving for effective communication. Most importantly, they have been built with the inbuilt capability to adapt to diverse business environments.
As technology continues to evolve, it is expected that Yealink will continue to innovate. And also provide solutions that anticipate the changing needs of businesses and individuals. With a commitment to quality, user experience, and cutting-edge technology, these phones are set to remain a cornerstone of efficient communication in the digital age.
Enhancing Communication Efficiency
Effective communication plays a pivotal role in driving success and maintaining a competitive edge. As organizations strive to streamline their operations, investing in advanced communication solutions becomes imperative.
see; biometric time attendance price
Yealink is a globally renowned provider of innovative communication solutions. The phones are built on VoIP technology, which enables voice communication and multimedia sessions over the internet. These telephony devices combine cutting-edge hardware with intelligent software, resulting in a rich communication experience.
see; payroll software small business
In a world where effective communication drives business success, good quality headsets are key. Yealink distributor in Kenya offers a compelling choice for organizations seeking to enhance their communication infrastructure. With a strong focus on audio quality and intuitive user interfaces, these devices offer a holistic solution that caters to a wide range of business needs. Furthermore, they offer video conferencing capabilities, enhanced collaboration features, security protocols, and scalability. Be that as it may, these communication devices have revolutionized the way organizations communicate, collaborate, and conduct business. It's time to elevate company communication experience with Yealink.