The Grandstream GXV3380 Video Phone
The Grandstream GXV3380 Video Phone is a practical, three-way audio and video conferencing phone ideal for organizations with an international presence. And compatible with any PBX phone system installation. This highly affordable video phone will enable organizations to enjoy high-quality video conferencing for a negligible investment. The capacitive 8" inch touch screen enables users to enjoy an interactive experience only equated to a high-end smartphone.
see; interactive voice response system installer in Kenya
The phone uses the Android OS which is an open standards platform allowing users to access hundreds of productivity applications such as word processing, instant messaging, Skype. Clearly, this is a productivity hack kind of desk phone. It is the most suitable phone for conducting board meetings with stakeholders connected remotely from different locations.
See; Structured cabling installation
Also, it can be used by the sales department for different engagements including the sharing of individual sales experience, client demo, etc. By reducing the inconveniences associated with geographical challenges, companies enjoy reduced turnaround time due to faster decision-making.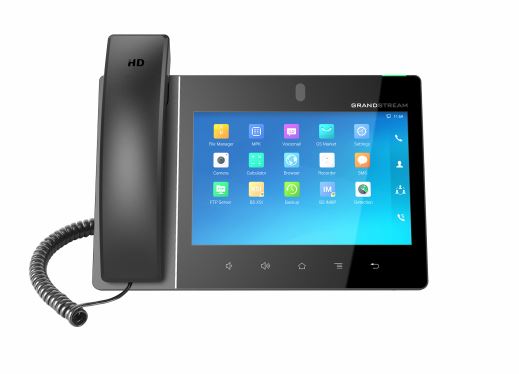 Features of the Grandstream GXV3380 Video Phone
Display screen: 8'' LCD touchscreen screen
Video camera: 2MP complete with a privacy shutter
Connectivity ports: inbuilt Bluetooth and Wi-Fi capability
Communication interfaces: USB, HDMI, audio jacks
Microphone: HD input/output speaker with capability for echo and noise cancellation
Ethernet ports: double network ports, both with PoE
Operating system: runs android version 7.0 and upgradeable to latest version
Accounts: 16 SIP accounts configurable
Seven-way HD audio conferencing
Three-way HD video conferencing
Call encryption using the SRPT and TLS protocols
Benefits derived from the Grandstream UC devices
The 7-way conference solution
Indeed, the videophone is a powerful unified communications device with the ability to integrate video, audio and data. In so doing, organizations will benefit from professional service delivery due to improved turnaround time. It can as well be used as a Hotel intercom phone for high establishments.
Unlike the mid-range desktop phones that allow 3- way video conference, the Grandstream GXV3380 Video Phone has the capability for 7-way video conferencing. As it is, a team of seven people is free to join and participate in a closed conference call without any visible impairment on the audio or video quality.
see; biometric access control systems
Receptionist desk phone
In most organizations, the receptionist desk tends to be the busiest. When in fact a high-end desktop phone can boost staff motivation, particularly the receptionist being the face of the company. Actually, this video phone can be used as a receptionist phone when combined with an expansion module.
see; best software for payroll in Kenya
The expansion key module will bring efficiency by providing the user with extra keys to facilitate concurrent call functions. For example, an expansion module of 24 keys opens up the receptionist's phone to the possibility of connecting at least 24 phone extensions at one go.
When integrated with security cameras, the front desk officers can use the phone to monitor activities at different sections of the compound. Most suitable for schools to keep track of students while playing or in a restaurant setting to monitor young children in the playground.
Call Security
Enjoy secure communication using the GXV3380 Video Phone. SRPT security protocol ensures that call conversations are protected by hackers or eavesdropping. Be assured that nobody can spy on your business calls. Moreover, the telephony infrastructure is protected using the TLS protocol so that it becomes hard to hack the SIP account. In fact, Sophos Firewall boosts the security a notch higher.
The Telepresence advantage
With unified communications organizations can actually create synergies between head office employees and those working from branch offices. This leads to better service delivery by maintaining the same customer support standards across every regional office. In fact, heads of departments can conduct virtual training without having to be physically present in every regional office.
Contact us today for the best desktop phones for small businesses, mid-size businesses and even large companies in Kenya.