Logitech Group Video Conferencing system
Logitech Group video conferencing system is a leading video conferencing equipment in Kenya. The simplified design comes at an extremely good price because of the convergence with telephony infrastructure. First and foremost, technology has broken all the barriers to communication. Unified communication technology has ensured that the PABX system supports video conferencing in an IP telephony environment. Hence, video conferencing systems ensured video as well as audio communication pass through the same infrastructure. In fact, it is now possible to have face-to-face communication with a business associate many kilometers away. Thus, video conferencing solutions have enabled this kind of collaboration obviously breaking the geographical barrier.
Video Coferencing Equipment Price in Kenya
| | |
| --- | --- |
| Price | KES 290,000 |
| Motorized full HD Camera | 1 |
| Full duplex speakerphone with noise cancellation | 1 |
| Omnidirectional full range microphones | 2 |
| Meeting room size | 20 |
| Full HD Smart TV | 50 inch |
| Setup, Configurations and Training | YES |
see also; call center software
With video conferencing, companies will save money and time. Moreover, increase efficiency at the workplace by scheduling virtualized meetings. Consequently, we have invested in the most innovative and easy to set up video conferencing solutions. As a matter of fact, the equipment can be installed fully only a few clicks on the client application.
Incidentally, the traditional video conferencing solution came as a fixed stand unit consisting mainly of the:
Codec system complete with microphone
Detached camera
Big display screen preferably television screen
All things considered, this kind of setup required a room be designated as a conferencing room. By the same token, the technicians who set up the equipment required specialized training abroad. The initial cost installation was so high that only a select few corporate organizations afforded it. Back then, having video conferencing equipment at the place of work spoke of success and automatically elevated the said company high up there in the food chain. But a lot has changed. What with webinars and video conferencing IP Phones into play.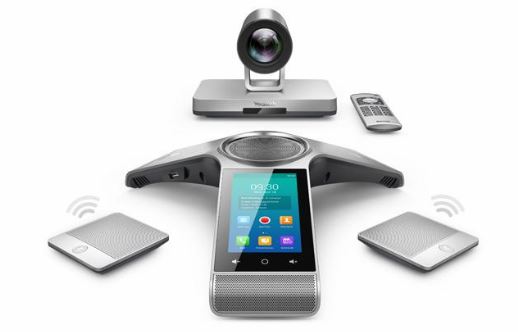 Best Video Conferencing equipment in Kenya
Requirements for new-age video conferencing solution include:
Full HD Camera which can pan, tilt and zoom capability
Large Display Smart TV (Ultra HD display if possible )
Speakerphone with noise cancellation capability
Codec with microphone
A stable high speed internet connection.
In the first place, we have integrated video and audio communication IP desk phones. These kinds of video IP desk phones are meant for business professionals who are looking for something that has the capability to offer advanced audio and video communication.
The video IP phones have pushed unified communication to a whole new level. Business professionals can now get high-definition audio calls as well as unmatched experiences when doing video calls. This leads to higher team collaboration, communication convenience, and greater team productivity.
see; structured cabling company in Kenya
The video IP phones come with inbuilt WiFi and Bluetooth connectivity, and a detached camera. The IP phone which runs on the Android operating system comes with productivity apps for an enhanced business communication experience. The video IP phones have made video conferencing solutions easy to set up and affordable to initiate between teams.
Web-based conferencing solution
Web-based video conferencing is a clientless conferencing solution where users log in to web portal to join a scheduled meeting. In this instance, there is no special software plug-in needed. All that is required is a laptop or desktop computer. One computer within the network will be designated as a server from where scheduling of meetings takes place. read also; best payroll software in Kenya
Today's solutions are no longer about locking users to a particular brand of conferencing equipment. On the contrary, there is a lot of value proposition ensuring that the client gets immediate value from the investment. For instance, when it comes to billing, other vendors prefer user licensing while others go for subscription per company. Likewise, users would prefer billing per meeting while others would go for a standard fee covering the whole year.
Hardware and Software requirements for Conferencing solution
ORACO Kenya is a professional telephony solutions provider and dealer of Logitech group video conferencing system in Kenya. Contact us today for IP PBX systems for small businesses, VoIP gateways,  and IP Phones in Kenya.
See also; Centurion automatic gate opener installers in Kenya.
Business organizations, as well as government institutions, can enjoy quality remote meetings by installing the Logitech Group Video Conferencing system in Kenya. This technology enables participants to join meetings from anywhere and enjoy the real-life audiovisual experience. A successful video collaboration platform requires easy integration of the audio system. When audio integrate seamlessly with video, any place can be transformed brilliantly into a meeting room.
see; VoIP provider
Still, Logitech provides preconfigured video collaboration solutions for specific applications such as Zoom, Microsoft Teams, and Google Meet. With the preconfigured package, a buyer gets a mini-computer, a conference camera, device mounting brackets, and a controller.
These pre-configured video collaboration solutions suit different deployment options ranging from small rooms to medium rooms and even large group meeting rooms. The same is true with a cloud-based PBX system.
Key components of a conferencing solution
The Camera
The inbuilt motorized lens with ability to pan, tilt, and zoom with full HD 1080P. The camera allows image zooming up to 10X. Furthermore, the camera offers diverse angles of view, that is, diagonal view, horizontal view, and vertical view.
The Hub
The video conferencing system gets managed from the Hub. The central hub powers all the other components installed. Basically, the hub has at least 4 connection ports to various devices that enable the video conference to work. Hence, you will find a connection port to the camera, another connection port to the speakerphone, and yet another USB connection port to the computer.
The Microphones
Logitech features superior microphones with a pickup range of about 20 ft. furthermore, extension microphones can be installed to boost up the pickup range up to 28 ft. thus, even when it appears the conference room to be full, every person's voice will be heard.
see; Fortigate firewall supplier
Remote controller device
The remote controller device gives the conference organizer the ability for administration from a distance. That is, with the remote control users can control the direction camera focuses on, increase or reduce the volume for the speakerphone, and the general call control. Still being able to press to answer a call and end the call.
Full duplex Speakerphone
Features an LCD screen that displays caller ID, duration of the call. The speakerphone mostly used to answer calls, manage to increase/decrease the volume and camera control. In terms of performance, manufactured with inbuilt noise reduction and echo cancellation technology giving a full-duplex performance. see; IVR system
Mounting brackets
The package includes a multi-purpose mounting bracket that can be used for wall mounting as well as tabletop installation. Nonetheless, the camera and the speakerphone all have a Kensington security slot.
Benefits of video conferencing
Increased flexibility
Logitech group's capacity can be extended by the use of expansion Mics. Thus, in a meeting room with as many as 20 people, each and every person's voice will still be heard loud and clear. Connecting the expansion Mics conforms to the plug and play setup.
User convenience
User comfort is at the heart of Logitech's device designs. For instance, the remote control device allows users to increase or reduce speaker volume, change the direction faced by the camera. Most importantly, conference participants can answer and end calls from the convenience of their seats.
Plug and play Installation
Deploying the Group conference system has been simplified in a big way through the USB plug and play setup. In fact, all the peripheral devices get connected through the USB cable to a USB port. Additionally, the conference system allows Bluetooth connectivity for a wireless setup.
see also; biometric time attendance system
Reliability
Logitech ensures that the video conferencing equipment receives regular firmware upgrades leading to better user experience and improved system security.
see; CCTV cameras installation price
Cross platform compatibility
Compatibility with all major conferencing applications including Skype for Business, Microsoft Teams application, Zoom, Google Meet among others.
Contact us now for all your video conferencing equipment needs in Kenya. We will customize Logitech video conferencing solutions to meet any requirement whether a small room or a large room.