First and foremost, technology has broken all the barriers to communication. Unified communication technology has ensured that the PBX system installation supports video conferencing in an IP telephony environment. Hence, video conferencing systems ensured video as well as audio communication pass through the same infrastructure. In fact, it is now possible to have face-to-face communication with a business associate many kilometers away. Thus, video conferencing solutions have enabled this kind of collaboration obviously breaking the geographical barrier.
see also; call center software
With video conferencing, companies will save money and time. Moreover, increase efficiency at the workplace by scheduling virtualized meetings. Consequently, we have invested in the most innovative and easy to set up video conferencing solutions. As a matter of fact, the equipment can be installed fully only a few clicks on the client application.
Incidentally, the traditional video conferencing solution came as a fixed stand unit consisting mainly of the:
Codec system complete with microphone
Detached camera
Big display screen preferably television screen
see; cyber security services company
All things considered, this kind of setup required a room be designated as a conferencing room. By the same token, the technicians who set up the equipment required specialized training abroad. The initial cost installation was so high that only a select few corporate organizations afforded it. Back then, having video conferencing equipment at the place of work spoke of success and automatically elevated the said company high up there in the food chain. But a lot has changed. What with webinars and video conferencing IP Phones into play.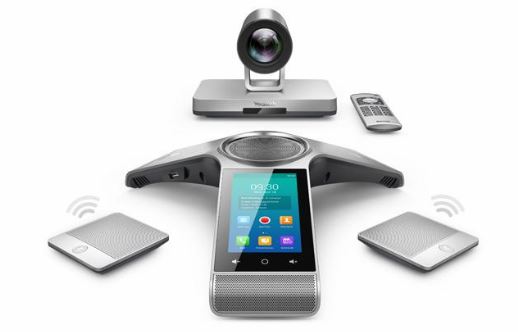 IP based Video Conferencing Systems
Requirements for new-age video conferencing solution include:
The IP PBX system. The PABX System can be a physical appliance or a software-based Cloud PBX system
The Video IP Phones or VoIP Software on client devices. The softphones can be installed as desktop clients or accessed as an app from smartphones.
A stable internet connection.
Video IP desk phones
In the first place, we have integrated video and audio communication IP desk phones. These kinds of video IP desk phones are meant for business professionals who are looking for something that has the capability to offer advanced audio and video communication.
The video IP phones have pushed unified communication to a whole new level. Business professionals can now get high-definition audio calls as well as unmatched experiences when doing video calls. This leads to higher team collaboration, communication convenience, and greater team productivity.
see; structured cabling and network solutions in Kenya
The video IP phones come with inbuilt WiFi and Bluetooth connectivity, and a detached camera. The IP phone which runs on the Android operating system comes with productivity apps for an enhanced business communication experience. The video IP phones have made video conferencing solutions easy to set up and affordable to initiate between teams.
Web-based video conferencing systems
Web-based video conferencing is a clientless conferencing solution where users log in to web portal to join a scheduled meeting. In this instance, there is no special software plug-in needed. All that is required is a laptop or desktop computer. One computer within the network will be designated as a server from where scheduling of meetings takes place. read also; Best payroll software in Kenya
Today's solutions are no longer about locking users to a particular brand of conferencing equipment. On the contrary, there is a lot of value proposition ensuring that the client gets immediate value from the investment. For instance, when it comes to billing, other vendors prefer user licensing while others go for subscription per company. Likewise, users would prefer billing per meeting while others would go for a standard fee covering the whole year.
ORACO Kenya is a professional telecom and security solution provider in Kenya. Contact us today for PBX systems for small businesses, VoIP gateways, Panasonic Phones, and video conferencing systems in Kenya.
See also; Centurion automatic gate opener installers in Kenya.