Grandstream PBX System in Kenya
ORACO Kenya is a supplier and installer of the the Grandstream PBX System in Kenya. We offer the best telephony solution, the PBX being the backbone of an IP telephony infrastructure. The best IP PBX system helps you simplify company processes through extremely adaptable unified communications features. The IP PBX comes in a series of diverse models bringing reliable communication for every business. For example, the UCM 6200 Series is an affordable unified communication appliance capable of supporting up to 500 office extensions and a further 60 simultaneous telephone calls.
see; SIP Trunk provider
For instance, there is an inbuilt IVR system that will direct callers to the appropriate department for assistance. This is an assurance that communication channels are open all day every day. As a matter of fact, the system will be able to serve the clients even on weekends by recording all the incoming calls for service follow up during the workday.
Grandstream IP Phone in Kenya
Furthermore, complete automation of the receptionist phone can be achieved through the auto attendant feature. Therefore an incoming call will be transferred to an internal extension without involving the receptionist. The callers will only press a particular code to be transferred to speak to a receptionist in the event that the service they wanted was not listed on the menu.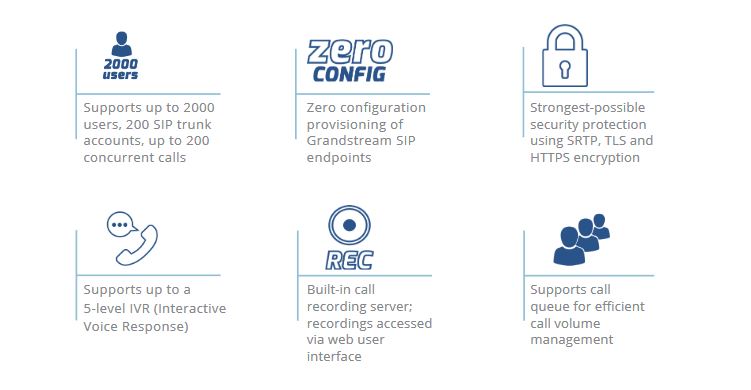 Salient features of the Grandstream Phone System
Capable of supporting 2000 telephone extensions
Support for different communication trunks e.g. FXO, E1/T1, GSM, and VoIP.
Capacity to handle more than 200 simultaneous incoming and outgoing calls
Easy access to a detailed call record including caller number, call duration and time
Simplified configuration platform for IP Phones
Secure communication protected by TLS and HTTPS
Functional interface ports such as the RJ45 Ethernet port and USB port
Support for the auto attendant configurations
Integration with productivity application such as the CRM and call center software
Key benefits of the Grandstream PBX system
Automatic configurations for IP desktop phones
The Grandstream UCM6200 PBX features an auto-discovery system that has really simplified the process of configuring IP phones. All the IP Phones have the capability to acquire the DHCP IP address once connected to a network. As it is, there will be no need for manual configuration for the especially for the Grandstream IP Phones. As soon as the desktop phone has been connected to a network point, the PBX system automatically recognizes the phone and assigns it an extension number. It is as simple as that.
See also: structured cabling company in Kenya
Call queuing system
Big organizations face the challenge of handling an increased number of incoming calls, particularly during peak hours. With an optimized call queuing system, no call will be dropped and no missed calls. As a matter of fact, every call will go through a first-come-first-serve queuing system. Technically, the callers will be held in the queue even as they listen to music or an advert about the services offered by the company. And whenever a previously engaged extension becomes available, the longest caller on the waiting queue will be given first priority.
Company phonebook
Working in a networked environment means sharing of common resources like the phonebook. With the central phonebook, there will be no need for each extension to build its own contact list. The telephone operator will create the contact list and upload it to the PBX in an excel format. Therefore, for as long the IP phones are connected to the network, they will be able to access and search the company phonebook for any contact.
see; best payroll software in Kenya
IP PBX installation
The UCM delivers outstanding video, voice, and data communication solutions for every industry. The vendor will deliver unified communications solutions at a cost affordable to every business whether a startup enterprise or a big company.
Purchasing the UCM solution is a one-off investment. Get to enjoy professional voice communication, HD quality video conferencing and extension mobility. And even better PBX features at a fraction of the budget from the mainstream PBX suppliers. There will be no annual software upgrade charges neither will there be PBX license fees.
Contact us today for the best office telephone solutions including IP PBX, IP desktop phones, and VoIP gateways.
See also:
The millennium business environment is characterized by smarter communications solutions. Even VoIP services amplify unified communications solution. Unified Communications is a technology platform for telephony services consolidation enabling audio and video calls, mobility and messaging to be relayed on the same infrastructure. This is an advanced PBX system for the multinationals in Kenya and other big corporate organizations with multiple offices spread across the globe.
Thus, the IP PBX offer a single platform through which all telephony services can be consolidated. Leading to better call handling features, increased efficiency, and enhanced productivity.
see also; best call center software
For instance, all calls directed to an extension will be transferred to the smartphone and can be answered from the cellphone. In so doing an all systems are integrated for workplace collaboration. Hence, the environment built mirrors official workplace experience for remote workers, even when telecommuting.
Benefits of the Grandstream PBX Phone system
Unified communications solution
Grandstream PBX phone system brings together voice, video and instant chat. Furthermore, the IP PBX enables telephone system users to communicate from various platforms. For example, a user extension can be configured on a physical desktop phone and at the same configuration replicated on the softphone. Still, the same solution can be integrated with the call center software to work as a multichannel communications platform. When modern IP PBX provide such unlimited capability they are referred to as unified communications solution.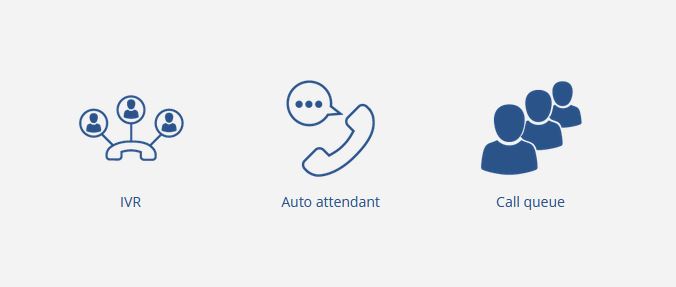 VoIP softphone
The VoIP softphone is an application usually developed by the PBX manufacturer to enable telephone users make outbound calls and receive inbound calls using a smartphone instead of a desk phone. The softphone can be installed in a device with Microsoft Windows OS, Android as well as IOS environment. Whether answering a call from a desktop phone or a softphone, the caller experience remain the same.
Besides calling, softphone users can communicate through instant chat, schedule team meetings and even share files between colleagues. What is more, softphone can be used to setup remote working office by simply enabling the remote extension feature.
Easier to setup remote office
Advanced IP PBX allow setting up remote office without much hassle. The modern PBX systems do not require port forwarding to allow remote connectivity. For example, an IP PBX usually provides inbuilt domain naming system that protects the remote devices from external attacks. The ability to connect remote IP devices eliminates the need for buying extra PBX for the branch office. With this remote working feature, colleagues can easily continue to collaborate on various projects even when not physically in the same location.
Call center system
Unified communications ensures that all features required by a company to operate effectively can be offered on a single platform. Thus, the call center system has now become part of the IP telephony infrastructure. With the addition of the call center feature, the users can enjoy more advance PBX features. These include an intelligent call queue manager, call agent performance board, the IVR system plus much more.
Inbuilt Video conferencing capability
The age of audio and video convergence means one platform offers both services. Video conferencing has now been integrated into the advanced PBX Phone system. No longer have any need to purchase separately video conferencing equipment. Telephone users can now schedule video conferencing calls using the same telephony infrastructure relied on for audio calls.
Office Mobility
Through the use of VoIP application clients, can still enjoy all the features of a physical desk phone from any location. The only requirement being a smartphone and access to a reliable internet connection. Then, install and configure the recommended VoIP softphone. By enabling the mobility feature on each telephone extensions, never will you miss a call.
see; wireless IP Phones
What is more, extension mobility leads to better call handling since the extension number can be set to ring simultaneously on the physical desktop phone as well as the mobile phone. The VoIP application clients ensure that each employee is always connected to the office extension.
Collaboration:
By initiating a peer to peer connection between offices, the employees can collaborate easily. Moreover, there will be no overhead costs as employees will be able to make free calls when reaching their colleagues located many kilometers away.  Still, there will be a sharing of the corporate phonebook such that salespeople and any other staff can get a client's contacts at the touch of a button.
Multi-location telephone connectivity:
Unified communications solutions have the capability to support multi-location connectivity. In so doing, the companies will save on the cost of communication for the long-distance offices. Employees can enjoy the advantage of the seamless connectivity between head office and branch office. They get to share the main communication trunk e.g. VoIP trunk, GSM trunk or the E1 line.
Reduced capital expenditure:
With IP telephony, the office telephone system will ride on the already installed networking infrastructure. As a matter of fact, the telephony infrastructure uses the local area network meant for networking.
Additionally, the infrastructure will be maintained only once which is cheaper. As opposed to scheduling separate maintenance for voice and data networks which is expensive. Thus, reducing the cost of maintaining the overall infrastructure.
Key features of the best Unified Communications Server
Support for up to 199 VoIP Trunks
Supports up to 64 GSM Trunks
Provision for up to 1,200 ISDN T1/E1 PRI Channels on 24 ports
Provision for up to 64 ISDN BRI Channels on 32 ports
Capacity for up to 2,000 IP phone users, 128 digital phones and 1,296 analog telephone extensions
Up to 64 voice mail channels
Redundant power supply and CPU card for a dependable performance
Rack-mountable
Investing in a unified communications solution will lead to operational efficiency, improved staff productivity, customer satisfaction. As it is, this is the solution of the future where organizations will get an assurance for 100% uptime, interoperability, higher return on investment and increased flexibility.
ORACO Kenya is a professional installer of Grandstream PBX system, and IP Phones in Kenya. And a professional Unified Communications Solution integrator in Kenya and the East African Region.
Contact us today for IP telephony, office telephone systems, and other office networking solutions. See also server room security solution.