Matrix biometric time attendance system automates employee tracking by capturing reporting and leaving time. The Matrix devices provide a secure and reliable means of tracking employee attendance. The biometric access control systems Kenya assures you of accuracy in electronic staff register as each employee is identified via fingerprints. This feature addresses the challenge associated with other employees signing in on behalf of others.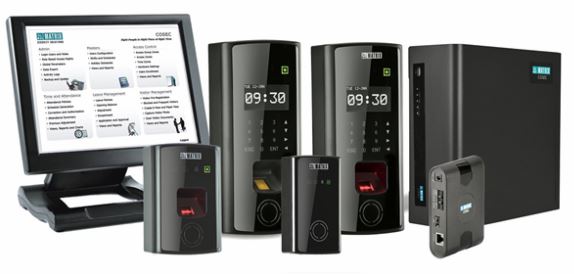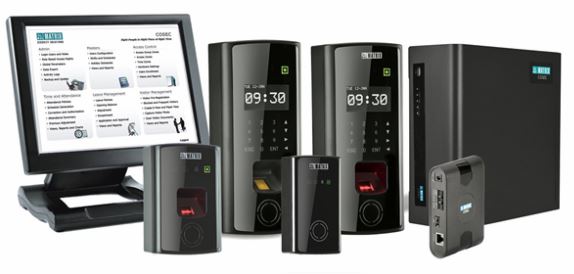 The old school manual marking of attendance is susceptible to manipulation. Furthermore, the process of capturing information in the attendance book is cumbersome and prone to human errors. This is why it is important to automate the time attendance process. With only a small one-time investment, your company will save on productive time lost at the gate, and even reduce the costs associated with payroll errors. Automating time attendance improves efficiency at work leading to increased employee productivity.
see; server room fire alarm system
Contact us now for the best attendance management solution Kenya
Time attendance needs vary from one organization to another depending on the company structure and the overall organizational hierarchy. While one organization might be modeled around the 8.00 am to 5.00 pm working schedule, another may have the working hours divided into shifts. This means that an off-the-shelf solution will not be suitable for every company. Thus, Matrix biometric time attendance system offers a flexible solution that can be customized to meet unique attendance and leave policy requirements.
Through integration with HR and payroll software in Kenya, the database updates in real-time as each employee clocks in and out at the designated entrance or exit point.
Features of the Matrix biometric time attendance system
Simplified user interface: The biometric time attendance system comes preinstalled with a graphical user interface. The interface is simple, non-cluttered, and easy to use. We have a web-based dashboard that supports real-time updates of employee logs.
Connectivity: the system is TCP/IP compliant. It allows for Ethernet connection through the RJ45 connection module. Furthermore, data will be accessible through the RS232/485 port. Also, data is retrieved and backed up through the network or via the USB module.
Device capacity: Matrix biometric time attendance system has a capacity to hold over 3,000 fingerprints and a further 100,000 user records.
Authentic methods: users are identified in four different ways. To begin with, user authentication is done by the use of RFID cards. The RFID card sometimes is used as employee job cards. Secondly, authentication is also done through a pin or password. In this case, the system generates a unique password for each user. It is only the user who knows the password even it is updated regularly. Also, there is a biometric fingerprint identification method.
For biometric identification, the reader captures individual user fingerprints. Therefore, a user has to place his or her fingerprint on the reader to be scanned before the door opens. Fingerprint recognition and hand punch authentication use the same security concept. Similarly, there is facial recognition. Depending on client preference, the system allows a combination of any of the above authentication methods.
Benefits for deploying Matrix biometric time attendance system
Be assured of Payroll accuracy. In fact, there is no room for manipulating the attendance register. The data is captured electronically. Therefore, unscrupulous employees will not change the reporting time and closing time.
Access rich reports that aid decision-making. By and large, the biometric attendance software offers detailed reports regarding employee behaviors. The reports which come in different formats will assist the management in making key decisions.
Be assured of efficient time management. By and large, gathering and processing employee information usually consumes a lot of time. With the electronic document management software, the personnel manager easily generates different kinds of reports by clicking on a button.
Automatically update the payroll software. Actually, the files generated by the attendance machine are compatible with all the popular HR and payroll software. As a result, no need to manually update employee reporting and leaving time.  The biometric time attendance system companies in Kenya integrate directly to the HR system or the leave management software.
View and even download easy-to-read time attendance reports to aid decision-making. Furthermore, use the filtering feature to drill down to more specific reports e.g. monthly or weekly reports, department or company-wide reports. As a matter of fact, the HR officer will be able to get a more specific report about the clock in and clock out tendencies for an individual employee. Still, export these time and attendance to any format for further analysis be it PDF, Excel, or Word format.
Reduce staff management costs. Research shows that automating a manual operation automatically leads to a 40% cost reduction. The savings made through automation will be redirected towards important business operations. For instance, the system assures you of accurate work hours calculations and overtime payments. Basically, no more salary overpayments based on forgeries.
Employee self-service
Under the self-service function, the employees apply for leave electronically. Additionally, they will receive notifications of leave approval on the phone. The automated system empowers the employees to plan and manage their leave days. Furthermore, they can plan for work shifts and view attendance reports.
Organizations are looking for solutions that are easily scalable and can work effectively independent of the geographical location. This is especially critical for multi-location organizations that require multi-branch installations that can be managed from a central server. Matrix time attendance systems are built in a modular structure such that the solution will grow or be scaled down depending on the needs of the organization. For example, you can start with a simple system that does only time attendance and scale it in the future to the access control system. Moreover, the system can be scaled further to bring in employee self-service modules and even integrated into the company ERP system.
See also; VoIP PBX phone system for a small business company.
The biometric time attendance system is ideal for schools, banks, hotels. We design various biometric fingerprints time attendance systems ideal for small, medium, and large organizations. The biometric solutions can be implemented as a standalone for a company with a single office location. Also, we have biometric attendance solutions for large organizations with multiple office locations.
ORACO Kenya is a professional installer of the biometric time attendance system in Kenya. Still, we are an authorized reseller of the Matrix biometric time attendance system in Kenya. Contact us now for a reliable, long-lasting, and highly scalable employee management system.