The Yeastar S20 PBX system has become one of the most popular telephony appliance in Kenya. It is very affordable and reliable. This PBX can support up to 20 users making it the ideal telephony solution for small businesses in Kenya. Yeastar S20 Price Kenya starts at KES 31,000.
VOIP service provide an efficient platform for organizations to manage business telephone expenses. In as much as VoIP trunk service providers have different price models for call billing. The standardized monthly subscription makes it easy for companies to budget and allocate resources even for an entire financial year.
Yeastar S20 PBX Price in Kenya
| | |
| --- | --- |
| Price | KES 32,000 |
| Telephone users | 20 |
| Compatibility | All SIP phones |
| Trunks | GSM/ VoIP |
| Maximum GSM lines | 4 |
| Other features | Call waiting, call transfer, music on hold, call pick up, Caller ID |
| Installation and Configurations | Yes |
This small business phone system can be deployed on-premise offering extremely reliable and dependable IP telephony features. The actual price of a Yeastar VoIP PBX system vary from one vendor to another. However the best deal for Yeastar S20 price Kenya now is KES 31,000. As one of the most innovative mid-range IP PBX system price in Kenya, it is very affordable and rich in telephony features. As a matter of fact, the total cost of acquisition is so low that even a small startup company with limited resources will still afford it.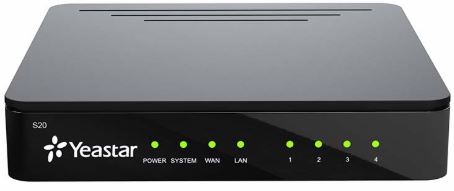 Yeastar S20 PBX key features
Number of telephone users
Supports up to 4 GSM gateways
Compatible with all SIP Phones
Web based administration console
Inbuilt call handling features
Interactive voice response
No annual subscription
Benefits of purchasing Yeastar S20
Yeastar S20 GSM module
This PBX has a single slot for the GSM module. Even though the GSM module might be included as part of the entire package during PBX purchase. In most cases this module will be purchased separately. This modular design allows the customer to only buy whichever modules they find useful. Even so, more modules can added later according to the needs of the organization.
Now, what happens if your company has more than GSM SIM card? The solution lies in the use of the FXO module. This Yeastar VoIP PBX has two slots for the FXO module. This means it can support up to 4 GSM lines through the use of GSM gateways. The Yeastar S20 FXO module, sometime known as the 02 module, can be purchased separately. This is because most of these modules rarely come pre-installed inside the PBX appliance.
PBX Call handling features
Despite the compact size, this office telephone system can still offer outstanding performance. Inbound call routing, call forward, call pickup, caller ID, call waiting, call recording, attended call transfer are some of its amazing features. In addition to mobility extension, telephone users can have their extensions configured on Linkus softphone.
Branch office connectivity
The PBX phone system allows for branch office connectivity. Assuming your organization has head office in Nairobi and a branch office in Mombasa. The Mombasa office can be connected to the Nairobi headquarter without the need for installation of an additional PBX system. With remote office activated, the employees can easily collaborate as though within the same location. Thus, telephone extension 101 domiciled at headquarter will make free calls to telephone extension 112 domiciled in Mombasa office.
Features of the Yeastar VoIP PBX phone system
Call capacity
This PBX system has the capability to support up to 20 IP phones plus 10 concurrent phone calls. What is more, it can support connections from the FXO lines, VoIP trunks, GSM network, and PSTN. Additionally, the office telephone extensions can be configured either through SIP or IAX protocols.
see also, best IT support company
PBX installation
The PBX is built with an intuitive and easy to navigate graphical user interface. The intuitive graphical user interface makes for easy installation and management. In order to commence PBX configurations, you will have to type the IP address to access the configuration page. The default IP of this VoIP PBX system is usually 192.168.5.150. If installing for the first time, Yeastar S20 default username will be "admin" while the default password will be "password". The login credentials should be typed in lower case.
Setting up the VoIP PBX phone system only takes a few minutes. The complete deployment will take a few hours and the system is up and running. There will be no need for regular maintenance once the telephone is fully set up.
Compatibility with IP Phones
The Yeastar VoIP PBX phone system is comparatively friendly and compatible with most SIP-based IP phones. In fact, all the IP phones connected on the LAN can be accessed from the auto-provisioning page. By way of example, the PBX phone system worked so well with DECT phones, Grandstream Phones, wireless IP Phones, Yealink IP Phones to mention a few.
Call management features
The PBX system has distinct menus for each call management feature. From the web portal, you can navigate your way through all the features configuring each of them as needed. Trunk configurations, call control, IVR System, extension configuration, call center software, call recording among others.
Business telephone system
In today's rapidly evolving business landscape, effective communication is the cornerstone of success. To stay competitive and responsive to the ever-changing needs of customers and employees, businesses must adopt modern communication solutions.
The S20 can integrate with VoIP technology, offer scalability, and facilitate unified communications. Its cost-saving potential, scalability, advanced features, and adaptability make it a valuable addition to any organization's communication toolkit. Businesses can gain a competitive edge, enhance customer satisfaction, and be prepared for the future by installing this phone system.

In the past, traditional landline-based PBX systems were the go-to choice for organizations to manage their internal and external communication. While these systems served their purpose, they were limited in terms of scalability, flexibility, and cost-effectiveness.
With the advent of the internet and the digital revolution, communication needs changed drastically. The emergence of Voice over Internet Protocol (VoIP) technology marked a pivotal moment in the history of business communication. VoIP allowed voice data to be transmitted over the internet, opening up new possibilities for cost-effective, feature-rich communication.
IP PBX, is a telecommunications system that enables organizations to manage and facilitate internal and external voice communication. It serves as the central hub for routing, switching, and controlling voice traffic within a business or institution. Unlike traditional telephone systems that relied on analog trunks it utilizes internet protocols to transmit voice data. Thus, it leverages the power of the internet to facilitate seamless and cost-effective voice communication within organizations.
IP PBX systems offer advanced call routing options, including auto-attendants, call forwarding, voicemail, and interactive voice response (IVR) systems. These features enhance customer service and streamline call management. Being an efficient and cost-effective communication system, it enhances customer service, boosts employee coordination, and differentiates an organization from competitors.
Benefits of IP PBX
Cost Savings: by transmitting voice data over the internet, organizations can reduce long-distance call charges and eliminate the need for costly analog phone lines. A company with branches spread in different regions can enjoy free extension to extension calls due to the established interconnectivity.
Enhanced Flexibility: adding new extensions or integrating remote offices is straightforward. Thus, businesses with the flexibility to adapt and grow without the constraints of traditional telephony infrastructure. In fact, as the business grows, telephone extensions and calling trunks can be added easily. No need of rewiring or investing in new hardware. This flexibility allows organizations to adapt to changing communication needs effortlessly.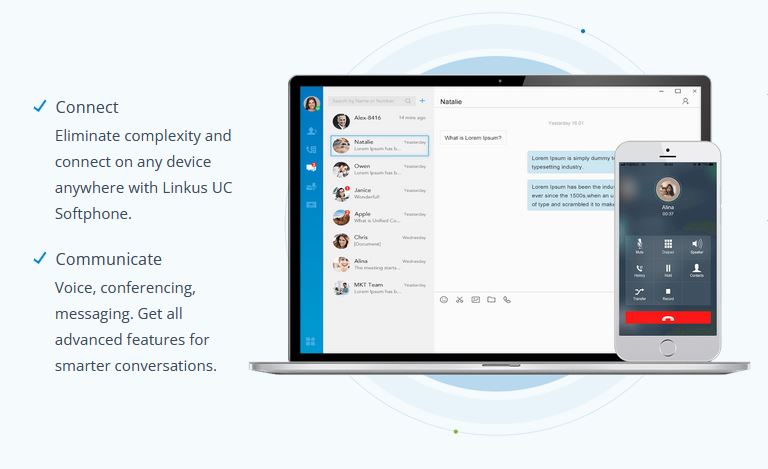 Improved Call Quality: the use of VoIP technology generally results in better call quality, with reduced latency and clearer audio. This contributes to a more professional and reliable communication experience.
Remote Work Enablement: employees can work from anywhere with an internet connection while remaining seamlessly connected to the office telephone system. This is especially valuable in today's remote work environment.
Unified Communication: Integration with various communication tools fosters collaboration and streamlines communication processes within organizations. It also allows for better customer engagement and support.
Advanced call handling features
Modern office telephone systems come equipped with a wide range of advanced features that enhance communication and productivity. Features like call forwarding, voicemail-to-email, auto-attendant, and call recording. These features provide organizations with tools to streamline communication processes and improve customer service.
Integration Capabilities: VoIP service can be integrated with other business applications and systems, such as CRM software and email clients. This integration streamlines workflows and enables employees to access relevant information more efficiently. Ultimately this leads to improved customer service and decision-making.
The phone system empowers the sales team to deliver superior customer service. Features like call routing and voicemail-to-email ensure that customer inquiries are addressed promptly. Efficient communication leads to higher levels of satisfaction and loyalty.
Additional benefits for buying VoIP phone system
Be that as it may, this VoIP phone system offers a lot more benefits than ordinary PBX systems. To begin with, the price point is without doubt within reach for most small and medium-sized enterprises with a workforce of fewer than 20 people. Apart from affordability, the phone system has proved to be reliable and feature-rich by offering all the necessary features of an office telephone system and much more.
Also, the PBX phone system comes with an inbuilt caller ID feature that enables you to see the phone number of the incoming call. Furthermore, the IVR system can be set up so that your callers can be directed to the exact department where they will get the right assistance. And the IVR system provides an avenue through which a company can market products and services to the callers.
No annual subscription or licensing fees. The purchase price for Yeastar S20 VoIP PBX is usually a one-time cost. There will be neither annual subscription fees nor annual licensing fees. However, the telephone technician might charge a small facilitation fee in case of onsite support. The facilitation fee can be agreed on by the client.
Lastly, the Yeastar VoIP PBX phone system does not attract additional setup fees such as annual licensing. In fact, the system comes with a free softphone application for android users.
A telephony solution made for the small business office setup, the PBX administration is simple. This is an ideal solution for organizations that would like to host the telephone system themselves as opposed to being hosted by VoIP providers in Kenya.
Contact us today for a customized IP telephony solution for your company.