The world has indeed become a global village. What with companies having branches spread all over. As Sophos Firewall distributor in Kenya, the solution has been the most trusted solution for web application security and endpoint protection. Bringing together employees from different locations to collaborate on a project made possible without traveling. Company resources have been made available for access anytime from any location. This has been a requirement for mobilizing the employees working together but from different time zones. This arrangement brings to the fore the need to manage applications and device security. Sophos firewall offers are an all-inclusive security solution.
ORACO Kenya is a certified Sophos installer in Kenya. Below, we discuss the essential Sophos security features:
Sophos firewall distributor in Kenya
Sophos appliance enables institutions and businesses to manage centrally all active devices spread across branch offices. The central administration console gives the network administrator an easy time administering network resources.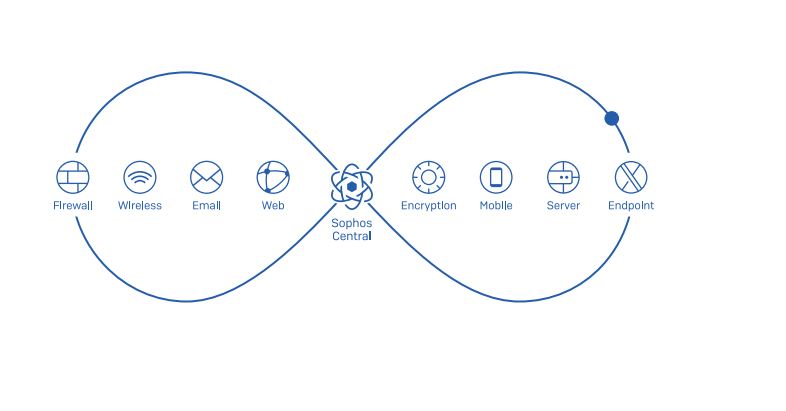 With a centralized administration, updating network policies and even renewing licenses takes only a few minutes. Network engineers find it easy to support network devices such as routers and network switches. This is because of the device classification into easily identifiable groups.
In a centralized console, the IT support team creates usage policies and passes them on to other networks within the intranet.
On top of that, IT Support does not need to keep a diary of subscription dates. The appliance has an inbuilt alert system for notifying the administrator of the due date for license renewal. Also, notification happens in case of a security breach or when a VPN connection drops.
An intelligent reporting and event logging system
The reporting system enables institutions to view network activities in real-time. The logs captured about user activities help in the creation of network security policies.
The over 800 comprehensive reports from Sophos firewall appliance identify security gaps that exist in the intranet. These reports help to enhance network security management through regular security audits.
See also; VoIP PBX business phone systems.
Real-time reports are accessible from the dashboard. From the dashboard, the IT support specialist narrows down to specific incidences. It is possible to focus on individual computers through MAC address binding. For instance, the technical support team can establish the exact computer sending or receiving spam emails. The system administrators use the reports to control the widespread distribution of malware across the network.
Sophos firewall network Security
Sophos security brings together several security features on a single device. Thus, the appliance offers an all-inclusive network security service. Cyberoam can be configured to work at the network gateway level. In so doing, the firewall shields networks against web application risks and high-level attacks.
This technology enables companies to distinctively pick out network users and manage their control behavior over the network. An efficient method for managing users can facilitate policy rollout for groups of users or categories. Security breaches in the network can not only be captured by the IP address but also through user login details.  With layer 8 technology, it is easier to implement data security measures and ensure compliance with company policy.
Web security
Even though the web has a lot of useful information, it can be a dangerous place if unmanaged. Sophos web firewall offers protection against attacks from web applications. To start with, companies are known to limit their staff from accessing social websites. Regrettably, unchecked access to social websites such as Facebook, Instagram, and Twitter might affect employee productivity. As a result, Sophos enables network administrators in controlling access to these social websites. System administrators can group network users based on their job activities. For example, online marketers will be allowed to access Twitter and Facebook longer than employees from the finance department.
see; customer care system
As a matter of fact, Sophos firewall in Kenya works very well at institutions of learning. In any case, students will be blocked from accessing websites with radical content. However, the same procedure applies. The system administrator only has to create an account with policies that have features specific to students' needs.
Spam Email protection system
A slow network is an obvious characteristic of spam. Arguably, controlling spam emails from flooding an intranet is usually not an easy task. Incidentally, Sophos spam protection solution makes it easy to identify spam emails before they bring the entire network down.
see; Structured Cabling and Networking
One of the consequences of spamming from a private network is the blacklisting of the network's public IP.  Ultimately, rapidly detecting and isolating end-user computers suspected of spamming the network saves a lot of damage. Even so, computers infected with malware are the major suspects when it comes to spamming the network. Therefore, it is advisable to ensure web and internet security is up to the right standards. To begin with, installing genuine antivirus software and keeping it updated has proved very useful in spam management.
Above all, as an authorized Sophos firewall distributor in Kenya, we believe in empowering users through training. We train the IT Support specialists to configure and administer the Sophos firewall. Presently, we are the only IT Support company with more than four Sophos Certified Network Professionals. Contact us now for this exciting deal, buy your Sophos appliance from us and get free training and support.